Five takeaways from Indiana's win over Liberty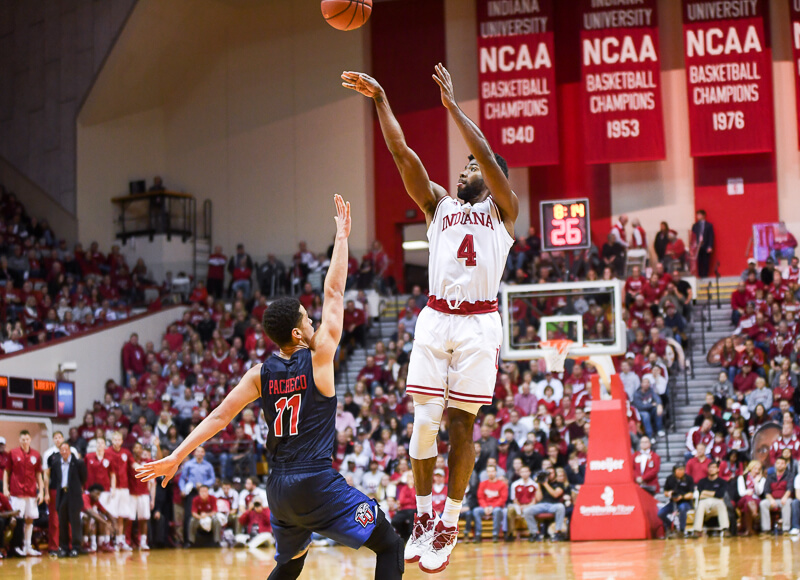 Indiana moved to 3-0 on Saturday night with an 87-48 blowout victory over Liberty at Simon Skjodt Assembly Hall. It was the 19th consecutive home win for the Hoosiers.
Here's a look at five takeaways from the win over the Flames:
· Solid 3-point shooting continues: It's a small sample size, but through three games, Indiana's perimeter shooting hasn't fallen off from last season.
Six different players have made at least three 3-pointers with junior James Blackmon Jr. leading the way with 14 in three games. The Hoosiers currently sit 20th in the country in 3-point field goal percentage at 44.3.
Saturday was another solid performance from distance as Indiana hit 9-of-21 of its 3-point attempts. Five different Hoosiers made a 3 against Liberty.
"When you go eight deep, at least eight deep, and you can score on the interior like they can with (Thomas) Bryant, OG (Anunoby) and (Juwan) Morgan is a really tough matchup, and then they stretch you," Liberty coach Ritchie McKay said. "All those guys can shoot, and (Josh) Newkirk's ability to bounce gives them a whole new dynamic."
· Johnson's hot start: Robert Johnson is showing little rust from the time he missed in the offseason following ankle surgery. The junior guard from Richmond (Va.) has the highest offensive rating of any player on the roster through three games, according to Ken Pomeroy's stats.
Johnson was strong again on Saturday night against Liberty as he finished with 13 points on 5-of-7 shooting in 23 minutes. In three games, Johnson is 11-of-13 on 2s and is making 36.4 percent of his 3s.
Perhaps more importantly, though, his turnover percentage sits at just 14.9, which is the lowest on the roster. If that trend continues, bringing Newkirk off the bench and going big in the frontcourt with Morgan, Anunoby and Bryant could become a regular occurrence.
· Indiana locks up defensively: In previous seasons, Indiana probably wouldn't have won a game in which it committed 26 turnovers that decisively.
The Hoosiers have allowed plenty of below average offensive teams come into Bloomington and put up points, but that wasn't the case with Liberty. The Flames did miss some open looks, but the Hoosiers allowed just .62 points per possession.
Postgame, McKay, who was the associate head coach at Virginia for several years before returning to Liberty prior to last season, had high praise for the Hoosiers.
"Indiana is really impressive," he said. "I just said to the radio guys, 'I sat on an ACC bench for the last six years prior to last season, and saw a lot of quality teams. That is as good of a team as I have seen in years. They have got everything – they've got size, depth, athleticism, strength, skill and unselfishness. That is a terrific team."
· Turnovers, turnovers, turnovers: As we mentioned in the third takeaway, Indiana committed 26 turnovers on Saturday night for a turnover percentage of 33.7.
It's early, but Indiana is currently 328th in the country in terms of taking care of the ball. Tom Crean said postgame that his team is a little too rushed right now offensively.
"We work on footwork all the time," Crean said. "We're hopping a little bit. And I think we're just in a rush. I think we're playing a little too fast at times. And we're trying to make the move too fast."
· Anunoby's first double-double: Sophomore OG Anunoby had his first career double-double on Saturday night and nearly got it in the first half. Anunoby finished with 10 points and 11 rebounds and had seven points and nine rebounds before halftime.
In his second season, Anunoby seems to be much more aggressive on the defensive glass than he was as a freshman. His defensive rebounding percentage was below average last season at 11.7 percent, which was well below Thomas Bryant, Max Bielfeldt, Juwan Morgan and Troy Williams.
Through three games, he's up a little more than five percent there, a trend that Indiana will need to continue as the competition level increases.
Filed to: Liberty Flames, Robert Johnson