What to Expect: Liberty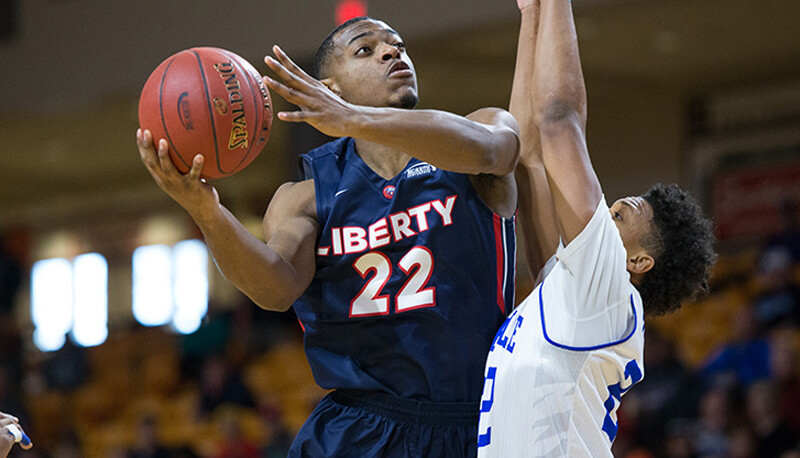 Indiana returns to action on Saturday night at Simon Skjodt Assembly Hall as the Hoosiers host Liberty. The Flames are 1-1 and are coming off a 64-59 loss at home to VCU.
The game will be broadcast at 7 p.m. ET on BTN Plus with Griffin Weinberg and Max Bielfeldt on the call:
Indiana's 2016-17 schedule includes eight guaranteed games and of those contests, Liberty might be the best opponent. The Flames were picked to finish second in the Big South in the league's preseason poll.
For the Hoosiers, it will be an opportunity to go against a unique style of play as Liberty coach Ritchie McKay, the former associate head coach at Virginia, uses many of the same tactics as Tony Bennett. The Flames will play Virginia's pack line defense along with one of the most deliberate paces the Hoosiers will see this season.
With a road game looming on Tuesday in Fort Wayne, this contest is the first of two in four days that should yield much more insight into the Hoosiers than the win over UMass Lowell.
MEET THE FLAMES
Liberty returns just about every notable contributor from last season's team that finished with a winning record in conference play (10-8), which earned McKay the league's coach of the year award.
The exception? 6-foot-10 big man Evan Maxwell who transferred to Kansas, which was a significant blow to the frontline for the Flames.
Without him, the Flames are starting no player that is taller than 6-foot-5, which is going to present a significant challenge against many teams. They'll try to overcome that by not taking any chances on the offensive boards, slowing the pace and attempting to grind out games.
Through two games, just one Liberty player, senior John Dawson (pictured) is averaging in double figures in scoring. The 6-foot-2 guard, who played the 2013-14 season at Marquette before transferring, was the team's leading scorer last season at 13.4 points per game. Dawson made close to 37 percent of his 3s last year and is 3-of-4 from deep this season.
The point guard duties are being split so far between sophomore Lovell Cabbill, the starter, and freshman Georgie Pacheco-Ortiz. Cabbill was solid last season, averaging 9.9 points, 3.3 rebounds and 2.5 assists in 30.7 minutes per game. Pachecho-Oritz, a native of Puerto Rico, has done a solid job of getting to the line (eight free throw attempts) through the first two games.
Caleb Homesley, a 6-foot-4 sophomore, is the team's second leading scorer through two games (9.5 ppg). The left-hander made close to 37 percent of his 3s last season. Ryan Kemrite, a 6-foot-4 junior, made close to 38 percent of his 3s last season and is averaging seven points in two games.
A.C. Reid, a 6-foot-5 junior, came off the bench to average 7.3 points and 3.4 rebounds last season. Look for Ray Chen, a 6-foot-1 senior from Taiwan who transferred from D2 Belmont Abbey, to also log some backcourt minutes along with freshman Myo Baxter-Bell, who is averaging 4.5 points in 20 minutes per game.
TEMPO-FREE PREVIEW
In the lead-in to Tuesday's game against UMass Lowell, we wrote about the desire to push the pace by the River Hawks. The game finished at 75 possessions and Indiana scored 100 points.
Saturday will be just the opposite as Liberty, which was 344th of 351 teams last year in adjusted tempo per Ken Pomeroy, will be looking to limit possessions. The Flames don't crash the boards, nor do they get to the line very well, but they're going to make Indiana guard late into the shot clock and avoid breakdowns. Their average offensive possession length last season of 19.7 was the ninth longest in the country.
The problem Liberty is likely to have in this game, however, is their lack of size and athleticism in matching up with the Hoosiers. The pack line defense can be tough to play against, but the Flames are legitimately undersized and Indiana has plenty of it with Thomas Bryant, OG Anunoby, De'Ron Davis and Juwan Morgan.
Stylistically, this should actually be a game that is beneficial for Indiana because it will force them to execute more in the half court as opposed to just running over an opponent in transition.
WHAT IT COMES DOWN TO
Vegas didn't set a line on the game, but Pomeroy likes the Hoosiers by 22 and Sagarin favors Indiana by 23.5.
After a somewhat sloppy offensive and less than stellar defensive performance on Wednesday against UMass Lowell, this game provides Indiana the opportunity to get one final tune-up before going on the road Tuesday. The Hoosiers will be forced to grind out possessions more often than what is usually the case in a guarantee game. That should ultimately be a good learning experience for a team that hasn't even scratched the surface of its potential.
(Photo credit: Liberty Athletics/Mitchell Bryant)
Filed to: Liberty Flames