What to Expect: UMass Lowell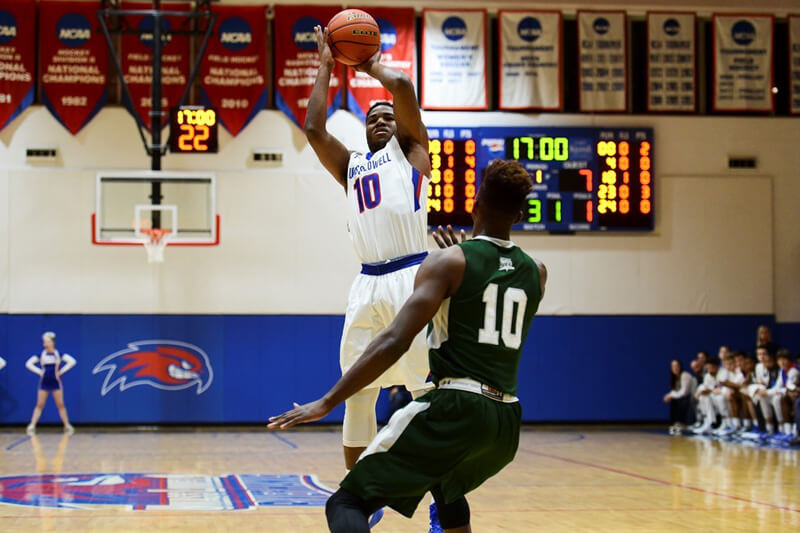 Following a season-opening 103-99 win over Kansas in the Armed Forces Classic, Indiana returns to Simon Skjodt Assembly Hall tonight for its regular season home opener against UMass Lowell. The River Hawks are 1-1 and are coming off a 87-76 home win over Wagner.
The game will be broadcast at 7 p.m. ET on BTN with Kevin Kugler and Seth Davis on the call:
UMass Lowell is the first of eight guarantee game opponents that will come to Bloomington between now and Dec. 22. The River Hawks are entering the final year of their Division I transition, which means they're still ineligible for postseason play.
Coming off a hard fought win against Kansas and a significant amount of travel, Wednesday's game (along with Saturday's against Liberty) should afford Indiana the opportunity to get into a rhythm before traveling to Fort Wayne next week for what should be a terrific atmosphere in Memorial Coliseum.
MEET THE RIVER HAWKS
UMass Lowell was picked to finish sixth in the America East preseason poll after a fifth place finish in 2015-16. The River Hawks return 10 players from last season's team that finished 11-18 overall and 7-9 in league play.
The headliner is junior guard Jahad Thomas (pictured), a preseason All-America East selection. In two games this season, Thomas is averaging 16 points and a team-high seven rebounds. He's made nine of his 11 2-point field goal attempts and has taken 19 free throws in two games.
Sophomores Isaac White and Ryan Jones have started in the backcourt alongside Thomas in the first two games. White is a capable 3-point shooter who knocked down 43.1 percent of his attempts from distance last season (160 attempts). Jones is far less of a threat to score and was a low efficiency guy last season (43.8 effective field goal percentage).
Junior guard Matt Harris comes off the bench, but is UMass Lowell's leading scorer through two games at 17 points per game. Harris is a perfect 19-of-19 from the free throw line. He made 41.7 percent of his 3s last season and is a career 39 percent 3-point shooter.
Up front, UMass Lowell starts 6-foot-6 senior Tyler Livingston and 6-foot-8 freshman Stefan Borovac. Livingston can step out and knock down the occasional 3 and finished 59 percent of his 2s last season. He's averaging nine points and six rebounds through two games.
Borovac has picked up seven fouls in 34 minutes played this season and is averaging 7.5 points and three rebounds.
Three other rotation guys that should figure into Wednesday's game include 6-foot-4 sophomore Logan Primerano, 6-foot-8 freshman Cameron Wolter and 6-foot-4 freshman Rinardo Perry.
TEMPO-FREE PREVIEW
There's a method behind which teams Indiana brings to Bloomington for guarantee games and stylistically, UMass Lowell will offer the opportunity for the Hoosiers to get into an up-and-down track meet.
The River Hawks played the 11th fastest pace in the country last season, according to Ken Pomeroy, and are third in adjusted tempo so far this season. UMass Lowell commits a healthy amount of turnovers, but also does a decent job of forcing them. The question for Indiana is: How well can it execute and take care of the ball in a frantic pace? It bears watching.
Beyond that, there's not a whole lot on the UMass Lowell resume that stands out, which is why this program has finished sub-300 in Pomeroy's ratings in each of its first three Division I seasons. Last season, UMass Lowell finished with the nation's 235th best offense and was No. 288 defensively, per Pomeroy's adjusted efficiency rankings.
WHAT IT COMES DOWN TO
Given the travel involved to Honolulu for one game, this should be a solid opportunity for Indiana to get back into a flow against an opponent that won't provide too much of a challenge.
The Vegas line currently has the Hoosiers as a 27-point favorite, the Pomeroy line is Indiana by 26 and Sagarin has Indiana as a 26.5-point favorite.
This game should give the Indiana coaching staff the opportunity to push tempo and also get some of its younger and inexperienced players some much needed minutes. Two guys that immediately come to mind are De'Ron Davis and Freddie McSwain, both of whom contributed in the Kansas win but are still working their way into game shape with the start of the conference season just 44 days away.
(Photo credit: Bob Ellis/UMass Lowell Athletics)
Filed to: UMass Lowell River Hawks