Around the Hall: Power rankings, player development, bracketology, more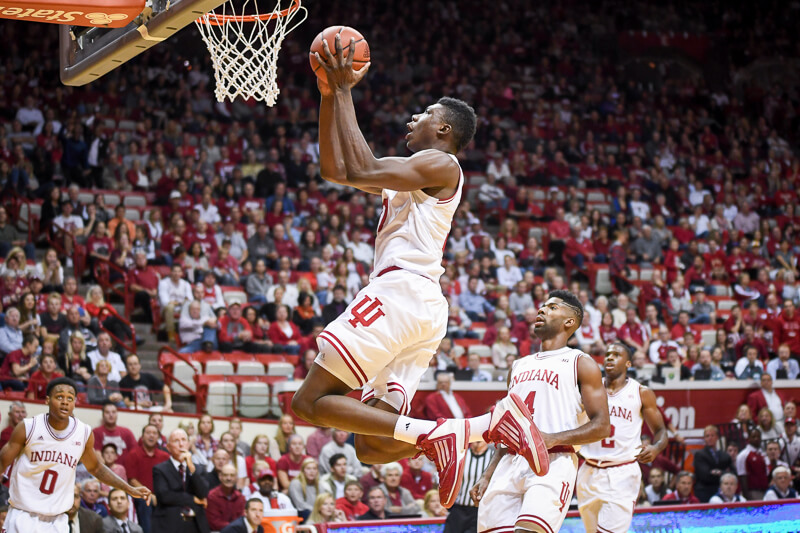 Around the Hall is recommended reading from the Inside the Hall staff.
UMHoops has a two-part series of preseason Big Ten power rankings, with the first installment focusing on something good about each team in the league:
2. Indiana
Indiana has pro talent, more than any other team in the conference, and that can take you a long way in college basketball. OG Anunoby (16th) and Thomas Bryant (20th) are the top rated NBA prospects in the league, and two of the only three Big Ten players projected in the first round of the 2017 NBA Draft.

Bryant is arguably the league's best big man and should be able to build off of a big freshman year in Bloomington while Anunoby averaged just 4.9 points and 2.6 rebounds per game in limited minutes. Anunoby has people excited though and the hype train hasn't slowed down in preseason play. He's an elite athlete, an elite defender, with NBA measurables and he shot 61% on twos and 45% on threes. What's there not to like about the 6-foot-8 sophomore?
The Wall Street Journal examines the paths of Indiana Pacer Myles Turner and Indiana's Thomas Bryant in a quest to answer this question: How do you make a basketball star?
During this summer's "skill-related instruction," Crean frequently put Bryant with the guards and not the big men, to improve his quickness. In the players' downtime in May and August, the program still guides them. IU's strength coach, Lyonel Anderson, sent each player home with a detailed packet of voluntary exercises. One was titled "Grind or Get Ate," and for each day it specified the movements and reps—even the type of surface he wanted the players to run on.

Anderson says that IU's coaches always think about the next level. "This program is based on now and later," he says. "We want to win now but we want you to win later."
Rob Dauster of NBC Sports looks at some of the x-factors this season with Indiana's point guard play as one of the bullet points:
And hello, Indiana: The Hoosiers have a pair of potential lottery picks on their roster in Thomas Bryant and O.G. Anunoby, so I understand why they're showing up in the top 15 of national polls. I have them there myself. But I think that we are all undervaluing just how much Yogi Ferrell meant to this team last season, and just how much his absence is going to cost them. Can Robert Johnson and Josh Newkirk adequately fill in that role? And if they can't, who on this Indiana team do you trust to have the ball in their hands on a critical possession when the Hoosiers have to have a bucket?
Jerry Palm of CBS released his preseason NCAA tournament seed list (1-68) with Indiana in the top 10:
9. Indiana Hoosiers
Thomas Bryant stayed in school and James Blackmon returns from injury to lead what should be a strong season for the Hoosiers.
CBS also looks at the 10 toughest teams to project this season with Michigan State at No. 2 on the list:
Izzo's coaching ability is doubted by no one. But this team is going to look different, truly, from any other he's ever had. It's a small team. Athletic and fun, and has some shooters, but it doesn't have frontcourt experience, nor does it have bigs who are rugged and can battle with most teams' 4s and 5s. MSU will almost certainly be a top-four team in the Big Ten, but really, on a national scope, there's a chance this team isn't top-30 for the first six weeks of the season. Too many unknowns right now, and the schedule isn't light either. Having said that, never count Michigan State out. Another tough one to call.
Filed to: