Exhibition opponent Bellarmine not to be taken lightly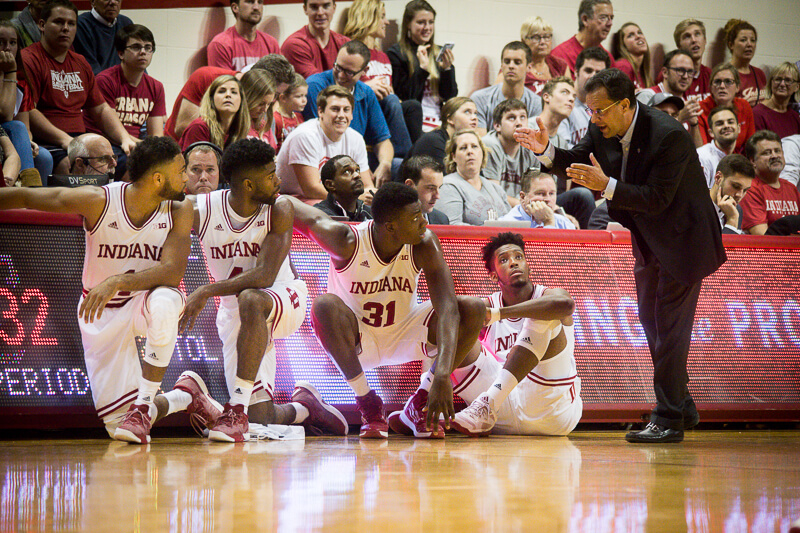 Bellarmine may be a Division II team, but they don't play like one.
The Knights, a member of the Great Lakes Valley Conference, hail from Louisville, Kentucky. In 2011, they won the Division II National Championship, making a program-record 295 3-pointers along the way.
Bellarmine finished the 2015-2016 season 23-7, earning a No. 2 seed in the NCAA Tournament before being upset by Ferris State in the first round.
This season, Bellarmine is expected to be even better. The Knights are ranked third in the NABC/DII poll, and are just one of two teams to receive first place votes.
Senior guard Rusty Troutman leads the way for Bellarmine. Troutman has been named a preseason All-American by both The Sporting News and Basketball Times after averaging 18.2 points 4.8 rebounds and 2.7 assists as a junior.
The 6-foot-5 guard from Mt. Washington, Kentucky already ranks 29th in program history in career points with 1,199 points and fourth in made 3s with 160.
Troutman scored 20 points and added six rebounds in Bellarmine's first exhibition Wednesday, a 64-55 loss to a Cincinnati team ranked No. 25 in the preseason USA Today Poll.
After trailing 29-20 at the break, Bellarmine came roaring back, holding the Bearcats to only nine made field goals in the second-half, nearly pulling off the upset. The Knights only turned the ball over six times in the second half after committing 13 in the first period. With just 2:21 remaining, Bellarmine trailed by four, 57-53, before the Bearcats pulled away in crunch time.
"I'm not a good loser, but I'm pleased with our ability to rebound the basketball and our ability to adjust," Bellarmine coach Scott Davenport said, who is in his 12th season at the helm. "That is the best team defense we have played in an exhibition since I've been at Bellarmine," he said. "We contained the drive and rebounded the ball."
In Wednesday's game, Bellarmine outrebounded Cincinnati 32-26 while holding the Bearcats to 6-24 shooting from 3.
"Bellarmine did a great job," Cincinnati senior guard Kevin Johnson said after the game. "They out-toughed us today. I can definitely say they outplayed us."
The Hoosiers faced the Knights in a similar situation last November but were able to keep Bellarmine at bay. Indiana led by as much as 18 in the second half but struggled to pull away, winning by a final score of 73-62.
The majority of the offense in the Hoosiers' last meeting with Bellarmine ran through Kevin 'Yogi' Ferrell and Troy Williams. The two scored 21 and 20 points, respectively, and combined to take 30 of Indiana's 58 shots. Both ended the game with a team-high eight rebounds while providing more than half of Indiana's points (41-of-73), assists (5-of-9), steals (4-of-7), blocks (1-of-2) and turnovers (7-of-13) in the exhibition victory.
One year removed, and without Ferrell or Williams, Indiana hopes to prevent another close call.
"Our guys will be ready." Tom Crean said Tuesday. "[Bellarmine is] a tremendous screening, cutting, move-without-the-ball team. They put a lot of pressure on you with their cuts. We'll have to defend that at a high level."
Players To Watch For
Besides Troutman, the Knights have several other players to keep an eye on.
5-foot-9 senior guard Al Davis is expected to start at the point. Davis struggled with his shot against Cincinnati, going 0-10 from the floor, but found production elsewhere, finishing the game with five assists and six rebounds.
One of the better passers in the GLVC, Davis finished last season with the fourth best assist-to-turnover ratio in the conference (2.32) while leading the Knights in steals (1.33).
The Knights also feature 6-foot-2 Indianapolis native Tyler Jenkins. While at Hamilton Southeastern, Jenkins played alongside Michigan senior Zak Irvin and current NBA player Gary Harris. Jenkins was forced to take a year off after transferring from Lehigh following the 2014-2015 season and still has two years of eligibility remaining.
The other Indiana-born player slated to start Saturday is 6-foot-8 sophomore forward Adam Eberhard. An Evansville product, Eberhard led the Knights in field goal percentage as a freshman (63.2) while averaging seven points and 3.9 rebounds per game.
Thelen Reunion
For Indiana graduate assistant Jake Thelen, Saturday will mark his first time facing his old team.
Thelen, who joined the Indiana coaching staff in May, averaged 14.4 points over his four seasons as a Knight, spanning from 2011 to 2015. He finished his collegiate career with 1,412 points, 16th most in program history.
"I am a competitor and always want to win the game," Thelen said, "but I would also not be here without the help of Coach Davenport, so I am excited to see them and be fortunate enough to coach against them."
As a senior during the 2014-2015 campaign, he averaged 18.6 points and 10.7 rebounds per game, leading the Knights to a 31-4 record and a trip to the Final Four. Thelen was rewarded for his contributions, earning GLVC player of the year as well as being named a consensus first-team All-American.
Thelen knows two-time GLVC Coach of the year Scott Davenport will have his squad ready to face Indiana.
"The main thing would be ball and player movement," Thelen said. "Our heads always have to be watching both the ball and your man because if you turn your head for a second they will get a back cut for a layup."
Filed to: Bellarmine Knights