What to watch for in Indiana's exhibition opener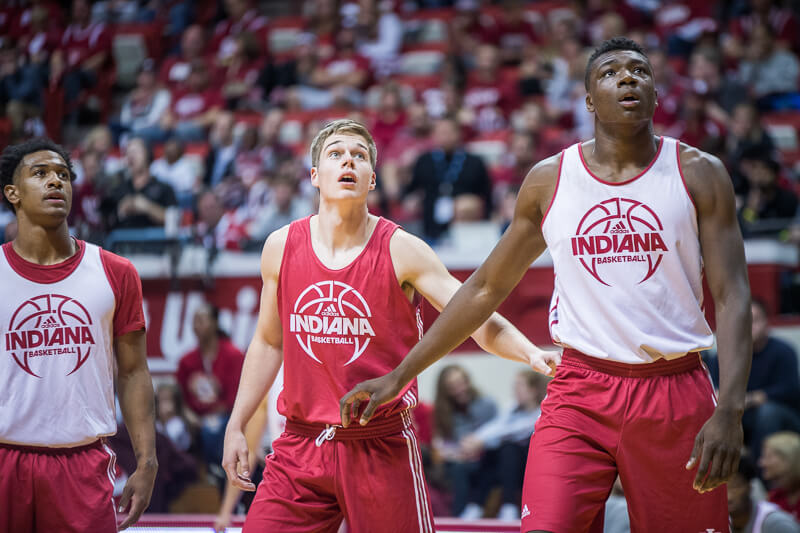 Basketball returns to Assembly Hall on Tuesday night as Indiana will host Hope College for the first of two exhibition games this preseason. 
The game will be broadcast live on BTN Plus ($) at 7 p.m. ET and replayed on BTN on Wednesday at 3:30 p.m. ET. In lieu of our traditional "what to expect" series which focuses heavily on the opponent, here's a look at what to watch for as the Hoosiers take the floor against the Flying Dutchmen:
· Transition defense and ball movement: On his radio show on Monday night, Tom Crean was asked what he'll be looking for in Tuesday's exhibition on both sides of the ball.
Defensively, Crean said he'll be looking at transition and offensively, he mentioned ball movement. Given the fact that Indiana begins the season with No. 3 Kansas in Hawaii, the Hoosiers don't have much time to get up to speed.
"The worst thing I could do is sit there and say 'Well, it will all get better and we can play through that,'" Crean said Monday. "No, we have to get it handled. We have to get it understood that if you don't talk as much on defense, you are hurting us. If you don't get back on defense in transition the way it needs to be done, that's a detriment to us. If that ball doesn't move a quick as it needs to, that's hurting us."
· Rotation, different lineups: Do starting lineups in an exhibition really matter? Probably not.
However, the lineup that begins the game on the floor should lend some insight into how Crean currently views his team based on how they've performed in practice over the last month.
Will the Hoosiers go big with two guards and Juwan Morgan, OG Anunoby and Thomas Bryant up front?
Or will a three-guard set consisting of Josh Newkirk, Robert Johnson and James Blackmon Jr. along with two bigs be the preferred mix of players to start?
Furthermore, who will be the first guys off the bench? How much of a role will freshman guards Devonte Green and Curtis Jones have? Will walk-on Zach McRoberts play with Collin Hartman out with an injury? And will De'Ron Davis be able to make an impact even with the time he's missed in the preseason?
"It's going to take some time for this team to learn the responsibilities that most of them have never had and the level they have to have them at," Crean said. "But it is a great group and I'm excited every day being out there with them. Some days are harder than others for them and me, but the bottom line is that we are in it together and I love watching them grow."
· Health of Indiana's players returning from injuries: Indiana is expected to be without Hartman for an extended period and Freddie McSwain is unlikely to play as he is still working his way back after minor knee surgery, but the rest of the roster should be available.
However, this will be the first live game action for Blackmon Jr., Johnson and Morgan, who are all coming off of surgeries. All three looked solid in Friday's Haunted Hall of Hoops scrimmage, but Tuesday will be another eye test to get a gauge of their progress.
"That's probably where we are No.1 in the country is guys coming back from major surgery and playing in their first game," Crean joked on Monday. "I think we would have Kentucky, Duke and Kansas on that number."
Joking aside, given the importance of all three players to Indiana's success this season, all three will need to continue sharpening things up as the season opener looms in 10 days.
Filed to: Hope College Flying Dutchmen