News and notes from Tom Crean's radio show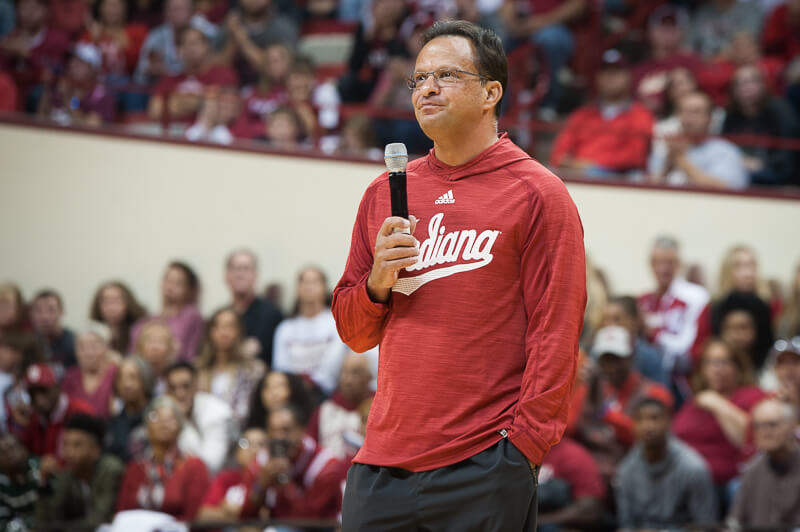 Inside IU basketball with Tom Crean made its season debut on Monday evening from the Holiday Inn in Bloomington in advance of exhibition games this week against Hope College and Bellarmine. Redshirt junior guard Josh Newkirk was this week's player guest.
Below are news and notes from Crean's comments on Monday evening:
· Crean started out talking about the strong work ethic and enthusiasm this year's team has, but also pointed out that it's much different from last year given everything the Hoosiers lost. "Everybody that we lost was a significant impact to our team. That's the good news because it means you're winning."
· One guy that Crean said the program was counting on to bridge the gap from last year to this was Collin Hartman. "It's going to take some time for this team to learn the responsibilities that, almost for all of them, they've never had. And at the level that they've got to have them at."
· Crean said that the high ranking for Indiana in the initial AP and USA Today polls are a product of the Hoosiers having some guys return to school that could have gone to the NBA as well as the fact that Indiana had a really good year. "We don't get caught up in any of that and frankly, I hope knowledgeable basketball people don't get caught up in that as far as our fanbase. It's a different team. It's a fact of life. I'm with them every day."
· Crean joked that Indiana is No. 1 in the country at guys coming back from major surgeries.
· The only player who isn't fully cleared is junior Freddie McSwain. Monday was McSwain's first day full court in a long time. Crean said there is an "outside shot" for McSwain to play on Saturday against Bellarmine, but if that doesn't work out, he should be back for the season opener against Kansas.
· According to Crean, Indiana has a very nice group of guys that "have to get a nastier disposition" on the court.
· Indiana has about a fifth of what they had in (play wise) a season ago going into the first exhibition.
· Crean said he isn't sure who will be this year's vocal leader. "Whoever is ready to take it away from me. I'm ready to give it up and I know the coaches are ready to give it up."
· When Indiana is at full strength, Crean said this team could be 10 to 12 deep.
· Walk-on Zach McRoberts could have a substantial role, according to Crean. McRoberts has gained 29 to 30 pounds since joining the program. "I think he'll have a very good role for us."
· On De'Ron Davis: "He can score. And really we need to simplify it for him because of the time he missed." Crean said he had to pass four classes this summer. Davis will probably play in short bursts for now.
· Crean said Devonte Green can score in bunches and make 3s, but Indiana needs him to keep the game simple.
· Curtis Jones "can wear a lot of hats," according to Crean. Indiana needs Jones to be able to play in the ball screen and also play on the wing.
· Crean said that Grant Gelon needs to remember that he's a really good shooter. He also added that he needs to learn the nuances of college basketball defense.
· Crean urged fans to have patience with the team's young players, particularly Davis and McSwain, who both missed valuable time this summer.
Filed to: Tom Crean