Haunted Hall of Hoops scrimmage recap and notes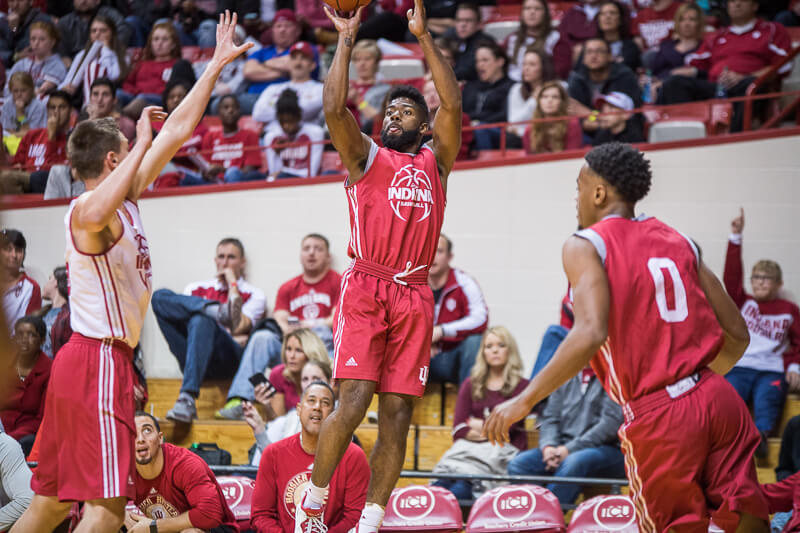 For the second time in less than a week, Indiana held an intrasquad scrimmage at the newly renovated Simon Skjodt Assembly Hall.
Friday night's scrimmage was held during the ninth annual Haunted Hall of Hoops. The scrimmage contained two 10-minute periods, with teams switching some players after the first period in an effort to try out different lineups.
Coach Tom Crean, in a gray t-shirt, white basketball shorts, and bright red sneakers, led the squads through several game-like situations, working on everything from a full-court press to situational in-bound plays.
The first 10-minute scrimmage was won 31-28 by the Cream team, which was led by Juwan Morgan, Rob Johnson, Devonte Green and Curtis Jones. Cream held off a high-powered Crimson offense led in the backcourt by Josh Newkirk and James Blackmon, Jr.
Crimson took the second scrimmage 29-27 when Josh Newkirk found Grant Gelon for a layup in the final second. Collin Hartman, Freddie McSwain and De'Ron Davis (who Rob Judson said tweaked his ankle) all did not participate due to injuries.
Notes:
· Blackmon, Jr., looked a lot like the player he's been since he came to Bloomington. The junior can drill shots from deep with ease, but still needs to take better care of the ball and tighten things up defensively.
· The freshman guards looked solid. Curtis Jones showed great touch at the rim and Devonte Green continued where he left off at Hoosier Hysteria knocking down 3s.
· With Hartman, McSwain, and Davis all sitting out the scrimmage with various injuries, nobody could guard Thomas Bryant.
· Offensive rebounding may be a strength of this team. OG Anunoby and Juwan Morgan were relentless when it came to attacking the glass. The duo was effective together when they shared the frontcourt for the Cream team in the second scrimmage.
· Although the Hoosiers may not have a true point guard, they will have plenty of options in the backcourt. Newkirk, Johnson, Blackmon, Jones, Green and Morgan all spent time handling the ball during the scrimmage. Newkirk arguably looked the most comfortable of the group at the lead guard, showcasing his passing, driving and jump shooting abilities.
· Robert Johnson led the way offensively with a combined 22 points (unofficially). Johnson nailed a number of 3s and displayed good chemistry when he joined Newkirk in the backcourt.
· Anunoby had the defense on edge every time he drove to the basket, drawing fouls and hitting shots at the rim. Anunoby also displayed an improved passing ability, hitting teammates in stride several times (although a few passes were a bit too ambitious and went bouncing out of play).
· The Hoosiers will play their first exhibition game Tuesday night when they face Hope College. Tipoff is scheduled for 7 p.m. ET at Simon Skjodt Assembly Hall.
Filed to: Haunted Hall of Hoops