What to watch for: Hoosier Hysteria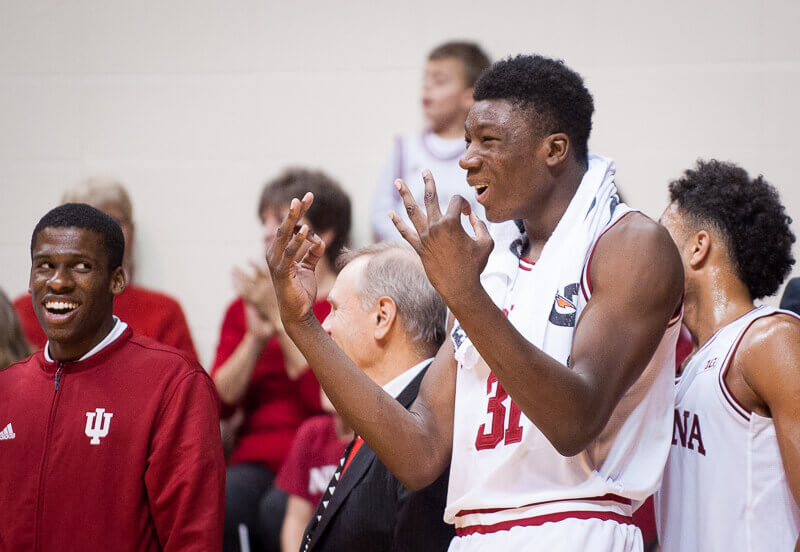 With the 2016 version of Hoosier Hysteria just a day away, here are three things to watch for on Saturday in Simon Skjodt Assembly Hall:
· The scrimmage, typically the most informative part of the evening: We're three weeks from the regular season tipping off and this will be the first opportunity to get a glimpse of where things stand in a "game like situation."
Among the things to watch for are James Blackmon Jr. in his first return to the court in front of fans since last December, the talented IU frontcourt of Thomas Bryant, OG Anunoby, Juwan Morgan and De'Ron Davis as well as the guard rotation.
With Blackmon Jr., he's talked several times in the preseason about where he's at physically and with his athleticism, but this will be our first up-close look the IU junior.
The frontcourt battles could be especially intriguing, particularly if Anunoby and Morgan go head-to-head. Likewise for a potential battle between Davis and Bryant. Anunoby and Bryant are receiving the preseason headlines and accolades, but Morgan reportedly had a terrific summer. Davis has battled some minor offseason injuries and is playing catchup after arriving on campus late. How will his conditioning look in a scrimmage setting?
Indiana's backcourt should be a strength this season because of its depth. The losses of Yogi Ferrell and Nick Zeisloft are significant, but in Blackmon Jr., Robert Johnson, Josh Newkirk, Curtis Jones and Devonte Green, there will be no shortage of options in the Hoosier backcourt.
· Skills contests: If Freddie McSwain was completely healthy, he'd be one of the favorites to win the dunk contest, but he's still working his way back after knee surgery. Assuming McSwain is out of the mix, Anunoby has to be viewed as the favorite in the dunk contest, assuming he participates.
If he participates, Morgan is another guy to watch as is Newkirk, who regularly finished above the rim before injuries set him back at Pittsburgh.
The 3-point shooting contests typically include everyone on the roster and Troy Williams was the surprise winner last season. This year, Blackmon Jr. might own the purest stroke, but this roster includes no shortage of players capable of filling it up from the perimeter, which makes things wide open.
· Recruits in attendance: Hysteria is typically a big recruiting weekend in Bloomington in terms of the volume of visitors on campus and this year should be no different.
The headliner is class of 2017 five-star prospect Billy Preston, who will be in Bloomington on his official visit. Preston, a native of California, has taken recent visits to Kansas and Syracuse and is also strongly considering USC.
Beyond that, there will be a large volume of visitors from around the state and the midwest from the 2018 class and beyond. It's an excellent opportunity for the program to sell itself to younger players who are just emerging on the radar.
Hysteria schedule:
– 5 p.m. – Doors open
– 5:10 – 5:40 p.m. – Women's Basketball Shoot Around
– 5:15 – 6:15 p.m. – Men's Basketball Autograph session
– 5:45 – 6:20 p.m. – SAB Candy Stripe Classic Final Four Games & Championship
– 6:30 p.m. – Women's Basketball Introductions Begin
– 6:50 p.m. – Women's Basketball 3-Point Shooting Contest
– 7:05 p.m. – Men's Basketball Introductions Begin
– 7:20 p.m. – Men's Basketball Shooting Drills
– 3-Point Contest
– Men's vs. Women's 3-Point Contest
– Delta Low-Flyer Student Dunk Contest
– MBB Dunk Contest
– Following Dunk Contest: Men's Basketball Scrimmage
Filed to: Hoosier Hysteria