Photo Gallery: Simon Skjodt Assembly Hall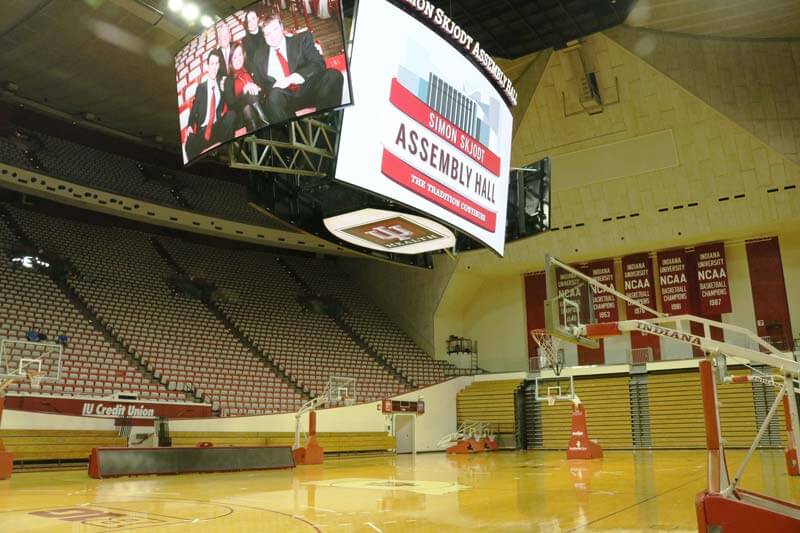 Indiana University officially dedicated Simon Skjodt Assembly Hall Friday afternoon.
The ceremony lasted around an hour and featured several current and former Hoosiers including former player Quinn Buckner, Robert Johnson, and both current IU head basketball coaches.
The dedication was filled with excitement, anticipation and relief.
"When the renovation began, this building was nearly 44 years old," athletic director Fred Glass said at the dedication. "It was figuratively and actually literally falling apart. You remember that? Not good."
Now, Simon Skjodt Assembly Hall is ready to go. A building home to 14 Big Ten championship teams, three national champions has been upgraded for the modern era.
"You had a building that was already in a class by itself," Crean said following the dedication. "It has just elevated even further with what has been done here. We don't ever want to have a team or a player that comes in that takes any of this for granted."
Any worries about a diminished home court advantage have subsided. The steep lower bowl and intimate atmosphere remains, while new student seats have been added at the baseline.
The capacity has shrunk slightly to 17,222, but the bevy of added amenities from more bathrooms to brand new upholstery to the dozens of historical photos around the hallways, should keep fans satisfied.
"From the start, the goal of this renovation was to preserve the best home-court advantage in college basketball," Glass said. "As we stand here today, I trust you'll agree that we've not only preserved it, but we have dramatically enhanced it."
The largest benefactor of the project, Cindy Simon Skjodt, was nearly brought to tears speaking during the dedication when describing what the renovation meant to her family.
"I look forward to sitting in this iconic basketball hall for generations to come, sharing good times, winning seasons, and more memories," Skjodt said. "For my children and grandchildren, too."
The most rousing speech of the dedication was given by Tom Crean. Crean noted how far the program has come since he took the helm in 2008 and how he hopes the upgraded facility will continue the upward trajectory of the program.
"This building will take a backseat to nobody's building, not only in this country, but in this world, in college sports," Crean said.
The general public can get their first view of the renovated facility Saturday from 11 a.m. to 3 p.m. Fans can see the Hoosiers in action for the first time this season during Hoosier Hysteria, scheduled for Saturday, October 22.
Filed to: Assembly Hall