Indiana dedicates Simon Skjodt Assembly Hall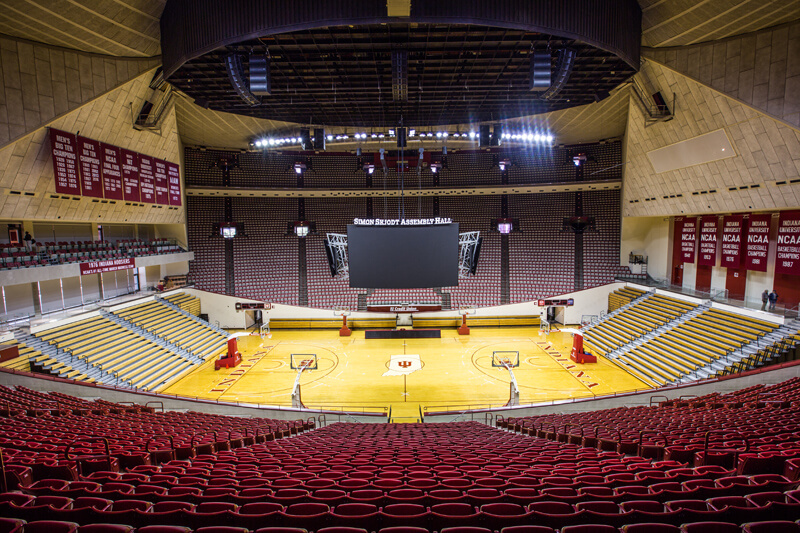 Indiana dedicated the renovated Simon Skjodt Assembly Hall on Friday, Oct. 14 in a ceremony in the south lobby of the building. The university released full details on all of the changes to the building, which are available in their entirety below:
(Photo credit: Indiana basketball on Exposure)
BLOOMINGTON, Ind. – Indiana University President Michael A. McRobbie presided over the dedication of Simon Skjodt Assembly Hall on Friday afternoon. The historic and venerable arena is named in honor of IU alumna Cindy Simon Skjodt, whose $40 million gift represents the largest gift in IU Athletics history. The renovation preserves the greatest home court advantage in college basketball while adding fan amenities and modern technology to the iconic venue. The dedication also served as the official opening of the Mark Cuban Center for Sports Media and Technology. Made possible by a $5 million gift from IU alumnus Mark Cuban, the Center is home to a first-of-its-kind, cutting-edge, student-focused, video, broadcasting and technology center located on the west side of Simon Skjodt Assembly Hall.

McRobbie, Simon Skjodt and Indiana University Vice President and Director of Intercollegiate Athletics Fred Glass led this afternoon's dedication ceremony which took place inside the building's spectacular new south lobby. Other speakers at the event included head men's basketball coach Tom Crean, head women's basketball coach Teri Moren, former IU All-American and current Board of Trustees member Quinn Buckner as well as students Rob Johnson (men's basketball) and Tyra Buss (women's basketball).

"Today's event ushers in a new era in the history of one of college basketball's most iconic and venerable venues," McRobbie said. "This beloved building, which has been home to three national men's basketball championship teams and where millions have enjoyed so many unforgettable experiences, has been transformed in a way that both respects its storied history and ensures that the next generation of Hoosier fans will be able to grow their own memories in a safe, comfortable, exciting and enjoyable environment.

"We want to extend our sincere thanks to philanthropist and IU alumna Cindy Simon Skjodt, to her husband, Paul, and to their entire family. Their generosity will touch the lives of countless student-athletes, coaches, alumni and friends of IU, and it will help our men's and women's basketball programs continue to thrive and excel for many decades to come. We also want to thank another visionary alumnus, Mark Cuban, whose extraordinarily generous gift of $5 million in 2015 established the Mark Cuban Center for Sports Media and Technology, which is housed in Simon Skjodt Assembly Hall. His generosity and vision have allowed IU to create a first-of-its-kind, cutting-edge, student-focused video, broadcasting and technology center that makes IU Athletics the national leader in 3-D broadcast and replay, virtual reality and 3-D virtual studio technologies."

"Our objective was to preserve for future teams and generations of Hoosier fans the greatest home court advantage in college basketball," said Glass. "The vision and generosity of Cindy Simon Skjodt and other donors have enabled us to not only preserve it, but to dramatically enhance it. I think our fans will find that we have maintained the best qualities of this iconic building while substantially improving the fan experience. Mark Cuban's gift and the establishment of the Cuban Center will put Indiana University at the cutting edge of sports media and technology, differentiating us from our competition."

"My love for this great institution has never been a secret," said Simon Skjodt. "Every time I'm on this campus, I have an overwhelming sense of pride. I look forward to sitting in this iconic basketball hall for generations to come and watching people share good times, experience winning seasons, and create warm memories like I was lucky enough to enjoy as a young girl coming to games with my father."

"I am so excited to work with Indiana University to bring us into the future of sports media, broadcasting and analytics," Cuban said. "We wanted to do something that gave IU a competitive advantage across all elements of sports and gave them an advantage in recruiting students into new technology phases. I am thrilled that IU students have a home to utilize this technology."

Self-guided tours for the public were made available at the conclusion of Friday's ceremony. The public is also encouraged to visit and look around Simon Skjodt Assembly Hall on Saturday, Oct. 15 from 11 a.m. to 3 p.m. Starting this Monday, Oct. 17, tours for the public will be available Monday through Friday from 9 a.m. to 5 p.m. Fans interested in taking a look at Simon Skjodt Assembly Hall need not make a reservation, but need only enter through the south lobby during these times.

While the renovations are substantially complete, some additional elements will continue to be added through the first season of Simon Skjodt Assembly Hall. The first regular season game in the new Simon Skjodt Assembly Hall will be played on Nov. 11 against UMass Lowell, but the first major event there will be Hoosier Hysteria on Oct. 22.

The renovations in and around Simon Skjodt Assembly Hall greatly enhance the fan experience by creatively displaying elements of IU basketball and IU Athletics history, while seamlessly integrating new portions of the building to existing areas. The renovation maintains the unique and special character of the building that made the original Assembly Hall the greatest home court advantage in college basketball while adding new fan amenities and modern technology to the iconic venue.

Simon Skjodt Assembly Hall originally opened its doors as Assembly Hall in 1971. It has been home to three national championship teams, 14 Big Ten championship teams and has served as the home for the Indiana women's basketball program since its very beginning. Boasting the nation's largest student section, Simon Skjodt Assembly Hall is widely considered one of the nation's loudest and toughest home arenas to play in for opposing teams. The venue now holds a seating capacity of 17,222.

Mark Cuban Center for Sports Media and Technology

Today's dedication also marks the official opening of the Mark Cuban Center for Sports Media and Technology. Located adjacent to the west hallway of Simon Skjodt Assembly Hall, the Cuban Center is a first-of-its-kind, cutting-edge, student-focused, video, broadcasting and technology center. A $5 million gift from Cuban has made IU Athletics a national leader in 3D broadcast and replay, virtual reality and 3D virtual studio technologies.

The Mark Cuban Center for Sports Media and Technology partners with academic units on campus to provide opportunities for students in various media and technology disciplines by allowing them to use cutting edge technology and equipment to hone their skills and produce high-quality professional content. Utilizing the center's resources, IU students will produce a wide variety of media content for IU Athletics including virtual reality videos for fan experience, athlete instruction, recruiting videos, social media, video board displays, team specific shows and live event broadcasts for all 24 IU sports.

Consistent with IU Athletics' priority to be integrated with the rest of the University, the Cuban Center collaboratively engages the broader campus community in providing student personnel and/or curriculum to support the efforts of the Center. This is done in areas as wide ranging as virtual reality, gaming, studio production, gameday video production, motion and broadcast graphics, promotional location production, reporting, play-by-play and game live casting. IU Athletics has already enlisted support for the Center from the Media School, IU Radio TV Services, the School of Informatics and the Advanced Visualization Lab.

The Mark Cuban Center for Sports Media and Technology is available to students around the clock to allow them to work on projects outside of class time. The Center features the only Intel freeD replay system in college athletics, six student dedicated editing stations, an ORAD virtual studio, a new photography lab, a recording studio and an additional broadcast control room for live events and streams. A new digital asset management system is in place as the Center has an ubiquitous high speed network with connectivity to the Media School in Franklin Hall and all of the IU Athletics venues.

New South Lobby

The most highly visible component to the renovation of Simon Skjodt Assembly Hall is the new grand entrance and south lobby providing a bold new "front door" for the building facing the campus. Complimenting nearby Cook Hall, the new south entrance of Simon Skjodt Assembly Hall features a prominent glass atrium allowing fans to see the court from the lobby and new inside signage (modeled after the original Assembly Hall signage) and branding viewable from the outside.

The new entrance to Assembly Hall includes new ticket windows, concourse flooring, branding, signage, four new escalators and grand staircases, and lobby restrooms. Two new escalators were also added to the north lobby.

Ken Nunn Champions Plaza
Named in honor of major donor Ken Nunn, the Ken Nunn Champions Plaza is a beautifully landscaped area that welcomes fans into the new south entrance of Simon Skjodt Assembly Hall with inviting greenspace and lighting. The plaza also creates a unified IU basketball outdoor area by connecting Simon Skjodt Assembly Hall and Cook Hall.

New Scoreboard with HD Quality Video Screens

A central feature of the renovation of Simon Skjodt Assembly Hall is the newly installed state-of-the-art scoreboard. The $1.04 million HD quality scoreboard greatly enhances the fan experience and utilizes cutting edge technology.

The design of the new scoreboard incorporates architectural elements of Simon Skjodt Assembly Hall. The upward arch in the truss mirrors the arch of each sideline inside the facility. The bottom of the scoreboard facing the floor is the same architectural shape as the ceiling of the building. It is hung by utilizing the existing hoist system in the arena.

The scoreboard, designed by Anthony James Partners, features two screens that cover 552 square feet toward the main stands along with a pair of 206 square foot screens facing each end line of the court. The dimensions of the two larger video boards are 31.2 feet wide by 17.7 feet tall as the north and south screens measure 19.8 feet wide by 10.4 feet tall and has a total weight of approximately 34,000 pounds. The total flat screen surface of the four-paneled board is just over 1,500 square feet. By comparison, the total flat screen surface on the previous eight-paneled scoreboard was just over 1,000 square feet.

The pixel density of the video boards is 2,130 per square foot for a total of 3,225,600 pixels, providing incredible picture clarity. The new board will greatly improve the view within the arena, especially those fans sitting in the balconies.

Daktronics, a scoreboard and video systems company out of South Dakota, was awarded the contract after a competitive bid. The new larger scoreboard will display the score, in-game stats and highlights as well as in-game entertainment.

Improved and Added Restrooms

All existing restrooms were updated and new ones were added as part of the renovations for Simon Skjodt Assembly Hall. Women's restroom fixture counts increased by 112 percent from prior to the renovation, while men's restroom fixture counts were increased by 33 percent. The total fixture increase for all restrooms grew by 68 percent (from 186 to 314). Updates to the existing restrooms include new ceilings, lights, paint, toilet partitions, toilet seats, lave deck sink systems, flooring tile and select fixtures adjusted to accessible dimensions.

There are 16 new all gender restrooms that are for use for all individuals and families with small children. These restrooms include baby changing stations. All new restrooms (men's, women's, all gender) are 100 percent ADA compliant and include comfortable amenities designed for the gameday environment.

Other Fan Amenities

A number of other exciting new fan amenities and branding elements are featured throughout Simon Skjodt Assembly Hall. These new amenities creatively display elements of IU basketball and IU Athletics history.

Interactive touch screens, developed in-house by IU Athletics IT staff in concert with graphic designers, videographers and photographers working in the Mark Cuban Center for Sports Media and Technology, are housed in the south lobby. These displays provide patrons with photos and videos chronicling both IU Athletics and IU basketball history. The screens include a database listing IU basketball All-Americans and Indiana high school basketball All-Stars. The interactive touch screens also provide access to team photographs of varsity teams at IU and to the Indiana University Archives Photograph Collection.

The south lobby also has two large 9×15 feet video screens mounted high on the walls on each side of the entrance. These displays will display photos, highlight videos, broadcast of games, and promote upcoming events. The content on the screens will be created by students working in the Mark Cuban Center for Sports Media and Technology.

The interactive screens also include the IU Athletics Hall of Fame and feature the classic water color portraits that previously graced the walls of the north and south lobbies. Additionally, physical versions of those portraits can now be viewed in a permanent display in the Henke Hall of Champions within Memorial Stadium.

Over 150 new framed pictures of iconic IU basketball players, teams, and moments have been hung throughout Simon Skjodt Assembly Hall.

Another fan-friendly feature of the south lobby are two three-dimensional eight-foot tall IU logos. Resembling Indiana limestone, the structures are on the second level of the south entrance, are visible from the exterior of the building and provide a perfect location for fans to take pictures to share on social media and otherwise.

A donor recognition display is also a part of the south lobby. This display recognizes major contributions to IU Athletics' portion of the For All: The Indiana University Bicentennial Campaign. Named and endowed scholarship donors are recognized in modern displays honoring their extraordinary commitment to providing critical scholarship support for deserving students in all 24 varsity sports. Donors to previous campaigns are also recognized in modern displays honoring their extraordinary commitment to Indiana University Athletics.

All 25 IU national championship teams are prominently displayed throughout Simon Skjodt Assembly Hall. Featured in both the north and south lobbies, there is a display with 25 stars and a listing of the championship teams, with room to add future championship teams.

The five national championships for men's basketball are on display in their own space as part of the renovated west entrance into the building. Resulting from a major gift from the Menke family, the entrance is now known as the Menke Family Champions Lobby. Brothers Bob and Bill Menke were part of Indiana's first national championship team in 1940 under legendary head coach Branch McCracken. Both brothers served in World War II after college. Bill lost his life defending his country in a plane crash during the war. Bob returned to Huntingburg and founded a family business which is now known as OFS Brands, a family-owned, community-driven manufacturing and logistics company providing furniture solutions in office, healthcare, education and government markets. Bob passed away in 2008 at the age 88, but the Menke family's legacy lives on through Bob's wife Phyllis, and their children, grandchildren and great grandchildren. Bob's son, Hank Menke, now serves as CEO and President of OFS Brands.

Other entry level displays include memorable composite photos of every IU Big Ten championship team (east hallway), an IU Olympians wall (west hallway) and a Traditions of IU display (south lobby). Throughout Simon Skjodt Assembly Hall, fans will see framed images and stories from IU basketball lore. These photos and stories range from the first varsity team in 1900-01, to the five national championships, to the early days of IU women's basketball, to the many great moments from recent IU basketball history.

One of many updates within the arena bowl itself is that every non-bleacher seat is crimson and branded with an embossed IU logo on the chair back. Every ticketed, non-bleacher seat has also been refurbished with red, cleanable upholstery, new inner foam padding and cream colored seat pans that will provide more comfort for fans.

To improve visibility and fan safety, most guardrails have been replaced by transparent acrylic material. This addition especially improves visibility for students and fans sitting in the balconies.

Simon Skjodt Assembly Hall also features new flooring, lighting, and an updated paint scheme. New, colorful, patterned flooring that features IU marks are part of the renovated walk spaces. The entry level features a terrazzo floor, while a resinous epoxy floor is on the main concourse level. A new red and white paint scheme is on the walls and many ceilings of the building with iron ore color accents on doors, windows and other frames.

Upon entering any entrance, signage reminiscent of the original hand-painted directional signs are hung throughout the building. Those are in place to assist fans with locating seats, restrooms, concessions and landmarks.

Restoring Center Court, Basketball Goal Stanchions, and Historic Scoreboard

Several beloved artifacts that had been part of the building have been restored and uniquely displayed. The main attraction in the north lobby is the classic hardwood center court state of Indiana logo with the large "I" inside the center circle. The court was installed as part of Branch McCracken Court in the summer of 1976 and was retired in 1995.

The original unique basketball goal stanchions that were installed in the fall of 1971 for the opening season of the building through 2001 are making their return to Simon Skjodt Assembly Hall. The restored stanchions and goals will be featured in the north lobby.

Also making its return to the building is the scoreboard that hung over the center of the court from 1983-2005. The scoreboard has been divided in half and is mounted above the grand stair cases on both sides of the south lobby. The scoreboard has been updated with new working digital numbers to show the live score and time of every IU home game.

Fan Friendly Technology

Simon Skjodt Assembly Hall features enhanced fan-friendly technology throughout the arena. Over 125 flat screen television monitors are featured throughout the concourses and walkways and all broadcast in HD. Concession stands now have digital menu screens to allow each stand to change the menu in real time based upon food and beverage availability.

All touch screen displays that are housed in the south lobby are accessible and for the first time, closed captioning of public address announcements is available for anyone with the official IU Athletics mobile app.

Expanded Concession Stands Locations and Improvements

Concession stands have been substantially improved through the renovation. There is a 135% increase in customer service locations (from 28 to 66), and 66 new flat screen video monitors now hang above the permanent concession stands displaying digital menus and live game action video so patrons won't miss a moment while making a purchase. Counters were lowered for improved accessibility and were moved out by three feet out in order to allow each stand to switch from four to six lines.

New exciting menus items will be in place within Simon Skjodt Assembly Hall including sliders, BBQ pork, cheeseburgers, pulled chicken, hot dogs, cheese fries, boneless chicken wings, mini corn dogs and onion rings. Other appealing food options that will be available to patrons include Chocolate Moose ice cream in the east balcony, an additional Chick-Fil-A location in the west balcony, a funnel cake/Oreo Churro cart, and a newly designed Dippin Dots cart featuring a mini IU basketball bowl. Beverage improvements include sweet tea and Fanta being available at all concession stands.

Updated and new concessions equipment are installed throughout the building including ventless fryers, popcorn machines, fountain Coke machines, refrigerators, candy racks and condiment equipment. There are now 20 condiment locations (previously nine) throughout Simon Skjodt Assembly Hall, while credit card payment locations were increased by 84 percent. Infrastructure improvements were made to improve food safety, including new hand washing sinks, modern drains, and easily cleanable surfaces.

Henke Spirit of '76 Club

The new Henke Spirit of '76 Club, located above the south bleachers, is the special hospitality seating experience inside Simon Skjodt Assembly Hall. All proceeds generated from this new seating opportunity will be dedicated to scholarships for our students participating in intercollegiate athletics. The space pays homage to the 1976 national champion Indiana Hoosiers that remains the last college basketball team to finish an entire season and NCAA tournament undefeated. Large photos and displays of that memorable team are part of the Henke Spirit of '76 Club décor. The space provides seating for 83. Hoosier Champion donors are eligible to purchase season tickets to the Henke Spirit of '76 Club.

Renovated Press Room, Permanent Media Seating, and Additional Premium Student Section Seating

The Simon Skjodt Assembly Hall Press Room has also been improved, including new modern furniture, updated lighting and permanent tables and seating for media members.

Within the arena bowl, permanent media seating has been installed in the east stands presiding directly over midcourt. The media area includes extended space for more comfortable seating, improved connectivity, HD flat screen televisions and a hospitality area. The new permanent media seating will facilitate the addition of 98 student seats to the south bleachers student section.

Improved Infrastructure and Accessibility

The renovation of Simon Skjodt Assembly Hall included a number of important infrastructure updates and improvements. These include new emergency generators, new domestic hot water heaters, a new fire pump, new chill water pump system and chilled water piping into the building, a new air handling unit for the south end of the building, newly installed HVAC in the south lobby including heat recovery and domestic water booster pumps.

The renovation also includes great improvements to accessibility. Accessibility improvements include: Ken Nunn Champions Plaza features universal accessibility allowing all individuals to access the south entrance from any point on the sidewalk; the doubling of wheelchair seating; the installation of 66 moveable armrest seats to allow those with mobility issues who do not use a wheelchair to use a more traditional seat; a closed captioning system will transcribe the PA announcer for all men's games to personal devices running the IU mobile app; concessions counters have been lowered to a more accessible height; and all new restrooms are 100 percent accessible, while accessibility to existing restrooms has been improved.
Filed to: Assembly Hall