Big Ten media day notebook: Blackmon Jr. talks defensive criticism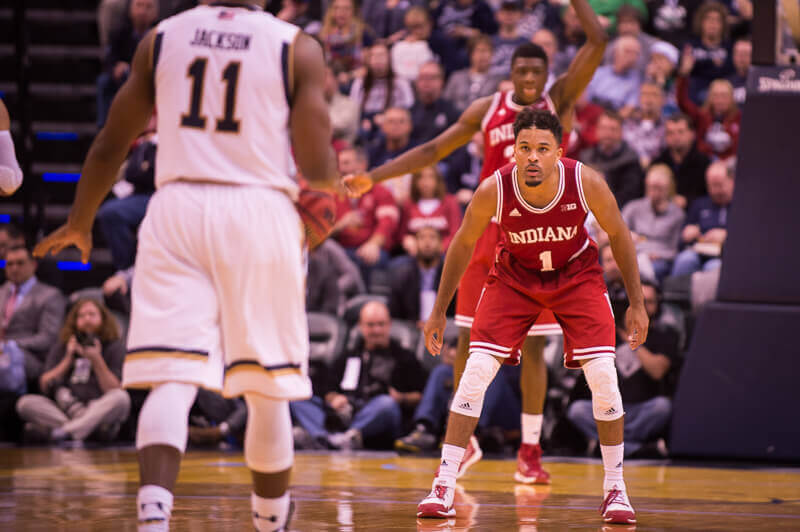 WASHINGTON – It was a tough 2015-2016 season for Indiana's James Blackmon Jr.
Not only did the former McDonald's All-American miss the entire Big Ten and postseason portion of the schedule with a knee injury, he took criticism while off the floor. His absence was frequently cited as a reason for Indiana's defensive turnaround the second half of the season.
Blackmon Jr. heard some of what was said on the outside, but said he tried to ignore most of it.
"I heard a little bit of it," the IU junior said at Big Ten media day at the Marriott Wardman Park. "I really didn't pay attention to it because a lot of people on the outside don't know what's going on.
"When you hear stuff like that, you want to show your best and I feel like I will do that this season."
Blackmon Jr.'s return to full strength is a key for Indiana to reach its potential and contend for another Big Ten championship. Earlier in the week, he was named to the All-Big Ten preseason team by a panel of media.
His teammate and backcourt mate, Robert Johnson, believes Blackmon Jr. will return as an even better player after an exhaustive rehabilitation process.
"I'm extremely proud of him with how he's come back from his rehab," Johnson said. "He's actually come back stronger and faster. I think you see that with some of his numbers in the strength and conditioning program. His bench number, his vertical numbers went up. I think it's all a testament to how hard he's worked."
Bryant's decision to return not a difficult one
The Big Ten lost two McDonald's All-American freshman to the NBA last season and two opted to return to school for their sophomore seasons.
The two who returned: Indiana's Thomas Bryant and Purdue's Caleb Swanigan. While Swanigan went through the NBA pre-draft process and waited until later in May to announce he would return to school, Bryant didn't even test the waters despite being a potential first round pick.
In fact, leaving early wasn't something the Indiana sophomore seriously considered.
"Just seeing myself as a long term prospect in the game of basketball, I knew I needed to return for my sophomore year before I even finished the season," Bryant said Thursday. "I thought it would be better for me for the long term."
Taking the long view is something that could pay off for Bryant down the road. The key to a lucrative NBA career is reaching the second contract, which is something that many guys who leave school early struggle to do.
Bryant also looked at recent Indiana examples like Cody Zeller, who was the No. 4 pick after two years in college and Victor Oladipo, the No. 2 pick after three years in Bloomington.
"Of course you look at that because they were top notch guys who played in the Indiana program," he explained. "But also I just looked at myself as well, just doing what was best for me."
While Bryant's decision to return without even testing the waters may have been a surprise to some, it wasn't to one of his closest friends.
Michigan State freshman Miles Bridges, who played with the Indiana sophomore for two seasons at Huntington Prep, said Bryant realized he still had plenty to work on before making the jump to the next level.
"He improved his game a lot last year," Bridges said. "I'm kind of happy that he didn't go into the (NBA) draft because he's going to be one of the best players in college basketball. I have a lot of love for Thomas.
"He had talked to me about it before. I knew he wasn't going to test it or go into the draft because he told me that he wasn't ready yet."
Weekend trip to New York focused on service
In the spring of 2015, Indiana visited the Abide Center in North Omaha during its trip to the NCAA tournament.
Last fall, the program went to the Police Athletic League in Baltimore. And most recently, the Hoosiers went to New York City for a trip focused on service.
There were basketball aspects to Indiana's trip to New York, but it wasn't what the Hoosiers will remember most from the trip.
That moment will be reserved for the trip to 118th and Lenox in Harlem, where Indiana worked with 120 kids for three and a half hours.
"A lot of those kids in those areas, I see myself in them," Johnson said. "Especially the ones playing sports and you just see the joy by playing with you. It's good to have a chance to go in and be a positive influence and impact lives like that."
Tom Crean said that when it's all said and done, he hopes his players remember the service experiences as much as anything else.
"I'd be shocked, to a man, if our kids weren't as inspired as you'd hope those kids would be," Crean said. "The thing we try to get across, time after time, is be selfless and be a problem solver. And you don't do that in one giant swoop. You do that one person at a time or one group of a time."
Filed to: 2016 Big Ten media day, James Blackmon Jr., Robert Johnson, Thomas Bryant