The complete #iubb Twitter guide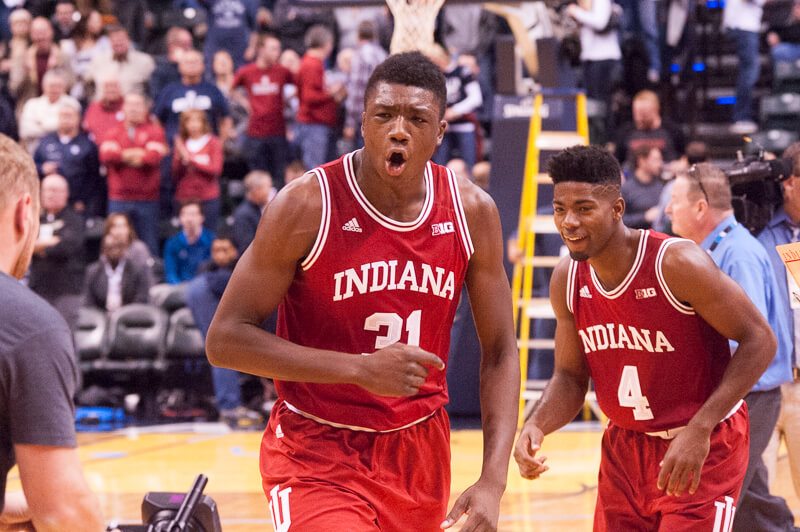 We're now just a little more than a month away from the college hoops season tipping off, which means the #iubb tag on Twitter is about to heat back up.
Since it hasn't been done before (at least that we've seen), we wanted to offer Indiana fans a complete guide to following the program, the players, media and more for the 2016-2017 season. Below is our complete guide on the accounts to follow for Indiana basketball on Twitter this season.
(Note: If we're missing anyone, please post in the comments or email us.)
Official accounts, player and staff accounts
Official Indiana men's basketball account – @IndianaMBB
Tom Crean (no longer active on the platform) – @TomCrean
Assistant coach Chuck Martin – @ChuckMartinIU
Assistant coach Rob Judson – @rjudsonIU
Derek Elston – @dsol32
Collin Hartman – @CollinHartman30
Josh Newkirk – @1Newkirk_
James Blackmon Jr. – @JBlackmon2
Robert Johnson – @robjohnson4_
Tim Priller – @Vanilla_Prilla
Freddie McSwain – @Mcswain_swain
Quentin Taylor – @Q22Taylor
Thomas Bryant – @nolimittb31
Juwan Morgan – @juwanmorgan23
OG Anunoby – @OAnunoby
Johnny Jager – @moveslike_JAGER
Devonte Green – @ChefBoyArGreen
Curtis Jones – @ctj_curt
De'Ron Davis – @DDavis2016
Former players
Cody Zeller – @CodyZeller
Victor Oladipo – @VicOladipo
Jordan Hulls – @JordanHulls1
Christian Watford – @Cwat205
Will Sheehey – @SheeheyWilliam
Troy Williams – @troywilliams_
Yogi Ferrell – @YogiFerrell11
Noah Vonleh – @NoahVonleh
Verdell Jones – @Vj3_217
Nick Zeisloft – @n_zeis2
Max Bielfeldt – @MaxBielfeldt
Eric Gordon – @TheofficialEG10
D.J. White – @dj_white3
Calbert Cheaney – @calbertcheaney
Michael Lewis – @CoachMikeLewis
Alan Henderson – @44AlanHenderson
Kirk Haston – @KirkHaston35IU
A.J. Guyton – @ajguyton
Jared Jeffries – @ModernFishingTV
Dane Fife – @CoachDaneFife
Errek Suhr – @ErrekSuhr
Jarrad Odle – @JarradOdle
Mike Roberts – @MikeRobertsUNCG
Quinn Buckner – @QuinnBuckner
Tom Abernethy – @tomaber3
Dan Dakich – @dandakich
Isiah Thomas – @iamisiahthomas
Steve Risley – @srisley34
Greg Graham – @ggraham1126
Pat Graham – @pgraham10
Ryan Burton – @ryanburton_10
Mike Santa – @mwsanta
Adam Ahlfeld – @atrainIU34
Media accounts
Alex Bozich (ITH) – @insidethehall
Ryan Corazza (ITH) – @ryancorazza
Josh Margolis (ITH) – @MargolisNews
Hailey Hernandez (ITH) – @hmhernandez10
Jamie Owens (ITH) – @JamieOwens
Mike Miller (Herald-Times) – @MikeMillerHT
Zach Osterman (Indy Star) – @ZachOsterman
Gregg Doyel (Indy Star) – @GreggDoyelStar
Alex McCarthy (247Sports/Inside Indiana) – @akmccarthy
Terry Hutchens (CNHI) – @IndySportsHutch
Jeremy Price (Herald-Times) – @JPPrice
Jeff Rabjohns (Scout/Peegs) – @JeffRabjohns
Mike Pegram (Scout/Peegs) – @peegs
Stuart Jackson (Rivals/TheHoosier) – @Stuart_Jackson1
Jordan Wells (Rivals/TheHoosier) – @JWellsTH
Sam Beishuizen (Rivals/TheHoosier) – @Sam_Beishuizen
Pete DiPrimio (Ft. Wayne News-Sentinel) – @pdiprimio
Chris Goff (Ft. Wayne Journal-Gazette) – @CgoffJG
Andrew Hussey (Indiana Daily Student) – @thehussnetwork
Zain Pyarali (Indiana Daily Student) – @ZainPyarali
Greg Gottfried (Indiana Daily Student) – @gott31
Jerod Morris (Assembly Call) – @AssemblyCall
Andy Bottoms (Assembly Call) – @AndyBottoms
Rick Bozich (WDRB) – @rickbozich
Bob Kravitz (WTHR) – @bkravitz
Others
Chronic Hoosier – @ChronicHoosier
CrimsonQuarry – @crimsonquarry
CrimsonCast – @CrimsonCast
Crimson Guard – @iucrimsonguard
Jeremy Gray (IU Athletics) – @IUJGray
Justin Albers – @Justin_Albers
Indiana on BTN – @IndianaOnBTN
Pro Ball Hoosiers – @ProBallHoosiers
Filed to: IU basketball twitter guide