Around the Hall: Updated top 25s, Blackmon's return, more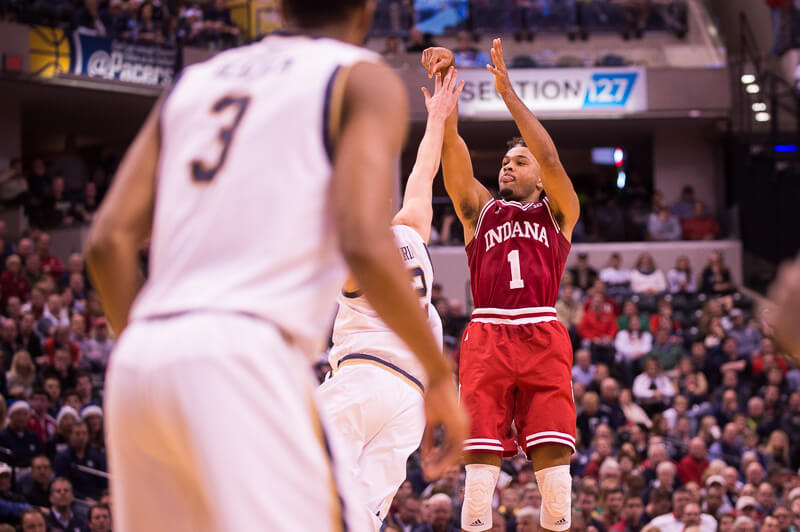 Around the Hall is recommended reading from the Inside the Hall staff.
Friend of the site (and ITH founding father) Eamonn Brennan of ESPN.com updated his preseason top 25 and the Hoosiers check-in at No. 12:
12. Indiana Hoosiers
Bad news first: Colin Hartman, a key role-playing piece of Indiana's recent run-and-gun revival, underwent knee surgery in late September after suffering an injury during a non-contact drill. His timetable for return is unknown. If that wasn't bad enough, Tom Crean has also had to begin his team's official practice regimen without junior college transfer forward Freddie McSwain and sophomore wing Juwan Morgan, both nursing injuries of their own. Good news: Guards Robert Johnson and James Blackmon were cleared to practice in September, and it is their talent — alongside sophomore center(piece) Thomas Bryant — that will ultimately mean the most for the Hoosiers in 2016-17.
Gary Parrish of CBSSports.com also updated his preseason top 25 with Indiana at No. 10:
The loss of Yogi Ferrell hurts, undeniably. But Tom Crean still has enough good veteran pieces — Thomas Bryant, OG Anunoby, James Blackmon, etc. — to make a run at winning back-to-back Big Ten regular-season championships.
Yahoo! Sports lists Josh Newkirk as one of this season's 16 impact transfers in college basketball:
15. Josh Newkirk, Indiana (from Pittsburgh)

Comment: Is Newkirk capable of replacing Yogi Ferrell as Indiana's starting point guard? The Hoosiers certainly hope so considering he's the only true point guard on their roster. The Pittsburgh transfer is a capable passer and defender, but he averaged just 5.9 points per game as a sophomore for the Panthers and he's coming off microfracture surgery.
C.L. Brown of ESPN.com runs through a list of players who were injured last season that will make the strongest comebacks. The list includes James Blackmon Jr.:
Let's be frank here, Indiana James Blackmon Jr. isn't a welcomed addition because of his defense. But the 6-foot-4 junior guard who averaged 15.8 points while shooting 46 percent from 3-point range will bring much needed balance to the floor offensively. He has been cleared to play since rehabbing an ACL injury that limited him to 13 games last season. Teamed with center Thomas Bryant, he'll give IU a powerful inside-outside combination.
Most interesting conference race this coming season? The Big Ten, Dana O'Neil of ESPN.com writes:
Tom Crean coached his way off the hot seat last season by leading Indiana to the Big Ten regular-season title, a 27-8 Sweet 16 finish and an especially sweet second-round win over Kentucky. Thomas Bryant, his talented big man, surprised many by opting to stay in school, so getting him back — along with a healthy James Blackmon Jr. and the crazily athletic OG Anunoby — makes for a promising Hoosier future. But IU just lost Collin Hartman to a knee injury. There's no timetable for his return, and most importantly, Yogi Ferrell is gone. For four years, Ferrell was the team's anchor, not to mention point guard. Now Crean will have to see if Pitt transfer Josh Newkirk is up to the task.
One of the 64 reasons to be excited about college basketball this season is the return of Blackmon Jr., according to Sports Illustrated:
55. James Blackmon is back

Blackmon only played in 13 games last season before he suffered a torn ACL in his left knee. But in those 13 games, he showed an improvement from his already excellent freshman season. He took more of the Hoosiers' shots and possessions while improving his offensive rating and assist rate. Now that Indiana is without Troy Williams and Yogi Ferrell on the perimeter, Blackmon should have a green light to make plays and put up points. He'll be helped by the continued growth of second-year big man Thomas Bryant and wing O.G. Anunoby.
NCAA.com has a comprehensive list of some of the notable "midnight madness" events around the country this season:
Teams around the country are gearing up for early action with invitational tournaments galore, but the harbinger of season's tipoff is and always has been a school's first open practice — colloquially known as Midnight Madness.

The name of the event may change a bit from campus to campus, but the message is the same: Basketball is back. More to the point, schools hosting the events look to generate some extra excitement ahead of the start to a long season.
Filed to: James Blackmon Jr.