Notes and quotes from Thursday's media availability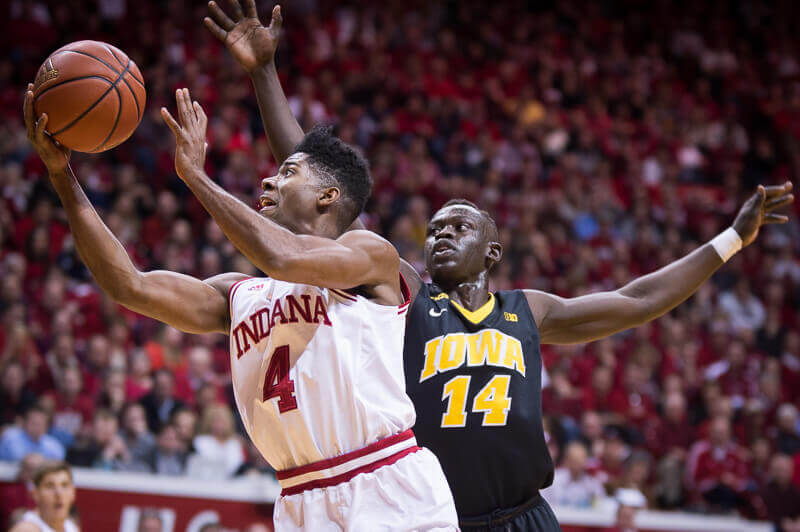 On Thursday, Indiana's OG Anunoby, James Blackmon Jr. and Robert Johnson as well as associate head coach Tim Buckley addressed the media following individual workouts at Cook Hall.
The full press conference is available here, but we've summarized the most notable takeaways below:
· Blackmon Jr. is participating in all team activities after knee surgery sidelined him in early January of this year.
· Johnson is not cleared for all activities, but said it could be "anytime within the next couple of weeks or so. I'm getting really close."
· Buckley said the leadership is "still evolving" but noted that the older guys are on the roster are doing a "great job of interacting with the new guys that are here."
· Blackmon Jr. said he talked to four NBA teams in the spring when he went through the pre-draft process. Two of the teams he mentioned were Minnesota and Indiana. He said the main feedback he received was "stay healthy and keep working."
· Anunoby said he's put on five pounds this offseason. His weight on the roster went from 215 as a freshman to 235 this preseason.
· Blackmon Jr. described the new freshman backcourt guys as "great players, great scorers and great facilitators. They'll fit in well, too."
· When asked about the departure of Yogi Ferrell and how players will adjust to playing without him, Buckley said that he expects this team to have "even better ball movement and even better cutting."
· Buckley said that there are "certain guys who can't have contact" when asked about other players on the roster who have injuries. He noted that it doesn't seem like anyone has been out because of the work ethic and mentality on the roster.
· Johnson said Collin Hartman has "been a lot more vocal" and said that he's done a nice job of showing the new players the culture of the program.
· Buckley said Juwan Morgan recovered "very well" from surgery and is "on track to where he's supposed to be at this point in time."
· Buckley said the perimeter skills of Thomas Bryant have really improved and that he's playing a lot more athletically. He also added that Bryant is channeling his energy into a leadership role.
· Blackmon Jr. was asked if he has a chip on his shoulder: "I think when the season comes, a lot of people will see the chip. This is what I do and when it's taken away from you for a while, you get hungry."
· Buckley said that Blackmon Jr. had a great mental attitude when he was out with the injury. "He knows full well, and we do also, that if James played, we would have been even better than we were."
· Buckley said that the coaching staff feels like Josh Newkirk has shot the ball very well. "He has a great ability to get to the next shot and not focus on the last one."
· Johnson described Newkirk as "tough, fast and quick." He also noted that he sees the floor very well and shares the ball as well. "He'll definitely be a great addition for us."
· Anunoby said he doesn't see his role changing much this season. "I think I've grown a lot just from support from my teammates and coaches."
· Anunoby said the NBA is a goal, but that he isn't paying too much attention to the early projections.
· Buckley said Freddie McSwain and De'Ron Davis, who both arrived on campus recently, are "both competitive and are hard workers." Buckley said it "takes a while" to catch up with the conditioning and pace of things, but that both have "done a really good job with that."
Filed to: James Blackmon Jr., O.G. Anunoby, Robert Johnson, Tim Buckley