A closer look at Indiana's non-conference schedule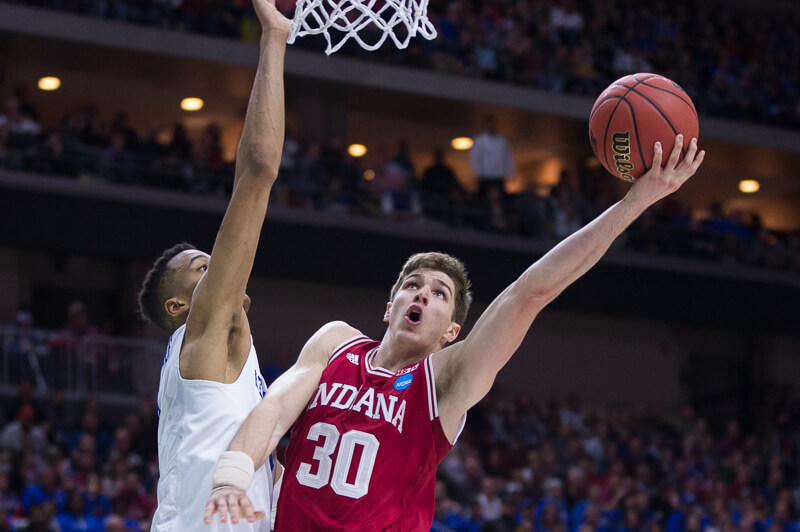 We offered some initial thoughts on Indiana's 2016-17 non-conference schedule several weeks ago, but now that all 13 opponents have been revealed, it's time for a deeper dive into the slate the Hoosiers will face this winter.
While it's impossible to predict where a particular opponent will finish next season in the various computer rankings, last season's finishes combined with a rankings prediction for the upcoming season can at least provide a forecast.
As UMHoops pointed out recently, RPI is the only value that matters when evaluating a schedule after the fact for strength of schedule, but it isn't much use in projecting how good teams on a schedule will be.
Bart Tolvik, who developed a ranking to forecast how good a particular team will be for the upcoming season, already has his preseason rankings out for the 2016-17 campaign. Using a variety of factors, including percentage of returning minutes, Tolvik projects that Indiana's non-conference slate will include four top 50 opponents.
They are, in order, North Carolina (home), Kansas (neutral), Louisville (neutral) and Butler (neutral).
Beyond that, he projects the Hoosiers to play just one other team ranked in the top 200 with eight teams projected to rank 269 or lower. All eight of those games – UMass Lowell, Liberty, Mississippi Valley State, SIU Edwardsville, SE Missouri State, Houston Baptist, Delaware State and Austin Peay – will be played at Assembly Hall. (It's important to note that a team in this list could surprise and outperform projections.)
Here's a look at last season's final KenPom, RPI and Sagarin rankings for all 13 of IU's non-conference opponents for next season along with Tolvik's rankings prediction for 2016-17.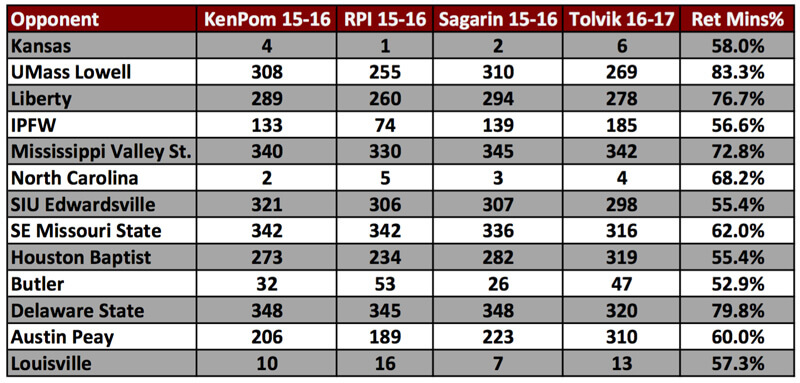 Guarantee games are nothing new in college basketball, but with athletic departments set on filling a certain number of home dates, they're a necessity.
The problem with these games, however, is they have very little value when the NCAA tournament selection committee sits down to evaluate a team's overall body of work.
Indiana was penalized in last year's selection process for eight wins against opponents ranked 200 or higher in the RPI. Three of those games were in conference (Minnesota twice and Rutgers). So while it was a surprise to some when the Hoosiers – the outright Big Ten regular season champion by two full games – received just a No. 5 seed in the NCAA tournament, it probably shouldn't have been.
Indiana played just the 87th toughest schedule in the country a season ago. Every team that landed a No. 4 seed ahead of Indiana in last year's bracket played a schedule ranked in the top 25. Some of the lower than anticipated strength of schedule stemmed from playing two weaker than expected opponents in Maui – St. John's and UNLV.
In 2016-17, it appears Indiana could again face an uphill battle when its strength of schedule is evaluated. With just five (presumed) opportunities before league play to get wins against the top 200, the Hoosiers won't be able to afford a misstep like the one in Maui last November. (By contrast, Indiana had eight non-conference games last season against the RPI top 200.)
Rolling through the non-conference schedule with just one or two losses would set up Indiana with a solid base going into league play, but an unforeseen stumble or two could do just the opposite.
One thing to keep in mind is Indiana should get a strength of schedule boost in Big Ten play with a tougher slate than last season. Tolvik's model projects just one Big Ten team outside of his top 200 and that is Rutgers which Indiana plays just once.
Beyond that, Indiana has double plays with Wisconsin, Purdue, Northwestern and Michigan, all of which are projected to be top 75-ish teams.
Filed to: 2016-2017 schedule