Anunoby now top ranked Big Ten player on two early draft boards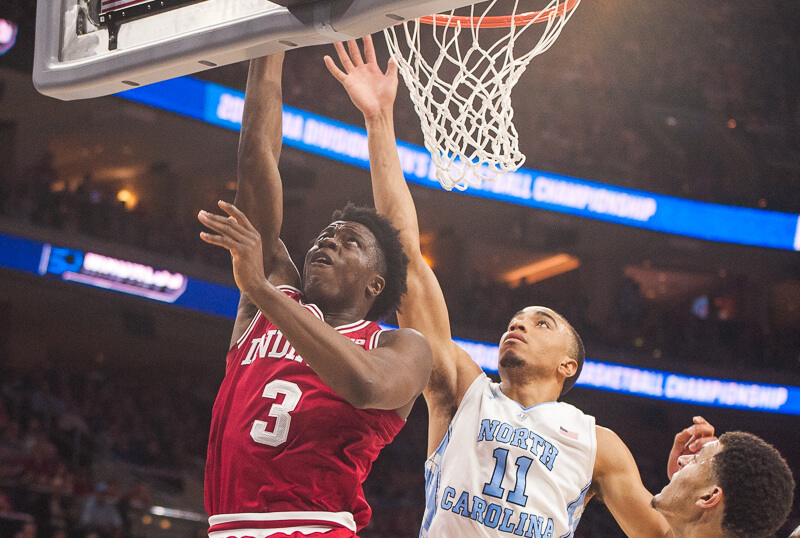 OG Anunoby, once ranked the No. 280 player nationally in his high school class, is the highest ranked Big Ten player on two notable NBA draft boards entering his sophomore season at Indiana.
Anunoby, who attended last week's adidas Nations as a college counselor but did not participate in scrimmages due to a groin injury, is ranked the No. 16 draft prospect for 2017 by ESPN's Chad Ford and DraftExpress.com.
Ford's top 100 for 2017 also includes Thomas Bryant, who is ranked the No. 25 prospect. Bryant is ranked just behind Michigan State freshman Miles Bridges, who came in at No. 24.
Over at DraftExpress, Anunoby also came in at No. 16 overall in an updated mock draft for 2017 with Bryant at No. 19 overall.
Anunoby averaged just 4.9 points and 2.6 rebounds as a freshman, but emerged on the national radar in conference play and the NCAA tournament. In IU's NCAA tournament win over Kentucky, he had seven points, three rebounds and three blocks in 26 minutes.
The Jefferson City (Mo.) product is expected to take on a much larger role in the Indiana rotation as a sophomore with the departure of Troy Williams, who left early for the NBA.
A recently published list by The Big Lead of the top 50 players in college basketball for the 2016-17 season had Bryant at No. 6 overall and Anunoby at No. 27.
Other Big Ten players in Ford's top 100 for 2017 include Miles Bridges (24), Isaac Haas (53), Nigel Hayes (63), Keita Bates-Diop (67), Melo Trimble (78), Zak Irvin (80), Josh Langford (83) and Malcolm Hill (88).
Filed to: O.G. Anunoby