Harbaugh says he'd root for IU in hypothetical hoops matchup with Michigan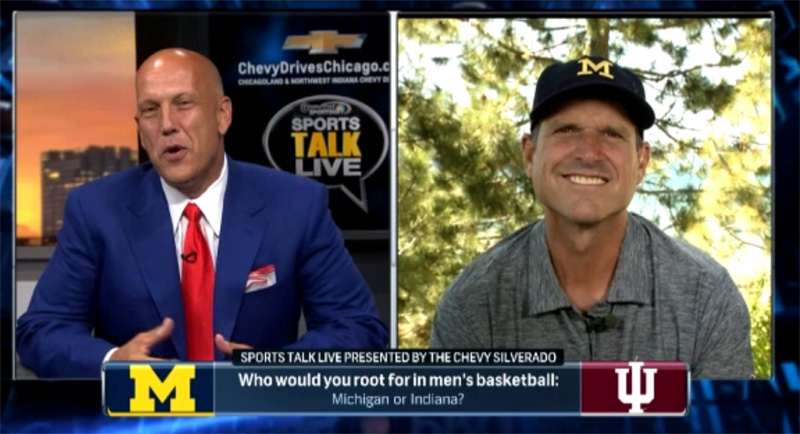 In a recent interview with CSN Chicago's SportsTalk Live, Jim Harbaugh was asked an impossible question.
Harbaugh, who is entering his second season as the head football coach at the University of Michigan, is the brother-in-law of Indiana coach Tom Crean.
The Wolverines are expected to contend for a spot in the College Football Playoff this season and are ranked in the top 10 in nearly every preseason top 25.
In the interview, conducted by David Kaplan, Harbaugh was asked who he'd root for in a hypothetical Indiana-Michigan basketball matchup for the Big Ten championship.
"I would, first it would be great if that happens, but I would be rooting for Tom Crean and the Indiana Hoosiers," Harbaugh said after a pause. "The families always come first.
"You had to ask that question, didn't you David?" Harbaugh continued with a smile. "Because you're a media person and you know that I would always tell the truth."
Kaplan attempted to move on to a question about satellite camps, but Harbaugh had one final statement on the matter.
"I used to think you were a good guy," he said. "But you had to ask that question."
Harbaugh was in attendance for multiple Indiana games last season, including the Indiana-Michigan game at the Crisler Center as well as the Sweet 16 game against North Carolina at the Wells Fargo Center in Philadelphia.
Michigan beat Indiana in football, 48-41 in two overtimes, last season at Memorial Stadium. The two programs will meet this season on Nov. 19 at Michigan Stadium.
Filed to: Jim Harbaugh