Around the Hall: Is Assembly Hall the Big Ten's toughest venue?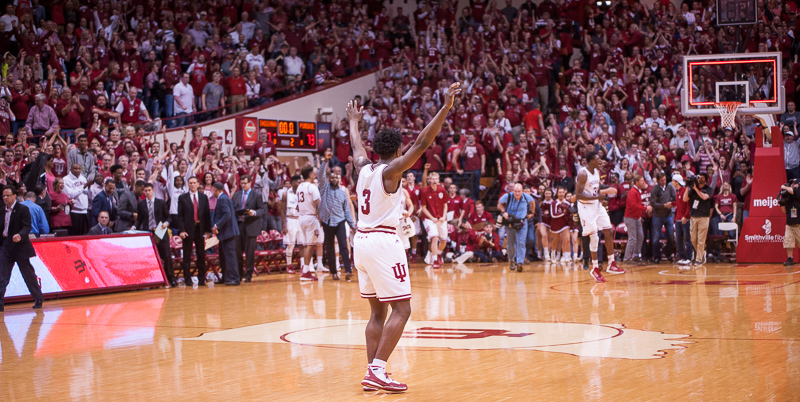 Around the Hall is recommend reading from the Inside the Hall staff.
Eamonn Brennan of ESPN.com ranked all 14 Big Ten venues based on their difficulty for road teams. Assembly Hall claimed the top spot:
1. Indiana Hoosiers: Assembly Hall, opened in 1971
Were this a list of the best basketball venues in Indiana, Hinkle Fieldhouse would win. (Though there would be a few mid-century, 7,000-seat high school arenas in the running.) Toughest, though? That's Assembly Hall. It's bonkers-loud, even when the team is just so-so. The sideline stands rise impossibly, and imposingly, into the rafters. And you can forgive the student section's incongruous split between the baseline, corners and upper deck for two reasons:

– The deep-pocketed who occupy the prime sideline seats are as locked-in and rowdy as most 20-year-olds.
– The 17,472-seat gym typically packs in 7,800 students a night. No setting in college basketball has more. Few are this daunting.
Michael McRobbie is the highest paid Indiana University employee in terms of base salary according to the Bloomington Herald-Times:
Indiana University President Michael McRobbie is finally making more money than head men's basketball coach Tom Crean. At least in base salary.

According to recently released base salary numbers for IU, the $615,000 that McRobbie will be paid in fiscal year 2016, which began July 1, puts him about $10,000 ahead of Crean for the first time.
Indiana is one of three schools standing out for class of 2017 wing Jermaine Samuels, according to HoopSeen.com:
Schools like Georgetown, Tennessee, Cal, and Marquette have been working hard on the Expressions star, yet it is three others that have stood out with Samuels. "Xavier, Villanova, and Indiana," he said, pertaining to those that look to have the best shot with him. Samuels spoke further on each of the schools at hand.

Xavier

"Instant playing time, development, a great education, and a coaching staff that can get me where I want to be."

Indiana

"Tom Crean is telling me he sees tons of potential in me if I go there. He stresses development, development, development."

Villanova

"Coaching, playing time, the fit, and development again."
2017 guard Chaundee Brown discusses Indiana with Zagsblog:
With Tom Crean having watched Nike South Beach multiple times, Brown says that the Indiana head man was most impressed by his motor.

"This was the first time that he had ever seen me play," Brown said. "He sat and watched four or five of my games at Peach Jam. He said he liked my game and that he had heard about my work ethic, heard that I work hard."
One Big Ten coach told Jon Rothstein of CBSSports.com that Robert Johnson could be the league's most underrated player:
One Big Ten head coach told CBS Sports that Indiana's Robert Johnson could be the league's most underrated player. "He's a two-year starter that can play multiple positions," the coach said of the 6-3 Johnson, who averaged 8.1 points, 3.3 rebounds and 3.1 assists last season. "Don't be surprised if he winds up playing a lot of point guard next season."
Filed to: Assembly Hall