Ranking the Big Ten's incoming recruiting classes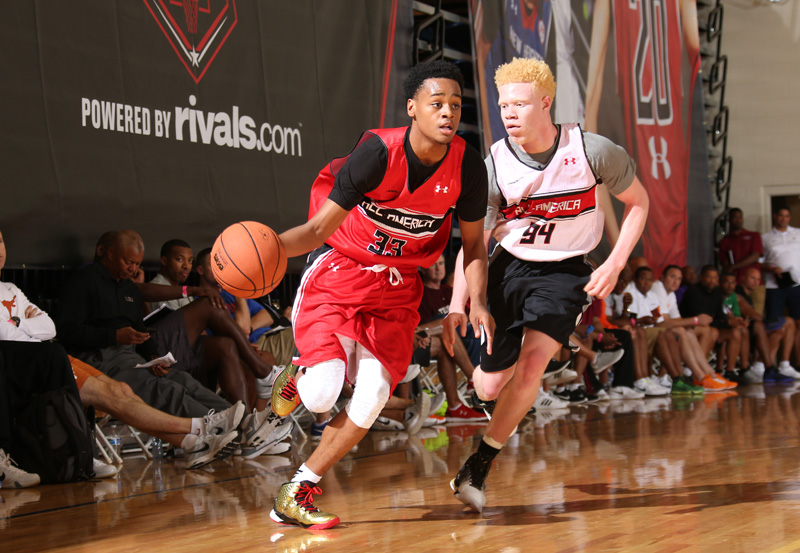 The Big Ten will welcome plenty of new talent into the league for the 2016-17 season in the form of incoming freshmen, transfers who will become eligible, redshirted players from last season and graduate transfers.
Here's a ranking, from 14 to 1, of the incoming classes heading into the 2016-17 season. All players are freshmen or junior college signees unless otherwise noted:
14. Rutgers
Additions: Issa Thiam (247Composite rank: 238), Matt Bullock (247Composite rank: 363), Candido Sa
Why they're here: It's going to be a long road for Steve Pikiell to build Rutgers into a respectable program. This class is unlikely to help move the needle, which means the Scarlet Knights need to do major work in the 2017 class and beyond.
13. Wisconsin
Additions: Aleem Ford (247Composite rank: 342), D'Mitrik Trice (247Composite rank: 357), Andy Van Vliet (redshirted last season)
Why they're here: Ford and Trice (both from IMG Academy) were unknowns when they committed to the Badgers this spring, but the key piece here is Van Vliet. The Belgium native is the talltest player on the roster at 6-foot-11 and is reportedly a very good shooter from the perimeter.
12. Illinois
Additions: Tejon Lucas (247Composite rank: 142), Kipper Nichols (Tulane transfer who becomes eligible by midseason at the latest)
Why they're here: Lucas figures to crack the rotation as a freshman, but Tracy Abrams is the starter if he can stay healthy. Nichols, a transfer from Tulane who plays on the wing, has drawn praise from John Groce in offseason workouts. However, it's not known if he'll be eligible at the start of the season or after the first semester.
11. Northwestern
Additions: Rapolas Ivanauskas (247Composite rank: 148) Barret Benson (247Composite rank: 154), Isiah Brown (247Composite rank: 237)
Why they're here: This is a solid haul by Chris Collins and staff, who have continued to build a better base of talent in Evanston. Both Ivanauskas, who is 6-foot-8, and Benson, who is a solid 6-foot-9 post player, had heavy interest from other Big Ten programs.
10. Purdue
Additions: Carsen Edwards (247Composite rank: 118), Spike Albrecht (graduate transfer from Michigan)
Why they're here: The Boilermakers are lower than this on many of the Big Ten team rankings, but Edwards is a steady point guard who can help fill a need. And Albrecht, if healthy, should also be a member of the rotation.
9. Nebraska
Additions: Isaiah Roby (247Composite rank: 136), Jeriah Horne (247Composite rank: 176), Jordy Tshimanga (247Composite rank: 163), Anton Gill (Louisville transfer becomes eligible)
Why they're here: Andrew White's departure should give both Roby and Gill, a former top 60 recruit at Louisville, an immediate opportunity to score. Three recruits in the top 176 of the 247Composite rankings is a very solid class for Tim Miles and his staff.
8. Ohio State
Additions: Derek Funderburk (247Composite rank: 74), Micah Potter (247Composite rank: 243), Andre Wesson (247Composite rank: 267), C.J. Jackson (247Composite JUCO ranking: 27)
Why they're here: Funderburk should be able to help in Ohio State's frontcourt right away and Jackson, a combo guard, could be in the backcourt rotation with the transfer of A.J. Harris.
7. Iowa
Additions: Tyler Cook (247Composite ranking: 73), Cordell Pemsl (247Composite ranking: 231), Ryan Kriener (247Composite ranking: 303), Jordan Bohannon (247Composite ranking: 298), Maishe Dailey (247Composite ranking: 354)
Why they're here: Cook, a 6-foot-8 forward, is the headliner here. He should slide right into the frontcourt rotation, which lost Jarrod Uthoff and Adam Woodbury.
6. Michigan
Additions: Xavier Simpson (247Composite ranking: 66), Jon Teske (247Composite ranking: 145), Ibi Watson (247Composite ranking: 240), Austin Davis (247Composite ranking: 177)
Why they're here: Could Simpson come right in and challenge Derrick Walton for minutes? The Michigan staff must believe that is the case or Spike Albrecht would have been back in Ann Arbor for a fifth year. Teske and Davis should help backup Mark Donnal. Watson could provide shooting from the wing.
5. Minnesota
Additions: Amir Coffey (247Composite ranking: 49), Eric Curry (247Composite ranking: 112), Michael Hurt (247Composite ranking: 217), Akeem Springs (graduate transfer from Milwaukee), Davonte Fitzgerald (Texas A&M transfer becomes eligible), Reggie Lynch (Illinois State transfer becomes eligible)
Why they're here: Richard Pitino needed to upgrade his talent level and it appears he's done that with Coffey and Curry in the freshman class to go along with several transfers who could also crack the rotation.
4. Penn State
Additions: Tony Carr (247Composite ranking: 51), Lamar Stevens (247Composite ranking: 99), Nazeer Bostick (247Composite ranking: 300), Joe Hampton (247Composite ranking: 257), Terrence Samuel (Connecticut transfer becomes eligible), Mike Watkins (sat out last season due to academic issues)
Why they're here: Carr and Stevens should be rotation players right away as should Watkins, who was ranked the No. 102 player in the 2015 class in the final 247Composite rankings. With that trio, Pat Chambers has essentially netted three top 100 players, which is unheard of in State College.
3. Indiana
Additions: De'Ron Davis (247Composite ranking: 40), Curtis Jones (247Composite ranking: 85), Devonte Green (247Composite ranking: 198), Grant Gelon (247Composite ranking: 322), Freddie McSwain (247Composite JUCO ranking: 24), Josh Newkirk (Pittsburgh transfer becomes eligible)
Why they're here: Davis and Jones are unlikely to start, but both should play key roles on a team that is expected to open the season in the preseason top 15. Newkirk, who is expected to challenge for the starting point guard spot, is also a key addition for the Hoosiers.
2. Maryland
Additions: Micah Thomas (247Composite ranking: 155), Anthony Cowan (247Composite ranking: 62), Kevin Huerter (247Composite ranking: 64), L.G. Gill (graduate transfer from Duquesne), Justin Jackson (247Composite ranking: 83), Joshua Tomaic
Why they're here: Maryland lost a ton of talent and needed a very good recruiting haul. Mark Turgeon did his job. A trio of top 100 players are in the class along with Gill, who should help in the frontcourt immediately as he arrives from Duquesne.
1. Michigan State
Additions: Miles Bridges (247Composite ranking: 12), Cassius Winston (247Composite ranking: 33), Josh Langford (247Composite ranking: 20), Nick Ward (247Composite ranking: 41), Ben Carter (graduate transfer from UNLV)
Why they're here: This wasn't even close as Spartans reeled in four top 41 players along with Carter, who should be a nice role player. The gap could widen further if Andrew White, who is considering Michigan State after leaving Nebraska, chooses the Spartans.
Filed to: 2016-2017 Big Ten preview