Q & A: Five-star M.J. Walker talks USA Basketball, Indiana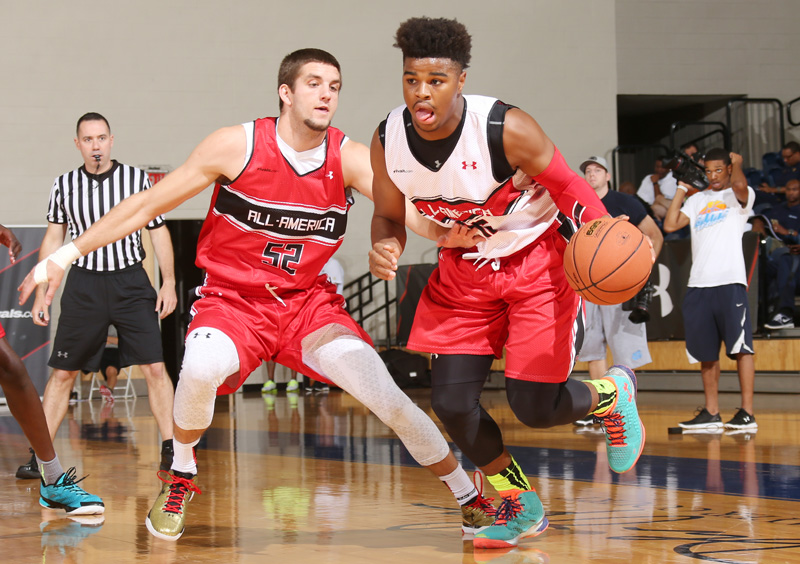 One of the top backcourt players in the class of 2017, Jonesboro (Ga.) guard M.J. Walker, is a new name to emerge on the Indiana recruiting radar this summer.
Walker, ranked the No. 23 player nationally according to the 247Composite, began hearing from Tom Crean in recent weeks. He's also a member of USA Basketball's U18 team that will compete in the FIBA Americas U18 championships later this month in Valdivia, Chile.
Inside the Hall talked at length with Walker in a one-on-one interview earlier this week about a variety of topics, including what he's been hearing from Indiana's head coach. Here's a full transcript of our conversation:
What's the experience been like so far with USA Basketball?
"It's definitely a honor to play with USA Basketball, just to even be invited. This is actually my first time, so I'm definitely not taking it for granted. Each and every day, you're playing against good competition. Everybody is bringing something to the table, so you can't just come out here and mess around. You've got to give it your all. It's a blessing to be out here and just the whole experience of being coached by great coaches, staff and being around great players and people as well."
This is a little different than the high school or AAU setting because everyone out at USA Basketball is usually the best player on their respective team. How do you adjust to being surrounded by that level of talent?
"Basically, I feel like if you play hard, the game will come to you. In AAU, I'm a scorer that gets my teammates involved by making plays. There's a lot of people out here that can do the same thing. So you've just got to play hard and be active, cut and just do the dirty work and your game will come to you."
What's this summer been like for you so far? What have been some of the highlights thus far?
"It's been probably my busiest summer so far. I had the Under Armour sessions as well as camps, the Steph Curry camp and the Under Armour All-America camp. I feel like the Under Armour All-America was probably the highlight. I played really well there. I was scoring the ball really well, playing good defense, things like that. It's just been a busy summer overall. I'm probably going to have to get used to it down the road because it's probably going to be the same way or probably get worse."
What was the experience like at Steph Curry's camp?
"That was my actually my third year there. Steph is a great guy. I'm definitely thankful to be coached by him and learn different things from him. It was definitely a fun camp, picking up the different drills he does to prepare for his games. The training that he does is very intense. It's something I can take home and work on. The whole experience with Steph was great."
You recently expressed in an interview that Indiana has started to show some interest. When did that start and what have they said to you to this point?
"They actually texted me probably two days before the Under Armour All-America camp started. They were just saying that they like the way I play off of pick-and-roll, the way I get downhill off the pick-and-roll. Coach (Crean) was just telling me things to work on. He's going to break down my game and he said he was watching film on me from the AAU season. He said he's going to break down some film for me and tell me some things I can get better at. He just felt like I was a great player as far as pick-and-roll action, getting downhill and getting assists."
Have they kept up with you since?
"They're still sending me texts. I'm not sure they can call because of the evaluation period. They're still texting me every couple of days and staying involved."
The recruiting process in general, how are you managing that process? And is it something you enjoy?
"Before my dad was handling all of the recruitment as far as the coaches and everything, the calls. But he's letting me get involved now with texting the coaches and just getting a feel for which program I may like and what system is the best fit for me. So I'm starting to get involved now talking to some of the coaches and just getting a feel for them."
(Photo credit: Ned Dishman/Under Armour)
Filed to: M.J. Walker