Indiana remains in pursuit of five-star Hamidou Diallo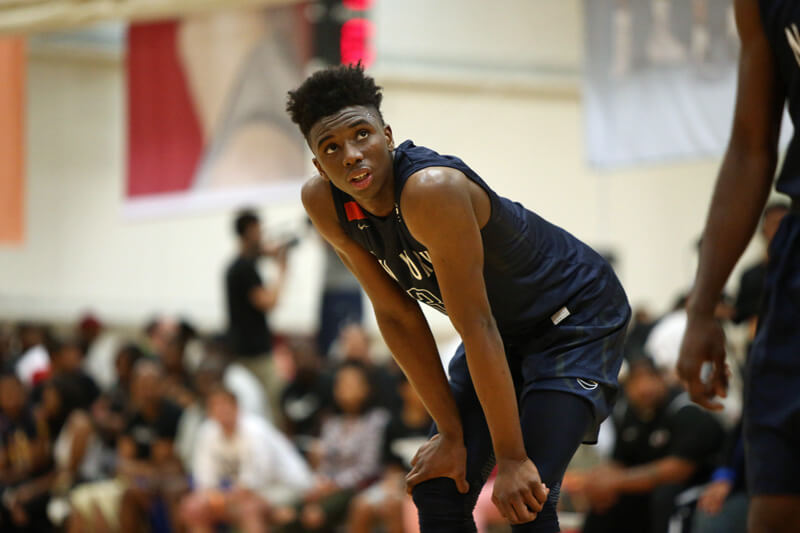 NORTH AUGUSTA, S.C. – A little more than a year ago, Indiana extended a scholarship offer to Hamidou Diallo.
At the time, the 6-foot-5 Diallo of from Putnam Science Academy (Conn.) was a four-star recruit and the No. 79 player overall in the 247Composite. A lot has changed for Diallo since then. The explosive, highlight reel producing guard has now reached the No. 7 overall ranking in the 247Composite – and there are five stars next to his name.
And while that ascent through the rankings comes with plenty of new names on his list of offers, at least one thing hasn't changed in a year's time: Indiana is still in pursuit.
"Definitely been speaking to Indiana," Diallo confirmed last week during the Nike Elite Youth Basketball League (EYBL) finals at the Peach Jam. "Coach Chuck Martin was actually watching me this morning and been speaking to coach (Tom) Crean a lot. He's just been telling me how to get better, what to work on and things like that because he's been watching me as well."
If Coach Martin was looking for reasons to continue Indiana's pursuit of Diallo, his play at Peach Jam provided exactly that. With Martin sitting courtside, Diallo led NY Rens to a 59-54 win over BABC. He led the way with 27 points, nearly half of the Rens' total, to go along with 13 rebounds, two assists, and two steals.
Much of that damage was done in transition, which Diallo says is the main weapon in his arsenal.
"I don't think any guard in the country can stop me from getting to the basket," he said. "When I get going, I don't think anyone can stop it.
"I just get after it on both sides of the floor, defending, offensively. I just take whatever is given to me. Every time I step on the court, I'm hungry. I just want to get a win and show everyone I'm the best guard in the country."
As for Indiana, Diallo says one of the main aspects that appeals to him is player development and fulfilling his dreams at the next level, so Crean's input on his game is well-received.
"It's definitely something that appeals to me," he said. "If I know I'm going to a school where a coach is going get me better and push me every day, that just gets me going. It makes me even more hungry to make it and be successful."
Like many top-tier recruits, Diallo says a late decision is a possibility and he is nowhere near finalizing anything about his recruitment at this point.
His busy summer still includes participation with the USA Mens Basketball U18 team training camp this week in Houston. If he makes the roster, Diallo would play for USA Basketball at the FIBA Americas U18 Championships (July 19–23 in Valdivia, Chile). He's also scheduled to attend the Nike Basketball Academy (July 25 – 27 in Los Angeles, Ca.), and adidas Nations (July 28 – Aug. 1 in Los Angeles, Ca.).
"Right now, I don't have a time period to cut down my list," Diallo said. "I haven't even sat down to think about colleges really. I'm just busy with the summer right now. I'm worried about getting (Peach Jam) done, then USA next, then Nike Skills, then I've got adidas Nations. I've got a lot of things going on. After the summer, I'll be trying to get some down time for myself and start figuring things out."
(Photo credit: Jon Lopez/Nike)
Filed to: Hamidou Diallo