Elite point guard Tremont Waters looking for the right fit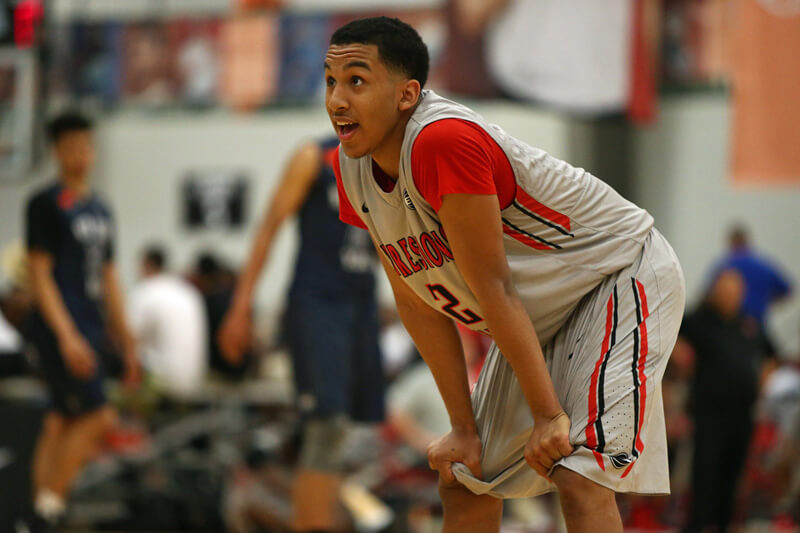 NORTH AUGUSTA, S.C. – Tremont Waters has had doubters as long as he can remember.
The 5-foot-11, 160 pound South Kent (Conn.) point guard says his size has long been a topic of conversation and, at times, has left him feeling overlooked.
"The beginning of my sophomore year, I felt (overlooked)," Waters said last week during the Nike EYBL Finals at the Peach Jam. "But my parents just stayed in my head and Coach (Kelvin) Jefferson from South Kent. They just told me to keep working, there's a bunch of small guards out there, and all the schools that need to see me are going to see me."
Turns out parents (and coaches) really do know best.
Now far removed from that sophomore year, the Expressions Elite product is commanding big-time attention and now holds offers from the nation's elite college basketball programs, including Indiana, Kentucky, Duke, UConn, Kansas, and Georgetown.
During the EYBL Finals where his Expressions Elite team finished 4-2, Waters showed the large Peach Jam crowds exactly why he is garnering so much attention.
In six games against the country's best competition, Waters averaged 15 points, 4.2 rebounds, 5.3 assists, and 1.8 steals per game. That output included a 21-point, 10-rebound effort in a win over King James, proving Waters is more than capable of contributing more than points.
He says he takes a lot of pride in his defensive intensity and his ability as a floor general.
"I'm a small guard, so somehow, I have to impact the game and do something different from other guards," he said. "Most guards nowadays are just scorers. I want to separate myself from that category of players and become a pest on defense and lead guard and just make plays when I need to make plays.
"Tyler Ulis is a small guard, Yogi Ferrell is a small guard. So I pretty much have to not try to emulate my game off them but try to improve on what they did and continue to get better. If they were able to play there (at Kentucky and Indiana), then I can."
Another factor in Waters' favor is what appears to be a relatively shallow pool of point guard prospects in the 2017 class.
That lack of depth has top-tier programs all vying for a handful of point guards like No. 5 in the 247Composite Trevon Duval, No. 20 Trae Young, and No. 26 Quade Green, who Waters, ranked No. 38, went head-to-head with during Expressions Elite's quarterfinal loss to PSA Cardinals.
With that supply and demand, there has been talk that there may be pressure for the top point guards to commit quickly to ensure there is a spot available at schools like Duke and Kentucky, who are tracking several of the top point guard prospects.
Waters is quick to dispel that notion.
"For me, it's not about going to a big-time school," he said. "Obviously, those are great schools and they are top of the line, but if they commit first, I'm not going to cry or pout about it. I'm gonna pick the school that fits my game and my situation. I have to not focus on what they're doing, but still try to win Peach Jam, work out, and just continue to get better. If I don't they're not gonna want me anyway, so I'm not focused on them. I'm focused on myself right now."
Jacob Savage is a special contributor to Inside the Hall for Nike's EYBL Finals at the Peach Jam.
Filed to: Tremont Waters