2017 guard Andrew Platek opening eyes on EYBL circuit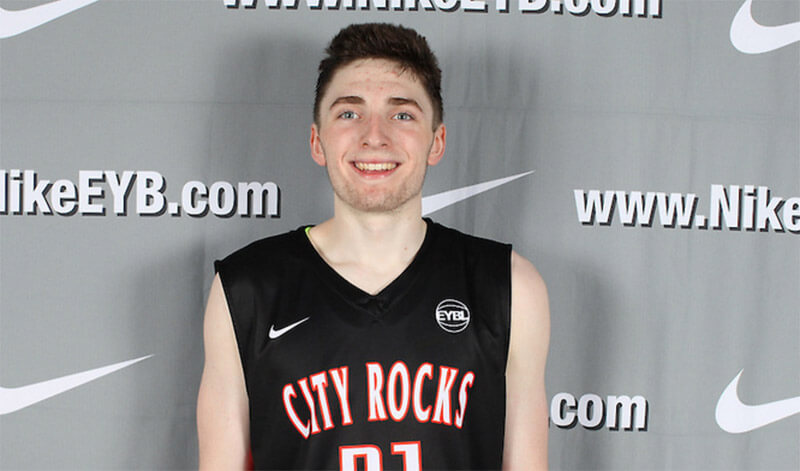 NORTH AUGUSTA, S.C. – Each year, starting in the spring and continuing through the heat of the summer, hundreds of premier high school basketball players from around the country hit the AAU trail in hopes of gaining exposure, increasing their stock, and fulfilling their dreams of playing at the next level.
Of course, like all things, there are varying levels of success.
Sometimes, the high-level competition on the circuit exposes or magnifies a players weaknesses and can lead to a subsequent drop in the rankings. For others, the trail can be a huge success, allowing them an opportunity to showcase their skills and open doors they never thought could be opened.
Go ahead and count Andrew Platek among the latter.
Platek, a 6-foot-4 guard from Northfield Mount Harmon (Mass.), has watched his stock soar based on his play on the Nike Elite Youth Basketball (EYBL) circuit.
Over the past few months, the No. 179 ranked player in the 247Composite has continually impressed coaches from around the country. An offer list that started with Fairfield now includes schools from across the country, including blueblood programs North Carolina and Indiana, who offered a scholarship during Platek's unofficial visit to Bloomington in early May.
"I didn't see this coming a year ago if you would have told me I would be offered by Indiana and North Carolina," Platek told Inside the Hall following an Albany City Rocks win during the Nike EYBL Finals at the Peach Jam. "But I think it's a testament to my hard work and the people I'm surrounded by. It's just been a great experience for everyone in my family and my teammates. It's been great.
"It's humbling, for sure. It just makes you play your best every game."
And that's exactly what Platek has done throughout the spring and summer. Regarded as one of the nation's most prolific 3-point shooters, he entered Peach Jam play averaging 12.7 points per game and shooting nearly 45% from distance, including a 10-for-16 performance during the first EYBL stop in Brooklyn, NY.
During pool play at Peach Jam, Platek struggled a bit shooting from distance, which can be due, at least in part, to often being face guarded by opponents as soon as he catches the ball on the perimeter. The word is clearly out on his abilities from deep.
Of course, such is life for a well-known sharpshooter and Platek says he's focusing on adjusting his game accordingly.
"I'm trying to get my teammates involved," he said. "I think I'm still able to shoot the ball pretty well even though they're keying in on it, but I'm getting to the hoop more. I'm going to the free throw line at a higher rate and using the pump fake effectively. I'm just trying to expand my game because that's how I'm going to be played in college. If I want to get to the next level, I'm going to have to work on all aspects of my game."
That said, Platek also understands in today's basketball world, perimeter shooting is at a premium. Teams at all levels are utilizing the 3-point shot at an increased rate, and the ability to provide that is what separates him from other similar players. In the end, he is well aware what has brought all of the attention in the first place.
"I love shooting threes. I love shooting the basketball," Platek said. "That's why I like watching the (Golden State) Warriors. I love that style of play. You have three or four knock-down shooters on the floor. It spreads everything out and it's fun basketball."
As for the unofficial visit in May, the Indiana staff did nothing but solidify its chances with the rising senior. Platek said most of the visit was spent with head coach Tom Crean and included a chance to see the Hoosiers at work first-hand. Bloomington, apparently, did its part as well.
"I love the college town, the college feel they have there," Platek said. "I got to watch a practice and I actually know Thomas Bryant. He's from Rochester, which is close to where I live. So I got to see them put in some work and be really intense. Coach Crean is a really knowledgeable coach. It was a great time."
Now that he has added some major new names to the mix, Platek will have plenty to ponder over the coming weeks. He says following Peach Jam, he and his family will sit down and trim the list to "five or six" schools in preparation for a fall decision Platek says he is hoping to make "before the November signing period."
Until that time, Indiana and North Carolina figure to be prominent players on that list of suitors which also includes Stanford, Butler, Davidson, and Miami, as well as a who's who of Ivy League schools like Harvard, Yale, and Princeton.
When the time does come for a final decision, Platek says there are several factors that will weigh heavily during his evaluation. He cited pace of play, the players around him, and education as major components he's looking for in his next destination.
"I've improved so much over the past year that, it was more of an academic decision before, but now it's kind of moved to 'where can I become the best basketball player and still get a great education?'" he said. "I'm looking for the best combination of both.
"Indiana has all those things and I think it would be a great fit. It would be great to be a part of something so big and historic. It would be humbling for sure."
Jacob Savage is a special contributor to Inside the Hall for Nike's EYBL Finals at the Peach Jam.
Filed to: Andrew Platek