Around the Hall: Power rankings, bracketology, Crean Q & A, more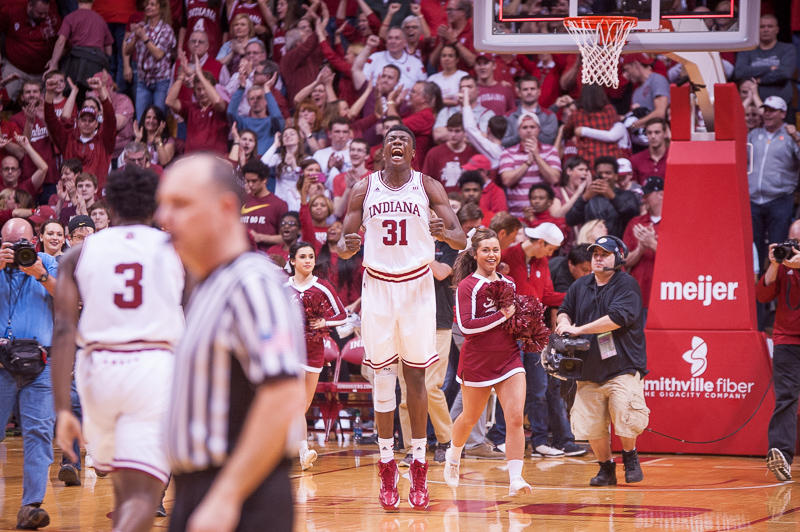 Around the Hall is recommended reading from the Inside the Hall staff.
Luke Winn of Sports Illustrated published his offseason power rankings on Thursday and Indiana checks in at No. 12:
12. Indiana Hoosiers: Post-ups accounted for 8.7% of the Hoosiers' offensive possessions last season, slightly above the national average of 8.1%, according to Synergy Sports Technology. I'm curious if the return of sophomore 7-footer Thomas Bryant will push that post-up rate higher. As a freshman Bryant averaged 1.02 points per possession in the post, making him the ninth-most efficient major-conference big man in that category (with a minimum of 100 possessions). Going too heavy on post-ups, especially when you have the shooters that Indiana does, is unwise, but Bryant was efficient enough last season that giving him the ball on the blocks was a better option for the Hoosiers than an isolation or a pick-and-roll.
Jerry Palm of CBSSports.com reveals a July edition of Bracketology:
There are four Big Ten teams in the top 16. Michigan State is top-rated and a No. 2 seed. Indiana and Wisconsin, which had Thomas Bryant and Nigel Hayes respectively decide not to leave for the NBA, check in as No. 3 seeds. Caleb Swanigan's decision to return to Purdue boosts the Boilermakers to a No. 4 seed.
Terry Hutchens sat down with for a Q & A with Tom Crean and part one and part two are published over at The Herald-Bulletin:
CNHI: I know Blackmon had his surgery back on Jan. 5 so we're now six months into his rehab. Is there any concern he'll be limited early in the season?

Crean: I don't think so. I don't think he will. Not once we get into it. He's on schedule to not be limited at all.
ESPN looks at a player from each preseason top 25 team who could get into coaching one day:
11. Indiana Hoosiers: Collin Hartman
Hartman is undersized against most forwards and outrun by most wings. Yet, he has thrived at Indiana. Why? He can shoot it, sure, but mostly he grasps the nuances of the game — angles, positioning, timing — in ways few college players can. Throw in an inherent understanding of advanced analytics, and that sounds like a pretty good coach to us. — Eamonn Brennan
Rick Bozich of WDRB.com writes on Thomas Bryant's desire to establish a career rather than make a big splash:
Bryant was posted outside the men's gymnasium at Cook Hall, visiting the weight room, locker room and nutrition area. Bryant is a confirmed worker bee, eager to accept any leadership role Crean asks him to consider.

"The biggest change for me is just having more responsibility for me and my teammates," Bryant said. "Freshmen coming in, having new teammates, having to take them in and really getting them into the system. Having them understand what we are all about here at Indiana."
2017 Fort Wayne Snider big man Malik Williams is eyeing August to trim his list of schools:
Louisville coach Rick Pitino, Purdue coach Matt Painter, N.C. State coach Mark Gottfried, Indiana assistant Chuck Martin and Iowa assistant Kirk Speraw were among those on hand to watch the 7-foot, 215-pound Williams play for Legit Basketball in a close loss.

"[I notice them] a little bit, I try not to worry about them too much," Williams, a Class of 2017 center out of Fort Wayne (IN) R Nelson Snider, told SNY.tv.

Asked which schools were currently working the hardest, Williams listed Louisville, Purdue, Indiana, Iowa and Xavier among the top.
Jordan Hulls will play professionally next season in Germany:
The Eisbaeren Bremerhaven have found Jordan Hulls (180-G-90, college: Indiana) to help bolster their guard rotation for the upcoming season. Hulls is a 26 year old 180cm guard from Bloomington, Indiana that will commencing his fourth professional season after stops in Poland, Kosovo and Belgium. Last season he proved himself as a consistent contributor for Hubo Limburg United (Belgium-Scooore League) playing 35 games: 12.3ppg, 2.6rpg, 3.3apg, 1.3spg, FGP: 54.2%, 3PT: 48.1%, FT-1 (96.2%).
Filed to: Collin Hartman, Jordan Hulls, Malik Williams, Thomas Bryant, Tom Crean