Q & A: Zach McRoberts talks Indiana walk-on opportunity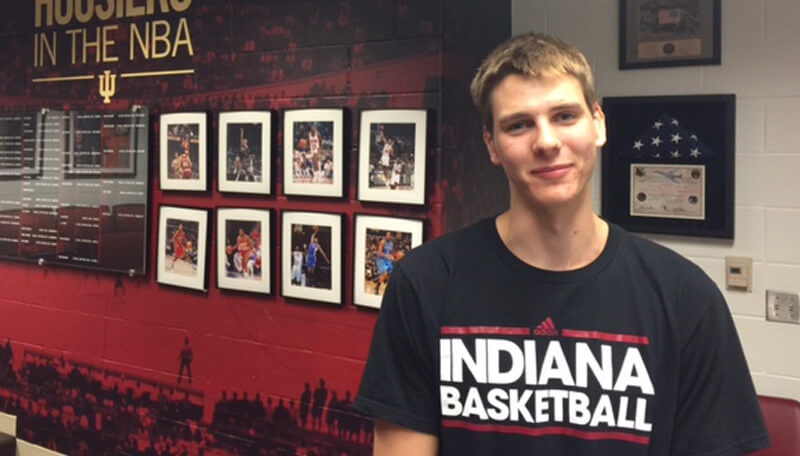 Indiana added a walk-on to its roster on Tuesday afternoon in former Carmel forward Zach McRoberts.
The younger brother of Josh McRoberts, Zach was an Indiana All-Star in 2014 before attending Vermont for a season. McRoberts then transferred to Indiana to concentrate on just being a student before expressing interest in walking on to the Indiana program earlier this spring.
McRoberts talked about the opportunity to join the IU program and a variety of other topics in a Q & A on Tuesday afternoon at Cook Hall (quotes via WDRB):
On who he was recruited by out of high school:
"I ended up going to Vermont. Northern Kentucky was the other school. Miami (Ohio) a little bit, Wright State, schools around the midwest."
On where he grew up wanting to go to school:
"My dad went to Butler, my grandfather went to Butler, my mom played volleyball at Butler. So growing up, I went to a lot of Butler games. But no real desire (to go there). I just wanted to see where my game took me. I didn't really set a certain school as where I wanted to go. Just work hard and see what happens."
On whether he was an Indiana fan:
"A little bit. A lot of my friends were."
On his freshman season at Vermont:
"I averaged about four points and five rebounds. But I decided I just wanted to experience life as a student, see what that had to offer. But the experience I gained from that and being away from basketball for a year gave me a new perspective."
On why he decided to transfer to IU:
"It's a good school. I'm actually in the school of arts and sciences right now. I'm an economics major. I just knew it was a good school if I wanted to stay in the midwest. It's a great educational opportunity for me."
On when he started to miss being away from basketball:
"Just when I was watching it. I didn't get tickets last season because you've got to add it to your bill and I was just going to take a break a little bit. I would just watch the games on TV and listen to all of my friends talking about it. And then just watching the (NCAA) tournament, that competitive spirit, you don't get that anywhere else."
On whether he knew any of the IU players:
"I knew James (Blackmon Jr.) from playing on the Indiana All-Star team."
On when he expressed interest in walking on:
"At the end of April or early May, I contacted coach (Tim) Buckley and let him know I was interested and got in here to do a workout. And I've been working out ever since, getting in shape and getting my game where it needs to be."
On why they decided to announce he was walking on this week:
"We've been talking about announcing it and seeing how this summer goes. Right now, I've been working out the last week or two or however long we've been here working out."
On whether he's happy to be back:
"It's been great. It's a grind for sure. It's a lot of work, but nothing compares to it."
On what he believes he can contribute:
"Just pushing my teammates. Being able to make them better. Anything I can do to help the team win is kind of what I've done throughout my career playing. I'm not worried about stats or playing time. It's just doing what I can to help the team win."
On his game and strengths:
"Going back to high school, I've always been defensive minded. I've been working on my shot a lot. So hopefully I can continue improving that and become a knockdown shooter if I get in the game. Spread the floor a little bit. Also, I've been trying to get all of the 50/50 balls, hustling and giving the other guys energy."
On if his game is similar to Collin Hartman:
"Yeah, watching him this year I can kind of compare to that. He plays hard, he plays smart. He's tough. I want to bring some toughness. Bring some heart."
On last season for Indiana:
"I know how it goes. The beginning of the season, you're still working some stuff out. They got it together when it mattered. They won the Big Ten. They figured it out."
On what he missed about being away from the game:
"Just being a part of a team. Having those guys have your back, you're around each other 40 hours a week or however long you're with them. Seeing them be so together was definitely appealing."
Filed to: Zach McRoberts