Around the Hall: Bryant soaring on 2017 draft boards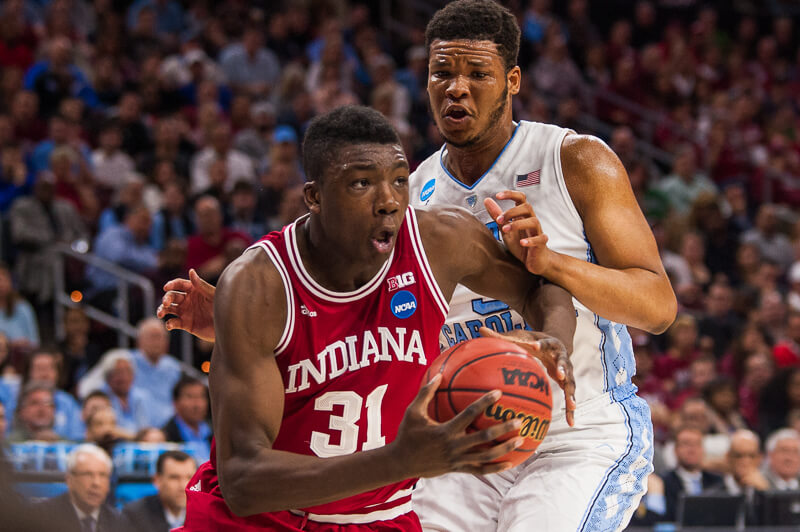 Around the Hall is recommended reading from the Inside the Hall crew:
Gary Parrish of CBSSports.com published his "ridiculously early 2017 NBA mock draft," featuring both Thomas Bryant and OG Anunoby:
5. Los Angeles Lakers
Thomas Bryant, Indiana

Bryant could've been a first-round pick in the 2016 NBA Draft. But he decided to spend at least one more year at Indiana. And, I think, he'll benefit from it.

24. Toronto Raptors
OG Anunoby, Indiana

Anunoby was a lightly regarded recruit coming out of high school, relatively speaking. But most expect the 6-8 wing, who is still only 18 years old, to make a huge leap next season and find himself somewhere high on some franchise's boards.
The Big Lead also has a super early 2017 mock draft featuring both Bryant and Anunoby:
4. Thomas Bryant, Sophomore, C, Indiana – Only played 22.6 mpg and still put up 11.9 ppg and 5.8 rpg. Not a great rebounder, but there's a lot to like offensively. Saved his best for Kentucky in March: 19 points.
Chad Ford of ESPN lists Anunoby and Bryant as two of several sophomores to watch in 2017:
Only a small handful of talented players decided to skip the 2016 draft and return to college. Just about everyone with a shot at the first round threw their hat into the ring, thanks in part to the strength of the incoming freshman class. Only one returning college player — Cal's Ivan Rabb — will be in the first edition of our top 15 for next year.

However, there are a number of interesting returning players — including Syracuse's Tyler Lydon, Indiana's Thomas Bryant and OG Anunoby, Kansas' Carlton Bragg, Duke's Grayson Allen, USC's Bennie Boatwright, San Diego State's Malik Pope and SMU's Shake Milton — who could all end up in the middle of the first round or possibly higher with excellent seasons.
CSN Mid-Atlantic also includes Bryant in the top 10 of a mock draft for 2017:
No. 7: Thomas Bryant | 6-10 C | Indiana

Bryant is raw, so he probably made the right decision to return to Indiana for his sophomore season. Tremendous motor who outworked Diamond Stone in the lone matchup between Indiana and Maryland this season.
NBC Sports runs through 26 players that NBA draft fans will want to watch next season in college basketball:
6. Thomas Bryant, C, Indiana: Bryant had a good freshman season with Indiana, one where he consistently improved throughout the year. But that was inevitable considering just how bad he was when he got onto campus, especially defensively. He's 6-foot-11 with a 7-foot-6 wingspan and he plays the game hard and emotionally. Seeing just how much the rest of his game develops — defending pick and rolls, low post offensive, shooting stroke — will determine if he's a first rounder or a lottery pick.

7. O.G. Anunoby, SF, Indiana: He has elite physical tools. He already is a terrific defensive player; ask Jamal Murray. He's been compared to Victor Oladipo, although he's about four inches taller than Victor. If he can make the same kind of jump offensively that Oladipo made, the rising sophomore could be a lottery pick.
FoxSports.com looks at six players who could be the No. 1 pick in 2017 NBA draft:
The question with Bryant simply comes down to this: Was his 19-point effort against Kentucky in the NCAA Tournament a one game aberration? Or a sign of what's to come in 2017?

If it's an aberration, well, someone will still take Bryant in the lottery next year, based on his 7'0 frame that already carries 250 lbs. and could easily add more weight without losing any quickness or athleticism.

But if it wasn't an aberration, and instead a sign of what's to come, look out. Bryant could be a double-double machine next year, and a guy in contention for the first overall pick in 2017.
Filed to: Thomas Bryant