Crean weighs in on graduate transfer discussion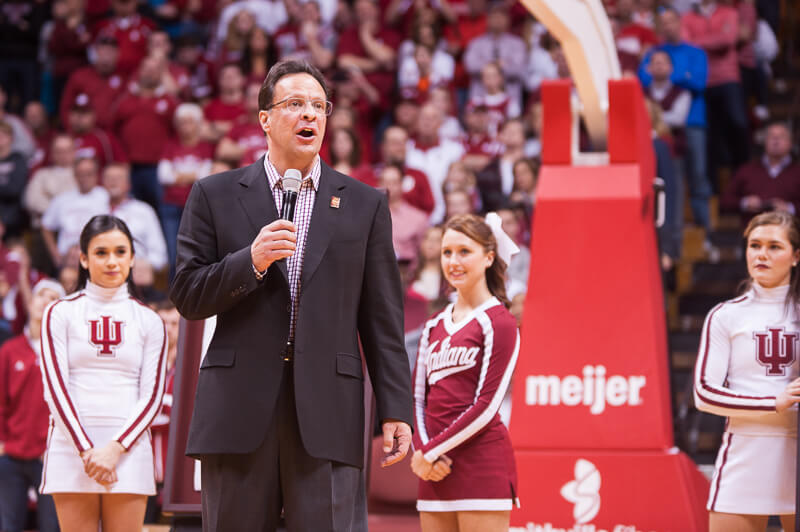 It's been called an "epidemic" by Tom Izzo and it's also been called "free agency" by Chris Collins and was a hot topic of discussion at last month's Big Ten coaches meetings in Chicago.
Transfers in college basketball continue to be prevalent, but as Tom Crean sees it, there's no clear cut answer to how each situation should be handled.
Some coaches, like Nebraska's Tim Miles, have ludicrously called for all transfers to sit out a season, regardless of circumstances. Crean, however, speaking at Huber's Winery earlier this month, said the issue is complicated for a variety of reasons.
Indiana has taken three graduate transfers under Crean: Evan Gordon, Nick Zeisloft and Max Bielfeldt and each situation was different. Here's Crean, verbatim, on graduate transfers in college basketball:
"Well, it's complicated. I think some that are speaking out about it are not looking at the entire picture on it. I think that, to me personally, the hardest thing is what it does to the low and mid-major schools because when you look around, it's like, how is a low or mid-major school going to redshirt somebody? How are they going to try to get somebody graduated in three years? I think that's going to be really, really hard, in the sense that, that's who it is really hurting.

"I think there's two different cases. I don't know how you penalize Max Bielfeldt because he wasn't given a scholarship back to the program he was at (Michigan). My belief is simple: If you don't want to lose somebody and you want them to stay but yet they want to leave, I'm not sure that being automatically eligible somewhere is the best way to do it.

"But if you don't offer somebody back a scholarship, much like a case like Max, I don't know you hold them back from being eligible somewhere, including the league. If I didn't want to lose you, and you wanted to transfer within the league, I don't think you should be eligible to go inside of the league.

"But if I don't want you back, OK, then I think all bets are off. How can I have any justification of holding you back? So that to me, it's not as easy as some are making it seem. And it's not as easy as saying, 'OK, let's just make them sit out a year, then they can have the next year to play.'

"That's easy for the one you don't want to lose, it's really hard for the one you're not willing to keep. That's getting lost in the translation a little bit. But again as a nutshell, if we came down with it and said, 'OK, they have to sit out and that would help the low and mid-major programs,' I'd be all for that. Because I've got friends all across the country and so does every other coach that are losing players that are going to affect their job.

"You don't have to look very far. Damion Lee was a heck of a get for Louisville, but that did nothing for Bruiser Flint's job status. So in the sense of, the rules are the rules. Damion Lee did a great job, but Bruiser Flint at the end of the day didn't have his best player back.

"And that's the way the rules are right now. Personally, I'd love to see that change, but not to the point where it hurts somebody that's not welcome back at their school. That's a double penalty. Why would we do that?"
Filed to: Tom Crean