Hoosiers "looking forward" to challenging non-conference slate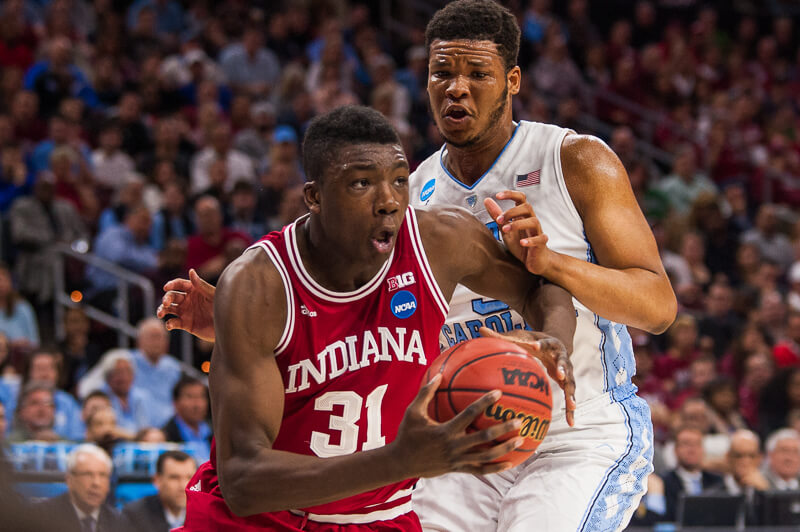 Indiana's complete non-conference schedule for the 2016-17 season won't be announced until the fall, but it's already shaping up to be one of the most challenging in recent memory.
The Hoosiers will face three of the top 13 teams in the most recent ESPN.com top 25 for next season.
The regular season opener will be on Friday, Nov. 11 against Kansas, No. 4 in ESPN's rankings, in the Armed Forces Classic at the Joint Base Pearl Harbor-Hickam in Honolulu, Hawaii.
Indiana will also face North Carolina, No. 6 in the ESPN rankings, in the Big Ten-ACC Challenge on Nov. 30 at Assembly Hall and Louisville, No. 13 in the ESPN rankings, on Dec. 31 at Bankers Life Fieldhouse in Indianapolis
"Being at Indiana, that's what we want to do is just play the best competition out there," Thomas Bryant said of the schedule last week at Huber's Winery. "Playing against those guys, that'll bring the best out of all of us."
The Wednesday game against North Carolina, which will be a headliner of ESPN's coverage of the 18th annual Big Ten-Challenge, is a rematch of IU's 2015-16 season-ending 101-86 loss to the Tar Heels in the East Regional semifinal in Philadelphia.
Bryant was asked last week if there's a revenge factor involved with getting another shot at North Carolina.
"Come on now, you should know that," he said with a smile. "We're all looking forward to it."
In addition to those three marquee games, Indiana will also play Butler in the Crossroads Classic at Bankers Life Fieldhouse on Dec. 17 and IPFW on Nov. 22 at Fort Wayne Memorial Coliseum.
Indiana was not selected to play in this season's Gavitt Tipoff Games, an annual event matching Big Ten and Big East programs. The Gavitt Tipoff Games run through 2022 and each Big Ten team will appear a minimum of four times. Indiana played Creighton in the inaugural year of the event last season.
The game with Louisville, which was announced in August of 2015, is a part of a three-year series that also includes games at the KFC Yum Center in 2017 and at Assembly Hall in 2018.
Indiana and Louisville last played in 2014 at Madison Square Garden in the Jimmy V Classic.
"There's very little wiggle room on our schedule with the Gavitt Cup, with the Crossroads Classic, with the Big Ten-ACC Challenge to put together a series," Tom Crean said. "But this was one that made sense for both places, and I think it'll be excellent.
"It'll be a great, great test for both of us going into our league play. Hopefully it'll be one of those games that is sold out early at Bankers Life. It's a great day. Every time that we've played them, in my history as a coach, we always learned a lot about our team. Even at Indiana when we played them a couple years ago, we learned a lot. The thing that separates them, it's not just how relentless some of them are. It's how relentless all of them are, especially their guards."
Filed to: 2016-2017 schedule