Juwan Morgan feels like "almost a new person" after shoulder surgery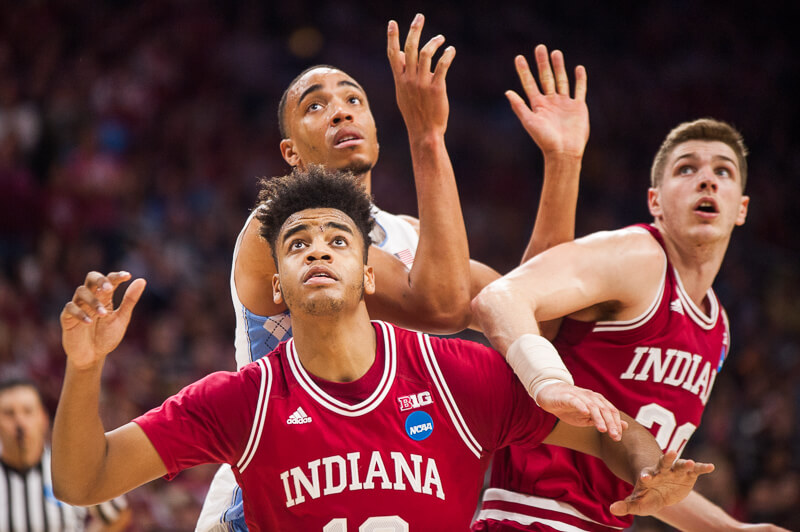 Nearly two months after surgery to repair a left shoulder injury that has hampered him since high school, Indiana sophomore forward Juwan Morgan is making progress in his quest to return to the floor.
The 6-foot-7 forward, a key part of last season's Big Ten championship team, played through a shoulder injury for most of his freshman season.
Morgan had to leave several Indiana games late last season as his shoulder frequently popped out of place, but he remarkably was always ready to go for the next contest.
"I'm feeling great. Life is good," Morgan said last week in Borden. "I just feel a lot better, like almost a new person."
The injury, which Morgan said he "wouldn't wish upon anybody," and subsequent surgery, forced Morgan to sleep in a reclining chair for nearly two weeks post-operation.
He hasn't been given a timeline for when he'll be able to return to the floor, but Tom Crean said Morgan was back in the gym days after the surgery shooting with right hand.
The primary focus right now for Morgan is stretching and sticking to the rehab plan provided by the Indiana training staff. He was one of three players to return to campus last week, joining Thomas Bryant and Josh Newkirk. The rest of Indiana's returning players were expected back in Bloomington by Sunday for offseason workouts, which begin this week.
"It was tough at first, especially just the mental part of it all, knowing that I couldn't really do anything," he said. "But with the training staff, the coaching staff and all of the support from my teammates and family, it's been a lot easier than most people would think."
Morgan, who averaged 2.4 points and 2.1 rebounds last season, is one of four players rehabbing from injuries this offseason.
James Blackmon Jr. is coming back from ACL surgery, Collin Hartman required a cast for a broken wrist and Robert Johnson had surgery in April on his left foot. None of the injuries are expected to linger into the start of next season.
One of the keys when an IU player is rehabbing, according to Crean, is keeping them engaged and involved with team activities.
"Even when they can't do something full or can't do something at a complete level, we're going to get something done," Crean said. "When they're wearing (protective) boots and things of that nature, we have them shoot from a chair.
"In his case, we'll see where he's at. We haven't been able to work with him the last couple of weeks. We'll see where he's at next week and make a plan for that. The biggest thing is to keep them integrated with the team. Even when they can't do what everybody else is doing, they're still a part of it."
Filed to: Juwan Morgan