Newkirk as the starting point guard? "It's up to him"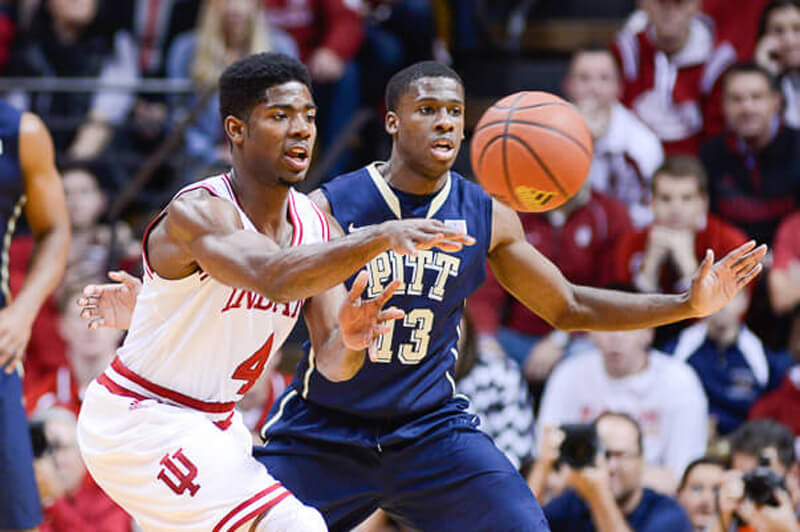 Indiana has a significant void to fill as it begins preparation for the 2016-17 season without Yogi Ferrell.
The accomplishments of Ferrell have been well-documented and won't soon be forgotten by Indiana fans. He's one of the best point guards in program history and was one of the top guards in all of college basketball last season. That makes it difficult to project how the Hoosiers will adjust to life without him, given his importance to last season's success.
One of the players expected to help try to fill the void left by Ferrell is Pittsburgh transfer Josh Newkirk. He was also one of three Indiana players in attendance at Wednesday's "On the Road with the Hoosiers" tour stop at Huber's Winery in Borden.
To kick off the Q & A session that was the final piece of the evening, a young Hoosier fan took the microphone and directed a question towards the stage.
"Is, uh, Newkirk going to be a starting point guard?" he asked.
Tom Crean, serving as an enthusiastic moderator, replied as the crowd laughed: "Is Josh Newkirk going to be the starting point guard? I don't know, I don't know. It's up to him. He can't answer that."
Crean then turned back to Newkirk, "Can you answer that? He can't answer. Are you going to be the starting point guard?"
After a little prodding from the crowd and Crean, Newkirk finally replied.
"Yeah, it'll be me," he said with a smile.
As Indiana enters its first season since 2011-2012 without Ferrell on the roster, Newkirk is one of several players on the roster expected to log minutes at the point.
He arrived in Bloomington last fall looking for a fresh start as a nagging injury as a sophomore at Pittsburgh eventually required surgery to repair a microfracture and a torn meniscus.
Newkirk has been healthy enough to practice since earlier in the year and on Wednesday, Crean cited his work there during the second half of the season as major boost for the Hoosiers.
"I'm feeling good," Newkirk told reporters prior to the Huber's event. "I still do my knee protocol, my rehab, all of that type of stuff. I've been working, practicing. I had a full year of practice, so I think I'll be ready."
But performance in practice is a lot different than the stage that awaits Newkirk at Indiana, a program with major expectations and looking to defend a regular season Big Ten champpionship. The redshirt junior said he hopes he's able to build on what he learned from watching and going against Ferrell last season.
"He was very accountable of his own work," Newkirk said of Ferrell. "He led the team, made sure everybody was in the right spot. That'll be the biggest thing, his leadership."
Beyond the leadership and floor presence, though, there's also a statistical piece vacated by Ferrell.
He led Indiana in scoring and assists and also shot 42 percent from behind the 3-point line. One of the biggest areas to scrutinize when you examine Newkirk's production at Pittsburgh is his 3-point shooting.
In two seasons under Jamie Dixon, he shot 35.7 percent from behind the arc, which is a number he hopes will improve with continued assistance from associate head coach Tim Buckley.
"I believe I'm a lot better," Newkirk said. "I worked a lot with my form shooting when I really couldn't really run or jump during my injury. I think I can a long way with form and just building better technique.
"Credit to coach Buckley. He just helped me tuck my elbow in more and helped me with my follow through. Those are two of the main things."
Filed to: Josh Newkirk