"Selfless" Bryant eyes improvement in sophomore season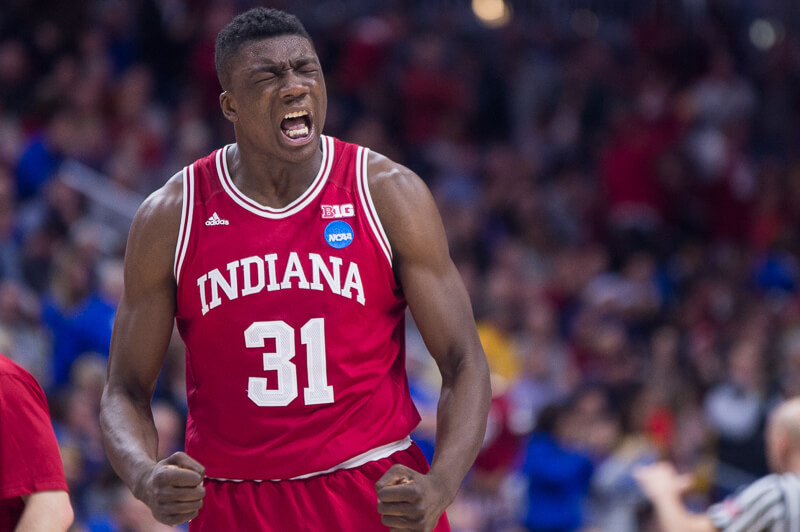 Four McDonald's All-American big men entered the Big Ten last season – Deyonta Davis, Diamond Stone, Caleb Swanigan and Thomas Bryant.
Three of the four tested the NBA draft waters. Davis and Stone kept their name in the draft while Swanigan opted to return to Purdue on the final date to withdraw while still maintaining his NCAA eligibility.
One of the four, however, surprisingly didn't test the waters at all: Indiana's Thomas Bryant.
Even with a risk free opportunity to attend the NBA draft combine and workout for teams to get a better idea of his stock, Bryant quietly announced in April that he was returning to Bloomington for his sophomore season.
No drama, no speculation and no temptation that comes along with being courted by agents. It was a decision that Bryant didn't need to agonize over or drag out after listening to him speak about it on Wednesday night at Huber's Winery in Borden, Indiana.
"I talked to my parents, I talked to my coaches, the coaching staff and I talked to a couple of other people that are close to me to help me with this process," he explained. "The best decision for me was to just return back. It was my decision to not test the waters. I wanted to stay here and be with my teammates, the coaching staff and get better."
There was little question that Bryant would have been selected had he chosen to enter the draft. He was projected as high as the late teens in several early mock drafts and it's possible that he could have moved up with strong workouts and interviews with teams.
But there's a difference between just getting drafted and being prepared for a long NBA career and it's clear that Bryant, who is still just 18, covets the latter.
"He's got a lot of self-awareness, and he's got a lot of desire to improve, and he wants to have a really long career," Crean said Wednesday. "He buys into all the things he's gotta get better at. And now it's our job to make sure that happens."
Bryant, along with Josh Newkirk and Juwan Morgan, is already back in Bloomington several days ahead of the mandatory deadline of this weekend for players to return to begin workouts next week. Indiana's freshmen and Freddie McSwain will arrive on campus later in June.
As he prepares for his sophomore season, Bryant already has a list of the key areas where he needs to improve.
"Just being more focused on the defensive end, being there for my teammates, quickness, moving up and down the floor better," Bryant explained. "On the offensive end, being more of a threat to score."
As just a sophomore, Bryant wasn't ready on Wednesday to declare himself one of the leaders of next year's team just yet. The Hoosiers will have several upperclassmen on the roster, including Collin Hartman, Robert Johnson and James Blackmon Jr.
Crean, however, views it at one of the next steps in his development in what could be his final season of college basketball.
"He's a very selfless guy. He's one of the greatest teammates, in one year's time, I've ever had the privilege of coaching," Crean said. "He'll be a real leader on this team. He's got all the qualities to be a real leader on this team, because he's got a tremendous personality."
Filed to: Thomas Bryant