Offseason storylines: How will Indiana replace Yogi Ferrell?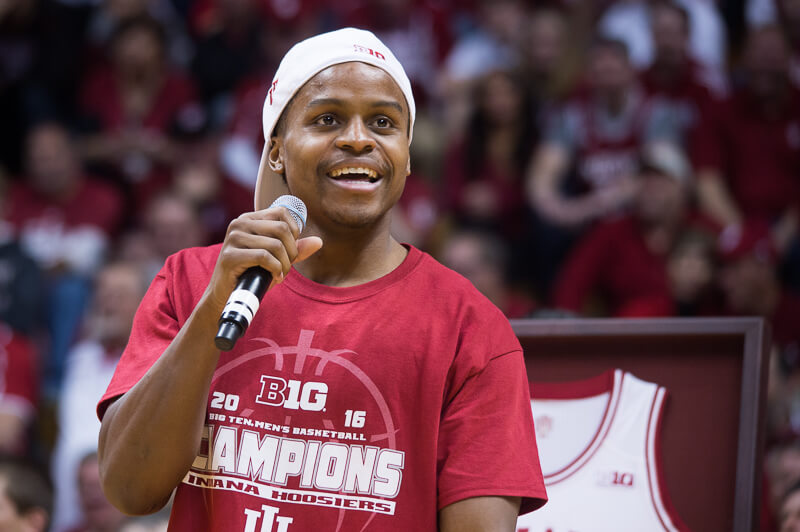 Welcome to offseason storylines, a look into some of the biggest storylines surrounding the 2016-2017 Indiana Hoosiers. First up, a look at the point guard position going into next season and a question to ponder: How will Indiana replace Yogi Ferrell?
As you saw in our latest post with several updated preseason top 25s for next season, the national media is bullish on Indiana next season.
And there is certainly plenty to like. The Hoosiers return a solid nucleus of talent – including a potential Big Ten player of the year candidate in Thomas Bryant – from a team that won the conference title outright by two games and advanced to the Sweet Sixteen.
But there's a major question lingering as Indiana enters June, the month when the incoming freshmen arrive on campus and offseason workouts commence. How will Indiana replace Yogi Ferrell?
Over the last four seasons, Ferrell owned the point guard position in Bloomington. He assumed the starting position from the time he arrived on campus as a highly touted McDonald's All-American in the summer of 2012. Ferrell started all 137 games he played in an IU uniform and set a program record for assists with 633. He also leaves as Indiana's sixth all-time leading scorer and second in career 3-point field goals made.
Not only was Ferrell an elite distributor who made his teammates better, no other Hoosier was as dangerous in transition, in the pick-and-roll or in isolation. As a senior, Ferrell struck a solid balance between scoring and distributing with a solid cast surrounding him.
He had more than half of Indiana's possessions (179 of 351) as the ball handler in pick-and-roll situations, according to Synergy Sports. Ferrell scored .84 points per possession in those situations, ranking him in the 72nd percentile nationally.
In the Big Ten, only Maryland's Melo Trimble, Penn State's Shep Garner and Northwestern's Bryant McIntosh had as many possessions as the ball handler in the pick-and-roll as Ferrell and none of them scored it as efficiently as he did. Of those returning to Indiana's roster next season, only Robert Johnson (37) and James Blackmon Jr. (21) had more than 10 possessions in the pick-and-roll as the ball handler. Blackmon Jr. managed .81 points per possession and Johnson scored just .27 points per possession.
Ferrell was also a big part of Indiana's transition offense as he was one of just five players in the league with more than 100 possessions on the break last season. In 115 transition possessions last season, he scored 137 points for 1.19 points per possession. That was more efficient than Troy Williams, who led Big Ten players with 129 transition possessions (1.08 PPP). Johnson scored 45 points in 47 transition possessions. Blackmon Jr. was excellent in transition with 61 points in 46 possessions, but those numbers are just over the team's first 13 games.
Ferrell used 68 of Indiana's 151 isolation possessions last season and ranked in the 93rd percentile nationally at 1.09 points per possession. No other Big Ten player scored as efficiently in those situation as Ferrell, according to Synergy Sports.
The defensive impact of Ferrell will also be difficult to replace. He was an all-league defender last season and often guarded the opponent's best perimeter player. The role of defensive stopper is one that Johnson should be able to grow into in his third season in Bloomington.
Out of necessity, Indiana's play at the point guard position, and most likely its offense, is going to look much different in 2016-2017.
Pittsburgh transfer Josh Newkirk will be the most natural point guard on the roster, but doesn't pack the scoring punch that Ferrell delivered. Johnson was recruited as a combo guard, but has plenty of room to grow with his decision making to be considered a reliable point guard. And Blackmon Jr. needs to prove he can handle the position if he has NBA aspirations, but is a score-first guard.
The coaching staff has been positive with its comments on Newkirk, a former 3-star recruit who played mostly off the bench for two seasons under Jamie Dixon at Pitt. He's coming off of microfracture surgery, but has been practicing since early this year. He had elite quickness before the injury, but had a major dip in production as a sophomore. After posting the sixth best offensive rating of any player in the ACC as a freshman, he made less than 30 percent of his 3s and just 42.4 percent of his 2s as a sophomore. He also turned it over on 21.7 percent of his possessions as a sophomore. And while their games are different, those numbers aren't far off from what Verdell Jones produced for IU as a senior (44.6 2PFG%, 30.3 3PFG% and a 27.3 TO%).
Although he posted a much-improved offensive rating of 115.1 as a sophomore (up from 101.1 as a freshman), Johnson was also inconsistent as a ball handler as a sophomore. He turned it over on 24.7 percent of his possession in Big Ten play, the highest of any rotation player. If point guard is going to be Johnson's primary position next season, that number must come down.
Like Newkirk, Blackmon Jr. is coming off of an injury and nothing in his statistical profile from his first two seasons suggests he's going to be a player who creates offense for others regularly. Blackmon Jr. had a significantly lower assist rate than Ferrell, Johnson and Stanford Robinson as a freshman and was below Ferrell, Johnson and Troy Williams last season.
The Hoosiers also welcome a pair of freshman guards in Curtis Jones and Devonte Green, who are both considered combo guards and could see time with the ball in their hands.
But without its definitive floor leader in Ferrell – one of the nation's most efficient guards and IU's best player – the focus of the offense is also likely to shift.
Despite the misinformed opinion of some that Indiana has struggled to properly utilize a big man under Tom Crean, the Hoosiers are likely to feature a big man as the focal point offensively in 2016-2017 as they shift away from the Ferrell era. In 2011-12 and 2012-13, Cody Zeller used the most possessions of any IU player and that title is likely to go to Thomas Bryant in 2016-17.
Featuring Bryant first, along with the continued development of O.G. Anunoby and Juwan Morgan plus the arrival of De'Ron Davis, should help Indiana to generate more points from its frontcourt.
However, that doesn't erase the fact that the Hoosiers are going to need a reliable ball handler and distributor to facilitate for those up front. How that comes about is still up in the air as there are question marks about how capably both Newkirk and Johnson can man the position.
Neither is going to be able to replace the offensive or defensive production of Ferrell, but it's important that one (or both) can command and run the offense while also taking care of the ball. Indiana won't be able to replace Ferrell next season, but to meet expectations, the Hoosiers need someone to emerge as the answer at point guard.
Filed to: James Blackmon Jr., Josh Newkirk, Robert Johnson, Yogi Ferrell