Big Ten Power Rankings: Offseason edition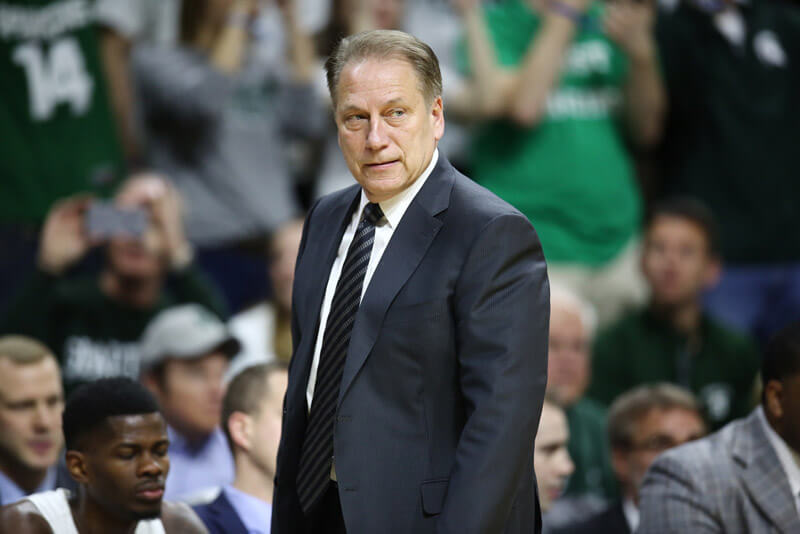 It's May and more than five months separate us from the opening of the 2016-2017 season, but it's never a bad time to check in on the Big Ten landscape.
Here's our first stab at forecasting next season's conference standings with last season's records in parenthesis:
14. Rutgers (7-25, 1-17)
· Returning: Corey Sanders, Mike Williams, Deshawn Freeman, Jonathan Laurent, Ibrahima Diallo, Shaquille Dorson, Nigel Johnson (Kansas State transfer becomes eligible)
· Arriving: Issa Thiam, Matt Bullock, Candido Sa
· Departing: Bishop Daniels (graduation), Jalen Hyde (graduation), Omari Grier (graduation), Greg Lewis (graduation), D.J. Foreman (transfer), Justin Goode (transfer)
· Outlook: Bleak. Can we stop there? Steve Pikiell inherits a mess and even if he does an excellent job from day one with the Scarlet Knights, Rutgers has a long way to become a competitive Big Ten program. There are some pieces to work with on the roster – namely Corey Sanders and Deshawn Freeman – but Rutgers has won three league games over the past two seasons. A transformation is Piscataway, if it is going to happen, won't come overnight.
13. Minnesota (8-23, 2-16)
· Returning: Nate Mason, Jordan Murphy, Dupree McBryer, Ahmad Gilbert, Bakary Konate, Charles Buggs, Stephon Sharp, Gaston Diedhiou, Davonte Fitzgerald (Texas A&M transfer becomes eligible), Reggie Lynch (Illinois State transfer becomes eligible)
· Arriving: Amir Coffey (247Composite top 100), Eric Curry, Michael Hurt, Akeem Springs (graduate transfer from Milwaukee)
· Departing: Joey King (graduation), Kevin Dorsey (transfer), Carlos Morris (dismissed/graduation)
· Outlook: The Minnesota program is a mess. From a sex-tape scandal last season to Lynch's arrest on suspension of criminal sexual conduct to Richard Pitino's ludicrous contract buyout, Gopher fans are probably longing for the days of Tubby Smith. Minnesota was an abysmal offensive team last season (278th nationally in adjusted offensive efficiency) and unless that changes dramatically, the Gophers will be playing on the first day of the Big Ten tournament.
12. Illinois (15-19, 5-13)
· Returning: Malcolm Hill, Aaron Jordan, Tracy Abrams, D.J. Williams, Jalen Coleman-Lands, Leron Black (suspended for six games), Jaylon Tate, Maverick Morgan, Michael Finke, Mike Thorne (granted medical hardship waiver), Alex Austin, Kipper Nichols (Tulane transfer becomes eligible)
· Arriving: Tejon Lucas
· Departing: Kendrick Nunn (dismissed), Khalid Lewis (graduation), Mike LaTulip (transfer)
· Outlook: Illinois is another Big Ten program in disarray. The loss of Nunn is substantial because of his talent, but you have to commend new athletic director Josh Wittman for showing him the door after pleading guilty to domestic battery. Malcolm Hill could be an All-Big Ten first team guy, but there are a lot of question marks in Champaign. Will Thorne be healthy? Is Coleman-Lands ready for a sophomore leap? Will Black be a factor in the frontcourt? And most importantly, how will John Groce handle the pressure of coaching a season where his job is clearly on the line?
11. Northwestern (20-12, 8-10)
· Returning: Bryant McIntosh, Nathan Taphorn, Scottie Lindsey, Vic Law, Dererk Pardon, Gavin Skelly, Jordan Ash
· Arriving: Rapolas Ivanauskas, Barret Benson, Isiah Brown
· Departing: Alex Olah (graduation), Tre Demps (graduation), Joey Van Zegeren (graduation), Johnnie Vassar (transfer)
· Outlook: Chris Collins is assembling talent in Evanston, but the Wildcats have to replace Demps and Olah, which won't be easy. McIntosh is one of the league's best guards and Law is a potential breakout star, but who is going to man the paint against the league's elite big men? It's a question Northwestern must answer.
10. Penn State (16-16, 7-11)
· Returning: Shep Garner, Josh Reaves, Payton Banks, Isaiah Washington, Julian Moore, Deividas Zemgulis, Mike Watkins, Terrence Samuel (Connecticut transfer becomes eligible)
· Arriving: Tony Carr (247Composite top 100), Lamar Stevens (247Composite top 100), Nazeer Bostick, Joe Hampton, Satchel Pierce (Virginia Tech transfer, must sit out)
· Departing: Brandon Taylor (graduation), Donovan Jack (graduation), Devin Foster (graduation), Jordan Dickerson (graduation)
· Outlook: This may be too low for the Nittany Lions when we look back on this come conference play, but we're exercising cautious optimism for now. Carr is an impact point guard, Garner is back and Pat Chambers may also have a few post guys to work with in Watkins and Hampton. Still, there's work to do to improve on an offense that ranked outside the top 200 nationally last season.
9. Iowa (22-11, 12-6)
· Returning: Peter Jok, Ahmad Wagner, Nicolas Baer, Dom Uhl, Brady Ellingson, Christian Williams
· Arriving: Tyler Cook (247Composite top 100), Cordell Pemsl, Ryan Kriener, Jordan Bohannon, Maishe Dailey
· Departing: Brandon Hutton (transfer), Andrew Fleming (transfer), Jarrod Uthoff (graduation), Mike Gesell (graduation), Anthony Clemmons (graduation), Adam Woodbury (graduation)
· Outlook: Fran McCaffery lost four starters from a team that peaked in early February and then collapsed down the stretch last season. The Hawkeyes have a ton of production to replace and outside of Jok, there are plenty of guys who will need to take on bigger roles for Iowa to be successful. Baer, Wagner and Uhl need to take major steps forward and Cook and Bohannon will need to be reliable options as freshmen for Iowa to reach its ceiling.
8. Nebraska (16-18, 6-12)
· Returning: Andrew White, Tai Webster, Glynn Watson, Jack McVeigh, Ed Morrow, Nick Fuller, Michael Jacobson, Anton Gill (Louisville transfer becomes eligible)
· Arriving: Isaiah Roby, Jeriah Horne, Jordy Tshimanga, James Palmer (Miami transfer, must sit out)
· Departing: Shavon Shields (graduation), Jake Hammond (transfer), Johnny Trueblood (transfer), Benny Parker (graduation), Bakari Evelyn (transfer)
· Outlook: The Cornhuskers have a solid perimeter group led by White, who tested the NBA draft waters before opting to return to Lincoln for his senior season. If Nebraska can improve upon its defense, which was ranked 129th last season nationally, it can make a move up in the league standings.
7. Ohio State (21-14, 11-7)
· Returning: Keita Bates-Diop, Jae'Sean Tate, Kam Williams, JaQuan Lyle, Marc Loving, David Bell, Trevor Thompson
· Arriving: Derek Funderburk (247Composite top 100), Micah Potter, Andre Wesson, C.J. Jackson
· Departing: A.J. Harris (transfer), Daniel Giddens (transfer), Mickey Mitchell (transfer), Austin Grandstaff (transfer)
· Outlook: Only Lyle remains from Thad Matta's heralded 2015 recruiting class, but the Buckeyes do return their top six players from last year's squad that made the NIT. Ohio State should once again be a fine defensive team, but they need more reliable point guard play and much better perimeter shooting (33.4 percent last season) to get back to the NCAA tournament.
6. Maryland (27-9, 12-6)
· Returning: Melo Trimble, Jared Nickens, Dion Wiley, Jaylen Brantley, Michael Cekovsky, Damonte Dodd, Ivan Bender
· Arriving: Micah Thomas, Anthony Cowan (247Composite top 100), Kevin Huerter (247Composite top 100), L.G. Gill (graduate transfer from Duquesne), Justin Jackson (247Composite top 100)
· Departing: Jake Layman (graduation), Varun Rum (graduation), Rasheed Sulaimon (graduation), Diamond Stone (NBA early entry), Robert Carter (NBA early entry)
· Outlook: We're buying a bounce back season for Trimble, who wasn't completely healthy last season and was the last Big Ten player to announce that he would return to school rather than stay in the NBA draft. The Terps lost a lot of talent, but welcome Wiley back from injury and should also be able to find a bigger role for Nickens, a capable perimeter shooter. Throw in a solid, but not spectacular frontcourt, two top 100 recruits and Gill, a grad transfer, and Maryland could very well be on its way back to the NCAA tournament.
5. Michigan (23-13, 10-8)
· Returning: Derrick Walton, Zak Irvin, Mark Donnal, Duncan Robinson, Muhammad-Ali Abdur-Rahkman, Moritz Wagner, D.J. Wilson
· Arriving: Xavier Simpson (247Composite top 100), Jon Teske, Ibi Watson, Austin Davis
· Departing: Caris LeVert (graduation), Aubrey Dawkins (transfer), Ricky Doyle (transfer), Spike Albrecht (transfer), Kameron Chatman (transfer)
· Outlook: LeVert is gone, which may end up being a good thing as Michigan coach John Beilein no longer has to answer questions about when he'll return from an injury that totally derailed the Wolverines last season. Michigan needs to be much better on defense than last season and perhaps two new assistant coaches will rebuild the Wolverines on that end of the floor. It would also help if Walton can stay healthy all season.
4. Purdue (26-9, 12-6)
· Returning: Isaac Haas, Vincent Edwards, Caleb Swanigan, Dakota Mathias, Ryan Cline, P.J. Thompson, Jacquil Taylor, Basil Smotherman
· Arriving: Carsen Edwards, Spike Albrecht (graduate transfer from Michigan)
· Departing: A.J. Hammons (graduation), Rapheal Davis (graduation), Grant Weatherford (transfer), Kendall Stephens (transfer), Johnny Hill (graduation)
· Outlook: Purdue has one of the best frontcourts in the country once again, but will the guard play be good enough to push the Boilermakers to their first NCAA tournament win since 2012? Edwards and Albrecht, if healthy, should help that situation. Purdue also needs more consistency out of Cline and Mathias, two guys who should be shooting in the mid 40 percent range from the perimeter.
3. Indiana (27-8, 15-3)
· Returning: Thomas Bryant, James Blackmon Jr., Robert Johnson, OG Anunoby, Juwan Morgan, Collin Hartman, Josh Newkirk (Pittsburgh transfer becomes eligible), Tim Priller
· Arriving: De'Ron Davis (247Composite top 100), Curtis Jones (247Composite top 100), Devonte Green, Grant Gelon, Freddie McSwain
· Departing: Yogi Ferrell (graduation), Max Bielfeldt (graduation), Nick Zeisloft (graduation), Ryan Burton (graduation), Harrison Niego (transfer), Troy Williams (NBA early entry)
· Outlook: Indiana's offense is going to take a step backward, but the personnel exists for the defense to take another step forward. Bryant should be an All-Big Ten type of player, but who is going to be the point guard? The Hoosiers won't be able to replace Ferrell, but need Johnson, Newkirk and Blackmon Jr. to be able to handle the ball handling duties. The frontcourt should be very good with Davis, Anunoby, Morgan and Hartman joining Bryant.
2. Wisconsin (22-13, 12-6)
· Returning: Nigel Hayes, Bronson Koenig, Ethan Happ, Zak Showalter, Vitto Brown, Brevin Pritzl, Charlie Thomas, Jordan Hill, Alex Illikainen, Khalil Iverson, Andy Van Vliet
· Arriving: Aleem Ford, D'Mitrik Trice
· Departing: Riley Dearring (transfer), Jordan Smith (graduation)
· Outlook: Wisconsin will be the pick by many to win the league, but for that to happen, Hayes needs to be a much better offensive player. He shot just 40 percent on 2s last season and 29.3 percent on 3s, which simply isn't good enough for a player using that many possessions. Happ is coming off of a terrific redshirt freshman season and Koenig is now a senior with three NCAA tournament runs under his belt. Beware of the Badgers.
1. Michigan State (29-6, 13-5)
· Returning: Eron Harris, Matt McQuaid, Gavin Schilling, Alvin Ellis, Lourawls Nairn, Kenny Goins, Kyle Ahrens
· Arriving: Miles Bridges (247Composite top 100), Cassius Winston (247Composite top 100), Josh Langford (247Composite top 100), Nick Ward (247Composite top 100), Ben Carter (graduate transfer from UNLV)
· Departing: Denzel Valentine (graduation), Bryn Forbes (graduation), Matt Costello (graduation), Colby Wollenman (graduation), Javon Bess (transfer), Marvin Clark Jr. (transfer), Deyonta Davis (NBA early entry)
· Outlook: Michigan State returns mostly role players, but welcomes two McDonald's All-Americans plus two other top 40 recruits and a grad transfer who can help. There will be growing pains in East Lansing as all of the pieces mesh together, but Bridges and Langford should be very good immediately. Losing Davis hurt, but the pieces exist for the Spartans to win the league. It also doesn't hurt that Tom Izzo, the Big Ten's best coach, (and a newly inducted Hall of Famer) continues to roam the sidelines of the Breslin Center.
Filed to: Big Ten Power Rankings