Breakout candidates in 2016-2017 for each Big Ten team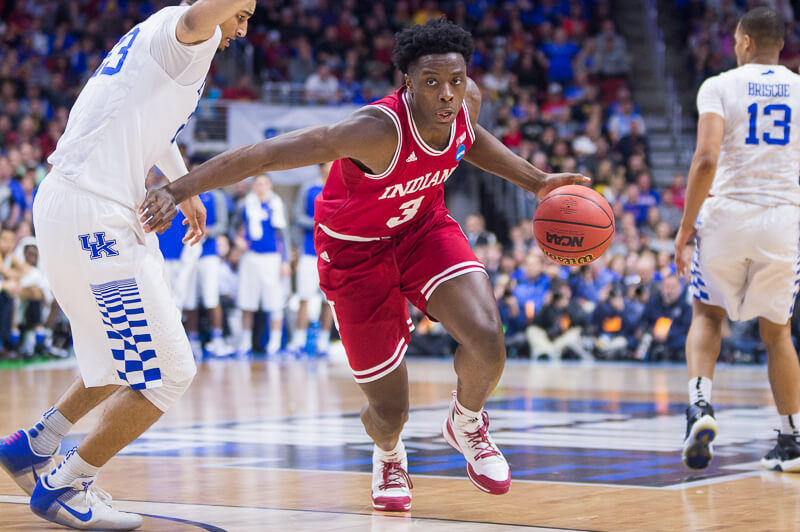 With plenty of roster turnover and guys leaving early for the NBA in the Big Ten, 2016-17 could be a year of transition for the conference.
It should also be a season of opportunity for players to take on bigger roles. Here's a look at a potential breakout candidate for each Big Ten team for the 2016-17 season:
(Note: We only considered players who are returning from last season who played less than 50% of available minutes. We also considered redshirted players or players who sat out last season as transfers.)
· Illinois – Leron Black: Injuries and legal troubles defined Black's sophomore season in Champaign, but there's no denying his talent as a former top 50 recruit. At 6-foot-7 and 220 pounds, he's a versatile four-man who can step out and also crash the glass hard. He's suspended for the first six games of next season (two are exhibitions), but if he's anywhere near 100 percent with his health, he's a player to watch for the Illini in an important season for John Groce's future.
· Indiana – OG Anunoby: Anunoby was excellent in a backup role as a freshman in Bloomington, but should be in line for more minutes and increased production next winter. He's an incredible athlete who showed that he can step out and hit 3s and also defend at a high level. He's already being discussed as a player who could have a chance to leave for the NBA after next season, but to get there, he'll need to prove he can continue to have success in a more prominent role.
· Iowa – Ahmad Wagner: The Hawkeyes lost four starters, so opportunity won't be an issue in Iowa City. As a freshman, Wagner made over 70 percent of his 2s and got to the foul line at a ridiculous clip (80.4 free throw rate). He struggled once he got there (51.4 percent), but on a team that is going to need scoring, Wagner should get opportunities to take on a much more prominent role for Fran McCaffery.
· Maryland – Jared Nickens: After coming off of the bench for his first two seasons in College Park, Nickens should be a fixture in Maryland's starting lineup next season. He's a high volume 3-point shooter (147 attempts as a sophomore) that needs to add other ways to score to his game to keep defenses honest. But with Jake Layman and Robert Carter gone, Nickens will get every chance to shine for the Terps.
· Michigan – Moritz Wagner: The German big man showed flashes of his potential as a freshman, but never really put things together consistently enough to carve out a significant role for the Wolverines. That should change as a sophomore. Wagner made over 70 percent of his 2s last season and with Ricky Doyle and Kameron Chatman transferring, he'll be a key piece for the Wolverines.
· Michigan State – Matt McQuaid: The Spartans have a lot of 3-point shooting to replace with the graduation of Denzel Valentine and Bryn Forbes, but McQuaid should be able to fill some of the void. He hit close to 41 percent from deep as a freshman and while he may still find himself coming off the bench next season, if Michigan State's freshmen have growing pains, Tom Izzo won't hesitate to turn to McQuaid.
· Minnesota – Dupree McBrayer: Reggie Lynch, a transfer from Illinois State, probably would have landed in this spot, but a recent arrest has clouded his future in Minneapolis. McBrayer was underwhelming as a freshman and was one of three players suspended for his involvement in a sex tape that was released on social media. However, he averaged a respectable 8.7 points, 3.5 assists, 3.4 rebounds and 1.5 steals during an 11-game stretch in Big Ten play.
· Nebraska – Anton Gill: A former top 60 recruit who struggled to stay in the rotation at Louisville, Gill sat out last season in Lincoln as a transfer. It's no secret that the Cornhuskers need talent to have a chance to climb back into the thick of the Big Ten race and the left handed guard is an athletic slasher that can get into the paint. He shooting needs some work, but if he's given more freedom than he was at Louisville, Gill should be able to shine for Tim Miles.
· Northwestern – Vic Law: Law missed his entire sophomore season with a shoulder injury, which was a significant blow to the Wildcats given his talent and athleticism. A former four-star recruit, Law can play multiple positions and adding him to the rotation should make Northwestern much more versatile in the frontcourt. As the highest rated recruit to ever commit to the program, a big season from Law will go a long way in helping the Wildcats reach postseason play.
· Ohio State – Trevor Thompson: Thompson is the default option here because of all of the attrition in Columbus. He tested the NBA waters, without a combine invite, before opting to return for his junior season. Thompson was a solid shot blocker and rebounder last season for the Buckeyes. But in order to reach his potential, he needs to make both of those things his focus and make a living offensively with offensive rebounding. He's not skilled enough to command the ball in post-up situations, but has the talent to make an impact as a defensive presence in the paint.
· Penn State – Mike Watkins: Watkins missed his entire freshman season in State College because he wasn't cleared by the NCAA, but he's a former four-star recruit that should be in line for plenty of minutes this season. Jordan Dickerson and Brandon Taylor both graduated, paving the way for Watkins to carve out a major role right away. The highest rated big man to commit to Penn State under Pat Chambers, Watkins is a major piece in the talent infusion that should help the Nittany Lions make a jump up in the league standings next season.
· Purdue – Isaac Haas: A.J. Hammons is gone, which means Haas is now the main man in the middle for the Boilermakers. Will his conditioning be at the level it needs to be at to handle more minutes? If so, he should continue to be able to dominate games for stretches while on the floor. He could stand to improve at finishing around the rim (59.4 percent on 2s), but at 7-foot-2, there aren't many teams who can guard him straight up.
· Rutgers – Deshawn Freeman: Rutgers is under new leadership with the hiring of Steve Pikiell and with that comes a clean slate for Freeman, who spent last season both injured and suspended. When he was on the floor last season, Freeman averaged 13.1 points and 5.1 rebounds per game. As Pikiell begins the rebuild of Rutgers, Freeman is one of his most talented pieces.
· Wisconsin – Andy Van Vliet: The Badgers have excelled with plenty of big men who have sat out their first season and Van Vliet, a Belgium native, might be the next in line. At 6-foot-11, Van Vliet can reportedly shoot it from outside and drew strong praise from Greg Gard this past season. Opportunity may be more limited in Madison with a strong returning group of players, but it could be hard to keep Van Vliet off the floor with his size and skill.
Filed to: O.G. Anunoby