Roundup: Transfers a major topic of discussion at Big Ten meetings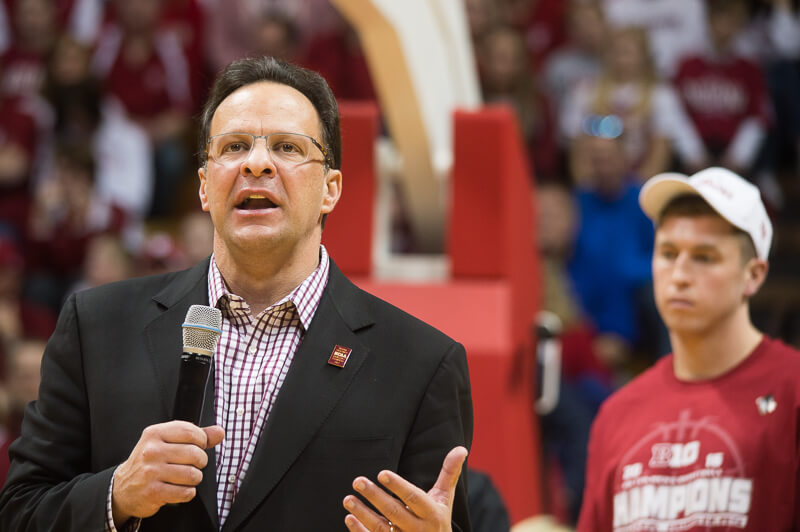 The annual Big Ten meetings are taking place this week in Chicago near O'Hare Airport and the league's men's basketball coaches are in attendance as usual.
Here's a look at some of the coverage that has come out of the meetings, which will wrap up later today:
· Brian Bennett of ESPN.com shares thoughts from some of the league's coaches on the transfer "epidemic" and a fear that the process could morph into something that resembles free agency:
While no course of action was decided upon, coaches and administrators generally agreed that the transfer situation has spiraled out of control, especially with graduate transfers who are immediately eligible at their new schools.

"It's a vicious cycle," Northwestern coach Chris Collins said. "Where we're headed is ultimately free agency, and that's not a good thing."
· Nebraska coach Tim Miles believes every transfer should have to sit out a year and says that many Big Ten coaches agree with him:
As the rule stands now, athletes who transfer from one Division I school to another must sit out one season before playing again.

But some athletes apply for immediate eligibility because of medical or family hardship or a coaching change. Also, athletes who graduate in four years can move to a different school and pursue a master's degree with immediate playing eligibility.

Some coaches want change.

"My personal feeling,'' Nebraska coach Tim Miles said, "and a lot of the Big Ten coaches feel the same way, is that no matter who you are, transfers should sit out a year. It makes it an academic process.

"Anytime you have an immediately eligible transfer, it promotes free agency. I don't think that climate is positive for anybody.''
· Graham Couch of The Lansing State- Journal has thoughts from both Tom Crean and Tom Izzo on the issue:
This always has to be only about the players — at least in how it's presented. It's the only chance coaches and administrators have of slowing down this runaway train, or at least preventing it from blowing up the sport as we know it. That's the direction college basketball is headed, a discussion that's soon to be had — the notion transfers should never have to sit.

"That would just disrupt everything," Crean said.

If it happens, Izzo has said, he won't stick around to see it.
· Mum is the word, so far, on anything official regarding a new rights deal for the league, but the prospect of moving games to FS1 isn't a huge concern for league coaches according to Chris Collins:
Most men's basketball coaches who spoke Tuesday kept a stiff upper lip about Fox and its cable channel Fox Sports 1 (FS1), which has struggled in the ratings. FS1 carries Big East basketball and averaged just 96,000 on the network (national champion Villanova calls the Big East home, by the way). Last year, the Big Ten averaged 1.2 million viewers for basketball games on ESPN.

"I think it's been (ESPN) a great partner for the conference," Northwestern basketball coach Chris Collins said. "I think it's provided a lot of great exposure, but I have all of the confidence in Commissioner Delany. He's already shown with BTN and a lot of the moves that were made that maybe people thought might not be the best ended up being great for the league. It's hard for me or any of us to argue his leadership on what he thinks might be best for the exposure of the league. I think we're all aboard. I think he's given us great assurances that everything that's going to be done is going to be for the best of the conference and best for the exposure of this product."
· Further expansion does not appear to be on the horizon for the league:
Athletic directors gathered at the Big Ten headquarters for meetings this week said the topic has not been discussed.

It's a sharp contrast from the Big 12, where presidents are considering expansion from 10 teams. The league is mulling whether adding two more members, splitting into divisions and playing a football championship game will increase its revenue and chances of participating in the College Football Playoff.

"We have other things that we're focused on," Nebraska AD Shawn Eichorst said. "The stability is terrific, that's for sure."
Filed to: Big Ten meetings