Transcript: Yogi Ferrell on the Chris Mannix Show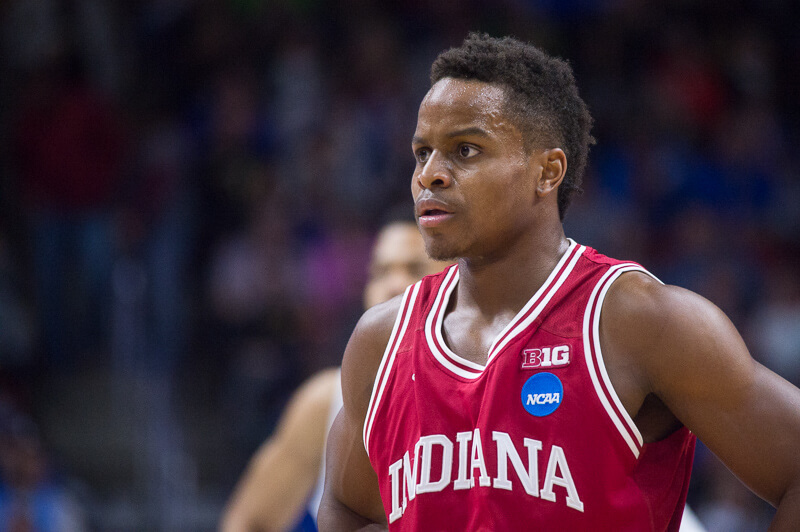 Former Indiana point guard and All-American Yogi Ferrell is beginning to workout for NBA teams this week after being snubbed for the draft combine over the weekend in Chicago.
Ferrell was also recently a guest on the Chris Mannix Show on NBC Sports Radio and discussed a variety of topics, including mock drafts, his senior season in Bloomington, not being invited to Chicago, whether college athletes should be paid and much more.
A full transcript of Ferrell's comments is available below:
On the last time he looked at a mock draft:
"I'd say probably two years ago. I don't really get into that stuff. I haven't even paid attention to all of the NBA boards."
On whether it is hard to avoid looking at mock drafts given their prevalence:
"I feel like some of the mock drafts are people's assumptions. I'd say the lottery, those guys are normally locked in. But from there on out, it can be assumptions, maybe different guys, people they've talked to. I feel like it's always up for grabs.
"The only people that know are the teams, that's about it."
On if his friends or family members tell him about the different mock drafts:
"I get that a little bit. Them telling me that they've looked at all of the mock drafts and tell me where I'm going to go. It happens."
On how strongly he considered coming out of school following his junior season:
"To begin with, I'd say it was pretty strong. That's why I took up as much time as I did, to figure out whether or not it was a great choice for me to go or come back to school. As time went on, the process went on and I got feedback from all of the teams where they projected me, basically. And as time went on, I was swayed back to coming back to IU. I felt like that was one of the best decisions I made."
On what brought him back to Indiana for his senior season:
"I just thought it was the class we had coming in. I had met those guys, had a strong connection with them and I could see how hard they were working. I felt like we could make a jump, especially from last year, from my junior year to my senior year, a jump in our play and our ability. I felt strongly about that. Coach (Tom) Crean and I was talking to the coaches, they really wanted me to come back and felt like I could do a lot of things for this university and me going in here and breaking a lot of records, leaving as a four-year player, it was a good choice."
On if he's glad he came back looking back on it:
"100 percent. I am glad I came back, definitely."
On what he will miss the most about college:
"I'd probably just say my teammates. I know how it is at the next level. It's all about business. In college, it's more of a business and a little bit of fun to it. I'll just miss my teammates, playing with them, playing those home and away games. Especially playing at home, Assembly Hall. Playing there is just one of the greatest feelings ever with the best fans in the country. I'd say just the whole aspect of basketball."
On what he won't miss about college:
"I would have to say those long practices. They get to you, especially me being there for four years. But those long practices get a little shorter when you're winning. You win games, coach cuts practice to an hour and a half or two hours instead of going three and a half every day."
On whether that's how Crean operates: lose and it's a long practice or win and it's cut shorter:
"You could kind of say so, basically. Which I would understand that. Coming off of a loss, you don't want a short practice and acting like everything is OK. You gotta go into practice, fix everything you need to fix, get better at different things. So I can understand his reasoning behind doing that."
On whether he thinks college players should be compensated beyond getting a scholarship:
"Yeah, I'd say so. Probably a little bit of a stipend. I've kind of looked into it a little bit and I think student-athletes have two jobs with school and basketball, just the amount of hours they put in each week. But on the other side, to play the devil's advocate, a scholarship is an opportunity to play at the highest D1 level against some of the best competition, free education, which other students can't get. So it's an opportunity. So I can kind of see that. But I think probably a little bit, student-athletes need a stipend to just help them along the way."
On if it bugged him that he wasn't invited to the draft combine:
"Yeah. I didn't get invited and a lot of people were shocked. I did everything I could, sent in my form and got an email back saying that I wasn't invited. I didn't get down on myself, though, I feel like. I'm not discouraged by it or thinking that this is basically the end for me. After talking to a lot of guys, like my coaches and my agent and they feel like I should have been in there just with the different people that they've talked to. I'm not down by it, I'm still just getting my workouts in right now and getting ready for these NBA workouts. I just want show them that basically, I should have been invited and show them my ability."
On the feedback he's received about his draft prospects:
"My agent has told me great things. I've got a lot of workouts coming up. At the end of the day, I'll probably have up to 20 workouts. 18 to 20. So I'm going to be flying all over the country doing these (workouts) and my agent said they're very high on me. I just got to go in there, show I can shoot the ball, I got to have great conditioning, which I've been working on since the season was over with and I feel like I'm ready for it."
On what he's trying to work on or polish before the workouts:
"Definitely shooting. With me being, I guess you could say, one of the shorter guys, we've got to bring a little something extra to the table. With that being said, guys like me, my height, we've got to be able to knock down jump shots. Another thing is being able to play the entire game if we have to. Conditioning has got to be right, got to have our defenses down, defenses right, getting that and just going out there and being a leader."
Filed to: Yogi Ferrell