Draft combine roundup: Williams struggles to boost stock at combine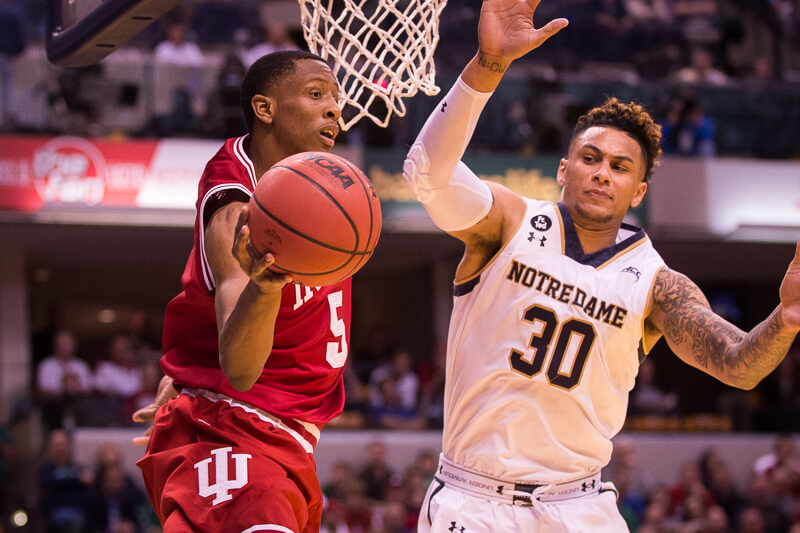 The NBA draft combine wrapped up on Saturday in Chicago and it appears that Troy Williams did little to help himself move up into a guaranteed spot in next month's draft according to most accounts.
The 6-foot-7 forward was listed as one of 11 guys by DraftExpress.com that should return to school next season and one of the "losers" from the event by CBSSports.com.
Here's what DraftExpress had to say:
The Indiana junior showed both Thursday and Friday that he's a ways away from being a player an NBA head coach can trust in live action. As has been the case for his entire career, he's extremely wild with the ball and has very little discretion as a decision maker. He drives into the paint with no plan and jacks up early threes in transition without conscience. He's a great athlete with good size and will make an occasional three, but Williams' decision making is still a major work in progress, even at age 21. His best option is to return to school, study the game and try to slow himself down while becoming a more reliable shooter.
And here's the scoop from Sam Vecenie at CBSSports.com:
Instead of trying to show scouts he can play within an offense and make good decisions, Williams was his wildly unpredictable self. He was out on the floor chucking shots with abandon, not particularly looking for teammates and generally tried to do too much. He also didn't test at the elite level athletically many around the league anticipated and has relatively short arms.

There's definitely a player within his package of skills but he must get his more wild tendencies under control. But right now, it's tough to see a team investing a draft pick in him.
Additionally, Chad Ford of ESPN.com listed Williams on his "all-go-back-to-school" team. From ESPN Insider:
So who's on the All-Go-Back-To-School Team? Maryland's Melo Trimble, Wisconsin's Nigel Hayes, Purdue's Caleb Swanigan, Kentucky's Marcus Lee, Memphis' Dedric Lawson and Indiana's Troy Williams all are at risk of not getting drafted. All of them struggled this week.

Unless they want to spend the next year in the D-League or Europe, they should go back to college. All of them have enough talent to improve their draft stock with another year of school.
The question, of course, is: Will any of this matter when it comes down to decision making time for Williams?
The Hampton, Virginia native has three workouts scheduled this week for NBA teams, including the Indiana Pacers on Tuesday. The deadline to withdraw from the draft is Wednesday, May 25.
Indiana coach Tom Crean said recently that he expects Williams to be in the draft and at the combine, Williams talked as if going to the D-League will not be a deterrent.
"It's not going to kill my pride or anything like that if I have to go to the D-League," Williams told WDRB.com. "That will make me work even harder."
Indiana, with the addition of 2016 junior college forward Freddie McSwain, is at 13 scholarship players for next season not including Williams.
Filed to: Troy Williams