Around the Hall: Bryant's return, life without Ferrell, more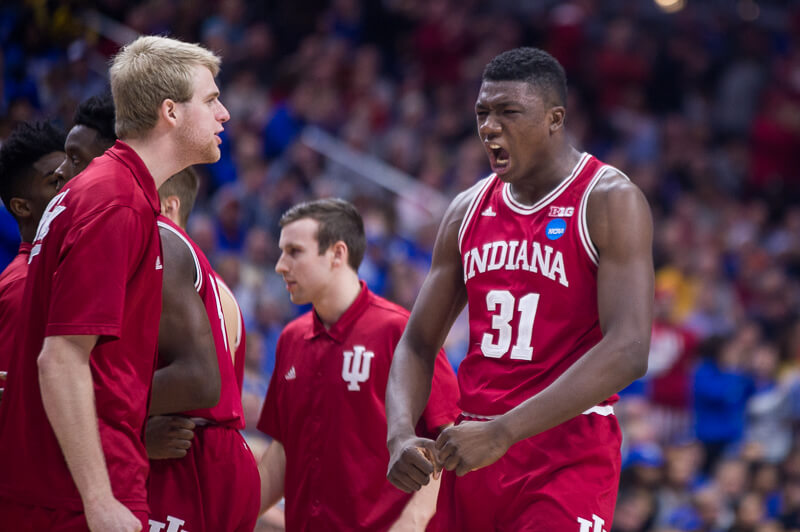 Around the Hall is recommended reading from the Inside the Hall staff.
· Eamonn Brennan of ESPN.com writes about the future of Indiana basketball and the importance of Thomas Bryant returning for his sophomore season:
Yet, despite all that, Bryant's return was the biggest deal of IU's offseason. In one fell swoop, a stretchy, slightly undersized frontcourt became one of the nation's best, and a promising roster became one capable of recovering from the loss of Ferrell (and likely Williams).

It's hard not to trace the origin of Bryant's decision, and thus IU's entire 2016-17 outlook, back to that moment when North Carolina's offensive explosion, and the finality of the loss, was too much for Bryant to shoulder alone.
· Rick Bozich of WDRB.com has the latest on Troy Williams from the NBA draft combine in Chicago:
Williams repeated the "50-50" line even after I suggested the odds were closer to 100 percent that he will not be taken in the first round of the NBA Draft next month.

"It's not going to kill my pride or anything like that if I have to go to the D-League," Williams said. "That will make me work even harder."

If you interpret those two sentences as Williams actually leaning at least 50.1 percent toward leaving IU, then you're standing with me because I'm convinced Williams wants to begin his against-the-odds push to the NBA sooner, not later.
· One of the biggest offseason question marks in the Big Ten: What will Indiana look like following the departure of Yogi Ferrell? Scott Phillips of NBCSports.com tries to tackle the question:
The last four seasons, senior point guard Yogi Ferrell was a key part of what Indiana did on offense. He was the engine that made them go. Now that he's gone the Hoosiers will be a unique team, as Thomas Bryant and Robert Johnson are the beat guys guaranteed back. If Troy Williams returns from the NBA Draft and James Blackmon Jr. (who's also going through the Draft process) is healthy, Indiana will again find themselves in Big Ten contention.
· Indiana could have two of college basketball's breakout stars next season, according to Rob Dauster of NBCSports.com:
Bryant is the obvious pick here. He's a star freshman and potential lottery pick that played well down the stretch and is returning to school. Anunoby, however, is the guy that could end up being the best all-around player on the Hoosiers next season. He averaged just 5.8 points this past season, but there are reasons for that: he got limited minutes before James Blackmon's injury and his role is similar to that of Troy Williams. He is a versatile, athletic forward that can guard multiple positions and isn't as much of a liability offensively as he's been made out to be. If he can build of the strong finish he had to the 2015-16 season, Anunoby could follow a similar career-arc to that of Victor Oladipo: Unheralded recruit-turned-first round pick.
· The D-League Digest reports on the journey of former IU guard Verdell Jones, who played last season for the Santa Cruz Warriors:
As they squared off with Penn State, Jones was riding a hot streak that was punctuated with a 15-point win over #5 Michigan State just a few weeks prior.

The clock rolled on and Indiana had control of the game, when Jones entered the game as a substitute. Six minutes into his time on the court, his career would substantially change.

With the Hoosiers on offense, Jones jump stopped like he had done so many times in his career to that point, but this time his right knee gave out from under him and he collapsed to the ground.

His worst fears were realized the following day when doctors determined that he had torn his ACL and would be forced to take a year off from basketball. If the four years at Indiana hadn't tested him, the surgery and rehab from the injury certainly did.

"There were moments when I thought about walking away from basketball. I tore my ACL during a game that I had been working towards my entire career, so it was definitely one of the hardest experiences of my life. It just felt unfair and it was really discouraging and made me think about if I wanted to do it anymore."
· The one player who isn't at the draft combine who deserved to be there? Yogi Ferrell, according to Andy Katz:
If there was one player who wasn't at the combine that should be according to some NBA personnel it was @IndianaMBB Yogi Ferrell. Deserving.

— Andy Katz (@ESPNAndyKatz) May 13, 2016
Filed to: Thomas Bryant, Troy Williams, Verdell Jones, Yogi Ferrell