Friday Notebook: Combine invites finalized, Platek visit, staff addition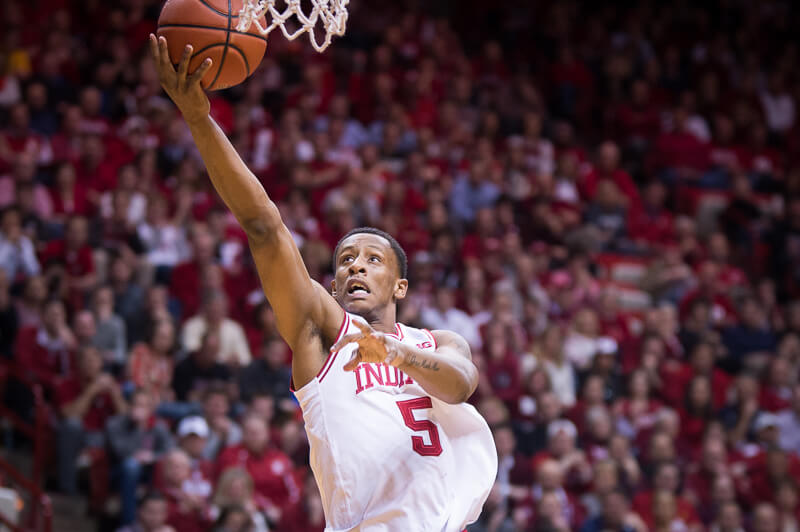 The NBA officially announced the list of players who will participate in next week's combine in Chicago and as anticipated, Indiana will have representation from just one guy, Troy Williams.
Yogi Ferrell, an alternate for the combine, will not participate and neither will sophomore James Blackmon Jr., who was not invited to Chicago.
In addition to Williams, other Big Ten players who will attend the combine are as follows:
– Caleb Swanigan (Purdue)
– AJ Hammons (Purdue)
– Melo Trimble (Maryland)
– Diamond Stone (Maryland)
– Robert Carter (Maryland)
– Jarrod Uthoff (Iowa)
– Denzel Valentine (Michigan State)
– Caris LeVert (Michigan)
– Nigel Hayes (Wisconsin)
– Deyonta Davis (Michigan State)
– Jake Layman (Maryland)
Elite 2017 shooter begins unofficial visit today
Andrew Platek, a 6-foot-4 guard from Northfield Mount Harmon (Mass.) and the Albany City Rock on the Nike Elite Youth Basketball League (EYBL) circuit, begins his unofficial visit to Indiana today.
Through the first two EYBL sessions, Platek is shooting 54.1 percent on 3s and is averaging 14.6 points for the City Rocks, who are 5-2.
Indiana is among several schools involved in his recruitment along with North Carolina, Stanford, Davidson, George Washington, Butler, Miami, Rutgers, St. Joseph's and several Ivy League schools.
A 3-star prospect in the 247Composite, Platek has scored in double figures in six of his seven EYBL games this spring.
Wheels up to Bloomington! ?????

— Andrew Platek (@PlatekFor3) May 6, 2016
Former Division II All-American joining staff as graduate assistant
Jake Thelen, a former Division II All-American at Bellarmine University, is joining the Indiana coaching staff as a graduate assistant.
The 6-foot-6 Thelen was the Great Lakes Valley conference player of the year as a senior in 2014-15 as he averaged 18.6 points, 10.7 rebounds and shot 66.7 percent for the Knights, who made the Division II Final Four.
He spent time coaching last season at St. Xavier High School in Louisville.
A big congrats to Coach Jake Thelen for being named a GA for @IndianaMBB. @JThelen12 was a great asset to our program & has a bright future!
— Kevin Klein (@StXBasketball) May 6, 2016
I am very proud of Jake and thankful for the pride and passion he brought to our program. IU is getting a coach who is ready to work!

— Kevin Klein (@StXBasketball) May 6, 2016
Indiana's graduate assistants (or graduate manager as listed on the staff directory) were Reggie Golson, Julian Boatner and J.R. Sims.
Filed to: Andrew Platek, Jake Thelen, Troy Williams