Recruitment continues to grow for 2017 wing Justin Smith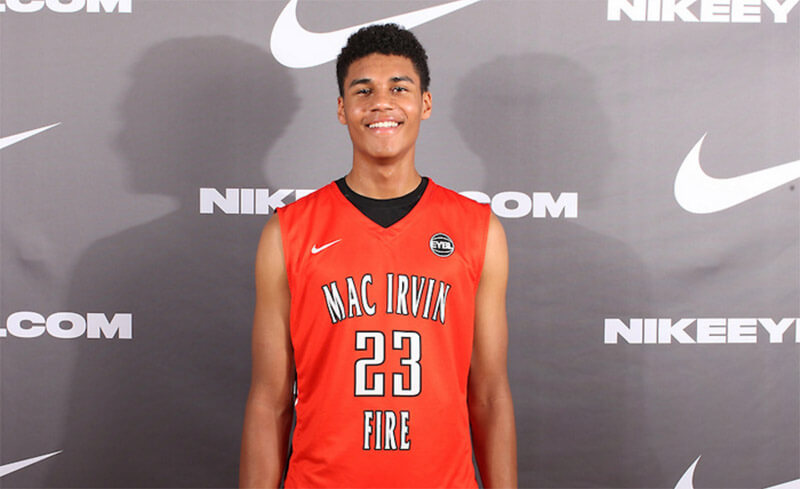 Based on his play this spring for the Mac Irvin Fire, the recruitment of class of 2017 Stevenson (Ill.) forward Justin Smith is picking up steam.
The 6-foot-7, 205-pound forward is averaging 11.5 points, 5.1 rebounds, 1.3 assists and 1.1 steals through seven games on the Nike Elite Youth Basketball League (EYBL) circuit.
As a result, more schools have jumped into the mix for Smith, who is ranked the No. 134 prospect nationally by the 247Composite.
Villanova, Florida State, NC State, Stanford and Iowa State have all offered scholarships recently, joining a list that already included Indiana, Illinois, Northwestern, Purdue, Wake Forest, Wisconsin and others.
Indiana has been a long standing presence in Smith's recruitment as the Hoosier staff has scouted him many times and has also hosted him for three unofficial visits in Bloomington.
The high scoring, up tempo offense at Indiana has caught the eye of Smith, who said he has no timetable for a decision or when he'll make a list of finalists and begin taking official visits.
"Just the pace at which they play at," Smith told Inside the Hall at the EYBL stop in Westfield. "They get up and down the floor, they move the ball around, they get good, open shots. I feel like that would fit my game."
After playing in a supporting role as a sophomore at Stevenson next to Jalen Brunson on a Class 4A state championship team, Smith took on a much bigger role in his junior season of high school. He averaged 19 points and nine rebounds.
One of the keys to becoming more assertive has been improved confidence.
"Coming off of last year, I was a little shaky, up and down," he explained. I'd say this year I'm more confident in what I can do and showcasing that. My decision making has gotten much better. And being able to get my teammates open along with myself has helped."
When asked which schools he felt have been prioritizing him in their recruiting efforts for 2017, Smith mentioned Indiana, Wisconsin and Villanova.
But his focus over the next month s is helping Mac Irvin Fire turn things around from a 2-5 start on the EYBL to get into position for a berth in July's Peach Jam.
Mac Irvin Fire also features Michigan commit Jordan Poole and forward Christian Negron, who has also visited Indiana. Smith is the only player for Mac Irvin Fire scoring in double figures in EYBL play.
"We just need to play bigger," Smith said. "We're an undersized team so we have to fight harder on the glass. We have to play team defense. We have the talent, we just need to play harder."
Filed to: Justin Smith