Ranking the importance of Big Ten NBA draft decisions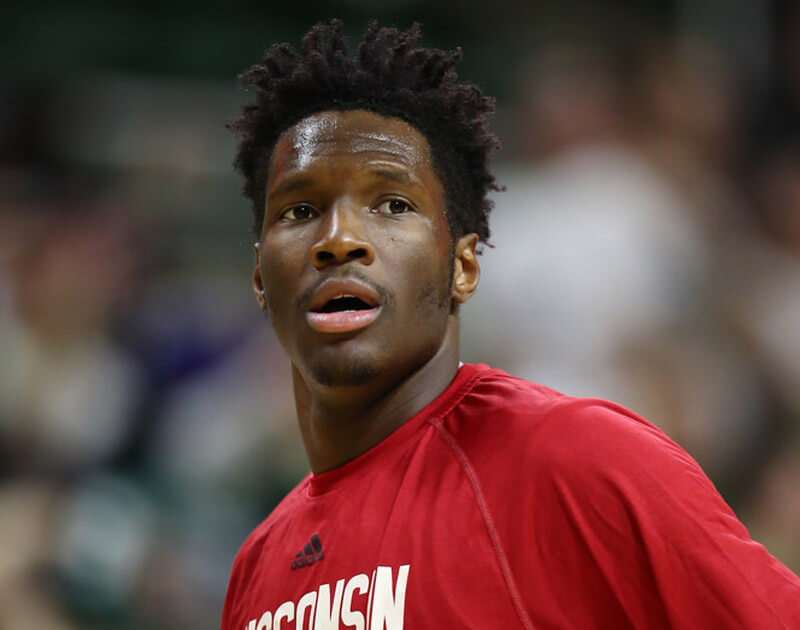 The NBA draft combine takes place next week in Chicago and the deadline for players who haven't hired an agent to withdraw from school is now just three weeks away.
Ten Big Ten underclassmen have opted to test the draft waters without hiring an agent and each decision will have an impact on shaping next season's conference race.
Here's our look at each decision and a 1-10 ranking of each in terms of importance to next season's Big Ten hierarchy.
(Note: Three underclassmen have hired agents and will not be returning to school: Michigan State's Deyonta Davis and Maryland's Robert Carter and Diamond Stone.)
10. Corey Sanders, Rutgers – Sanders is expected to return to school and play for new head coach Steve Pikiell, which would be a wise decision. But his decision will have very little impact on next year's Big Ten race as the Scarlet Knights are nowhere close to contending after a dismal 7-25 season. With no invite to the combine, Sanders would be wise to return for his sophomore season.
9. Trevor Thompson, Ohio State – After an underwhelming sophomore season in Columbus in which he averaged 6.5 points, 5.2 rebounds and 1.2 blocks per game, Thompson isn't exactly a game-changer for the Buckeyes. He was inconsistent and got dominated by some of the league's other elite big men. The importance of him returning to school certainly increased when freshman Daniel Giddens opted to transfer, but Ohio State is unlikely to win the Big Ten next season regardless of his decision.
8. Andrew White III, Nebraska – White is crucial to Nebraska, but the Huskers are still rebuilding in the years after their surprising 2014 NCAA tournament appearance. If he doesn't return to Lincoln, Tim Miles loses his best player and is probably headed for another Wednesday appearance in the Big Ten tournament. If he returns, Nebraska can likely improve upon a disappointing 6-12 league campaign last season.
7. James Blackmon Jr., Indiana – Blackmon Jr. seems to be using the process just to gain direct feedback from NBA teams as he wasn't invited to the combine or even selected as an alternate. That's a pretty strong indication of where he stands in terms of his draft stock right now coming off of an injury. If he leaves, it would mean more minutes for incoming freshman Curtis Jones, who is a top 50 recruit that is expected to be in next season's rotation for the Hoosiers.
6. Vince Edwards, Purdue – Edwards is another player who is using the system to his advantage to gain feedback from the NBA, which is a smart move. His chances of actually getting drafted are meager, but with Rapheal Davis and A.J. Hammons moving on, his return to West Lafayette is pivotal to Purdue's success next season. The Boilermakers have no comparable player on the roster at his position if he decides to stay in the draft.
5. Peter Jok, Iowa – The Hawkeyes are going to take a step back next season, but if Jok leaves, it could be a giant tumble. He's without a doubt Iowa's best returning player and will be in the mix for first team All-Big Ten honors if he can build on a strong junior season. Like several others on this list, he was not invited to the combine. So unless he's just itching to play professionally somewhere, he'll likely be back in Iowa City.
4. Troy Williams, Indiana – This is where the list gets a little more interesting. The top four players on this list all received combine invites. Williams is a player who can likely solidify himself a spot in the draft somewhere with a strong combine showing and the fact that he's graduating this month makes him a stronger candidate to stay in the draft. While he would certainly boost Indiana's upside if he returns to school, the Hoosiers have OG Anunoby there to soften the blow if Williams bolts.
3. Caleb Swanigan, Purdue – Swanigan is talking like a guy who is ready to go to the NBA, but is the league ready to welcome him? The combine and individual workouts are going to determine that. Right now, the DraftExpress and Chad Ford rankings suggest that Swanigan needs another year of school. If he leaves, Edwards probably slides to the four and Purdue becomes a little less deep on the frontline. If he returns, the Purdue frontline should once again be elite with Swanigan, Edwards and 7-foot-2 Isaac Haas.
2. Melo Trimble, Maryland – Trimble was a bit of a disappointment as a sophomore after earning preseason Big Ten player of the year honors, but he's still an elite college point guard. Those aren't easy to find and if he leaves, Maryland is going to miss him and will have to rely on Jaylen Brantley and freshman Anthony Cowan. But if he comes back? The Terps are probably a top 25 team with Trimble, Jared Nickens, Dion Wiley, Kevin Huerter, Brantley, Cowan and a solid, but unspectacular, frontcourt of Damonte Dodd and Michal Cekovsky.
1. Nigel Hayes, Wisconsin – If Hayes returns – and he has said that is the plan – the Badgers are in the discussion for Big Ten favorite heading into next season. His return would mean every notable player from a team that won 12 league games and reached the Sweet Sixteen would be back in Madison. If he leaves, it'll be mean more responsibility for Ethan Happ, Vitto Brown, Charlie Thomas, Khalil Iverson and Alex Illikainen.
(Photo credit: Rey Del Rio/Getty Images North America)
Filed to: James Blackmon Jr., Troy Williams