Five-star Kris Wilkes remains a priority for Indiana in 2017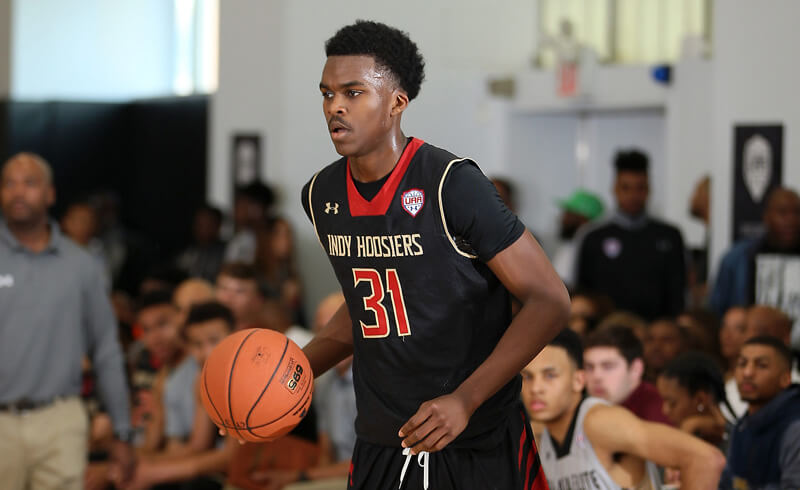 Indiana was one of the first schools to make Kris Wilkes a priority in the class of 2017 and the pursuit continues to be strong as the five-star forward concludes his junior season at North Central.
At 6-foot-8 and 195 pounds, Wilkes is a versatile player who has the ability to affect games with his length on defense and also score from both the perimeter and in the paint.
He's once again starring this spring with the Indy Hoosiers, coached by Mike Peterson, on the Under Armour Association circuit. He was also recently named a core member of the Indiana junior all-stars that will scrimmage the seniors in two exhibitions in early June.
"I'm definitely having fun," Wilkes told Inside the Hall on Friday. "I love playing with my team. We work hard, we play good as a team, we've got good chemistry. When we win, it's always a good time."
Indiana watched Wilkes closely over the weekend at Best Choice Fieldhouse in Fishers as Crean, along with Michigan State's Tom Izzo, were there for his first game on Friday night and also in attendance during other points throughout the weekend.
According to the UA Association stats, he's fourth on the circuit in scoring at 20.7 points per game and is shooting 54.5 percent from the field.
The No. 15 prospect nationally according to the 247Composite, Wilkes has compiled an impressive list of scholarship offers that includes Indiana, UCLA, Illinois, Maryland, Xavier and several others.
Indiana, of course, is the local option for Wilkes, who plays just an hour north of Bloomington for Doug Mitchell at North Central. He's been to several games at Assembly Hall throughout the years for unofficial visits.
"I talk to Tom (Crean) a lot," Wilkes said. "He's just telling me to keep working hard, really on my defense and getting down lower, working on my stance and things like that."
The success the IU coaching staff has had with wing players like Victor Oladipo and most recently, OG Anunoby, is something that has registered with Wilkes.
"I think they progress guys well. They get them stronger. I like their style," Wilkes explained. "They get up and down the court, they run hard. They work on their jump shots and knock them down. I remember when Victor Oladipo first came there, he couldn't shoot. Leaving there, he could shoot it pretty good."
Wilkes has been visited by a host of schools recently for in-home visits, including Maryland, Illinois and UCLA. He was also visited recently by Michigan State.
Given his proximity to Bloomington and how frequently he speaks with the coaching staff, Wilkes said Indiana has not come in for an in-home.
That however, hasn't stopped Wilkes from believing that he's a priority for Indiana in 2017. When asked whether he felt like Indiana has made him feel like they really want him, he said they "definitely have."
"They always tell me I'm their No. 1 option," he said. "But I know they're out there recruiting others, too, and I don't blame them."
(Photo credit: Kelly Kline/Under Armour)
Filed to: Kris Wilkes