2017 point guard Paul Scruggs enjoying "every bit" of recruiting process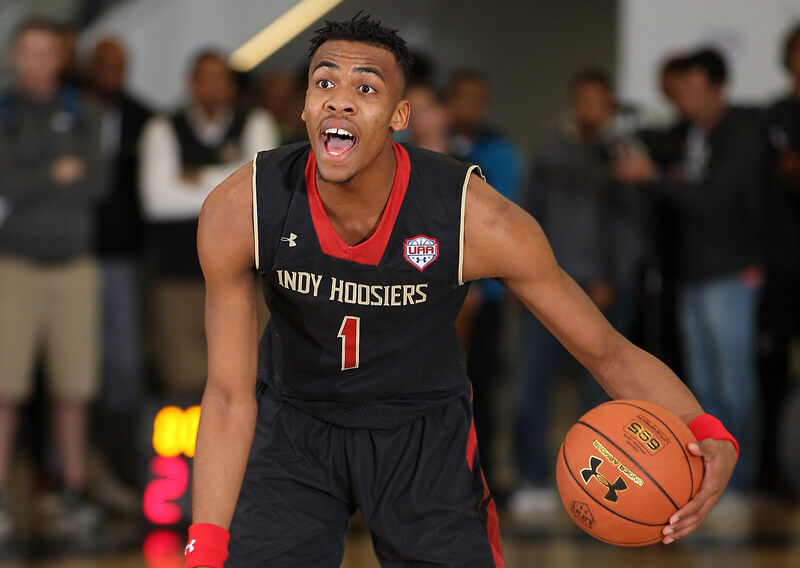 Class of 2017 Southport point guard Paul Scruggs is one of the best at his position in the country and his recruitment is a reflection of that.
At 6-foot-3 and 200 pounds, Scruggs is a physical presence who can not only distribute, but also get to the rim and either finish or draw contact.
Through eight games this spring on the Under Armour Association circuit, where he plays for the Indy Hoosiers, Scruggs is averaging 13.8 points, six rebounds and 5.5 assists per game.
Recruiting wise, he said he continues to mainly speak with the schools who have offered him scholarships to this point. That list includes Michigan State, Xavier, Louisville, Indiana, Purdue and several others.
"I enjoy every bit of it," Scruggs said Friday. "There's only a limited amount of players who get to have this enjoyment with the recruiting process."
He said the majority of his discussions with college coaches center around what he can do to work on his game. From those conversations, he's able to develop a list of priorities to focus on for improvement.
"(I'm working on) when to push the ball and when to slow it down," he explained. "Also when to stop and pull-up. I really need to work on my jump shot."
Scruggs is shooting 49.4 percent on the UA Association circuit through eight games, but just 20 percent on 3s.
Indiana was one of the first schools to recruit Scruggs prior to his freshman season at Southport and the Hoosiers have remained a significant presence in his recruitment. The coaching staff was highly visible at his games over the weekend at the UA Association stop in Fishers.
Point guard is a position that is a major need for Indiana in the class of 2017.
"Our relationship has grown substantially," Scruggs said. "They say they really need me as a point guard because they see how my tempo is and how aggressive I am."
Ranked the No. 27 player nationally by the 247Composite, Scruggs said he has an upcoming visit planned to Michigan State. His AAU coach, Mike Peterson, also recently tweeted that he'll visit Xavier and Indiana this spring.
Scruggs has been a frequent visitor to Indiana games and Hoosier Hysteria events since his freshman season and said several things stood out when he watched the Hoosiers win the 2016 Big Ten regular season championship.
"I liked their aggressiveness. They let their guards go," Scruggs said. "They really know how to coach a team."
(Photo credit: Kelly Kline/Under Armour)
Filed to: Paul Scruggs