As Langford adds major offers, focus remains on growing his game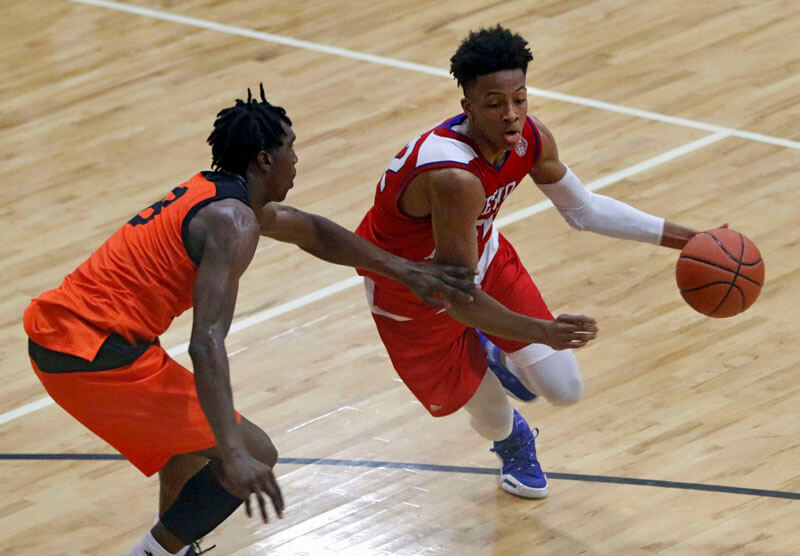 NEW ALBANY, Ind. – It was a season of major accomplishments for New Albany basketball and sophomore Romeo Langford.
The Bulldogs, under the leadership of Jim Shannon, finished the season 27-1 and won the Class 4A state championship in a thrilling 62-59 win over McCutcheon at Bankers Life Fieldhouse.
And for Langford, who averaged 30.2 points and 9.1 rebounds per game, the national attention is now pouring in after his dominant play all season. He was a first team Associated Press all-state selection and a third team MaxPreps All-American.
"It was a little bit of a relief. Because going into the season, our goal was either state or nothing," Langford told Inside the Hall on Tuesday afternoon. "It was very important to win (for Coach Shannon). He's a great coach, a great leader on and off the court. He helps us off the court to grow into men. He deserved it with how many years he has coached."
Through 54 career games at New Albany, Langford has amassed 1,303 points and is 206 points behind the pace set by the state's all-time scoring leader, Damon Bailey.
Bailey's record of 3,134 points is certainly within reach for Langford. If he plays 54 more games in his New Albany career, he would need to average 33.9 points per game to break the record. That, of course, would be dependent on how many games New Albany plays in the regular season and in the state tournament.
Since the state title run and his performances at the first adidas Gauntlet session in Dallas last weekend, Langford has added scholarship offers from Duke, Kansas and Kentucky.
But Langford appears to be taking the process slow as his list of suitors, which also includes Indiana, continues to grow.
On Tuesday afternoon, he was back at it in the gym at New Albany participating in open gym with the returning core members of the state championship team. And on the days when there isn't an open gym, Shannon said his best players can still be found at New Albany putting in extra work.
"It's me, Sean (East), Isaac (Hibbard), Blake (Murphy), our senior Josh (Jefferson) and sometimes Peyton (Martin)," Langford said. "We just set up chairs and do zig zag work with dribbling and work on our games."
Through the first adidas Gauntlet session, Langford is averaging 23.2 points, which is second among all players in the premier adidas grassroots league.
Langford is playing up a year in the 17U division with the Eric Gordon All-Stars.
"The first game there was just mainly getting used to it because it was my first time playing 17U," he said. "As the weekend went on, I got a feel for things and just let the game come to me."
Even with all of the new attention and a top 10 national ranking, Langford remains focused on growing every day as a player and not getting caught up in the numbers or what's being written.
"I think the key is not getting bored with what you're doing and always wanting to get better in the gym every single day," he explained. "Whether that's doing push ups or just going into the gym."
Filed to: Romeo Langford