Jones tries to grow as a leader in senior season at Huntington Prep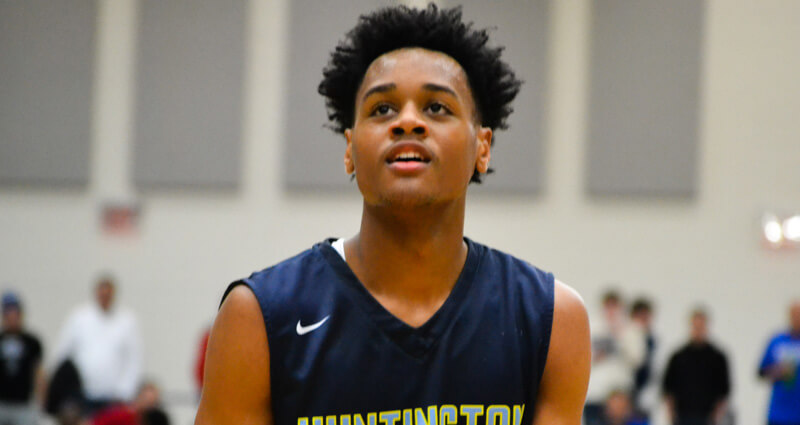 LOUISVILLE, Ky. – As Curtis Jones began his senior season at Huntington Prep, there was a leadership void that needed to be filled.
The graduation of Thomas Bryant – the team's vocal leader and energy guy – was a significant loss. And Jones, along with Michigan State signee Miles Bridges, were thrust into more prominent roles for their senior seasons.
Not only was the loss of Bryant big from a production standpoint, but he was the guy who was the loudest guy on the court for Huntington Prep, according to Jones.
So without Bryant, who went on to help lead Indiana to a regular season Big Ten championship, Jones knew he needed to step up.
"I was the leader, tried to be the leader," he said. "We had a lot of new pieces together so it kind of helped me to grow into a better leader. Telling them what to do and with them not really knowing the playbook and things like that."
Playing a schedule that featured some of the nation's best teams, Huntington Prep finished the 2015-2016 season with a 25-11 record.
The 6-foot-4, 175-pound combo guard said working on his point guard skills was a focus during his senior season. He put on 10 to 12 pounds in the last year.
"I played a lot of point guard this year, so just continuing to work on my point guard skills, but also scoring," Jones said. "Coach (Tom) Crean wants me to increase my range, put weight on, post feeds with getting Thomas and De'Ron (Davis) the ball and changing speeds. A lot of small things that will help a lot."
Ranked the No. 84 player in the country by the 247Composite, Jones should be an immediate contributor next winter in an Indiana backcourt that should feature more depth.
While the Hoosiers are losing Yogi Ferrell, Nick Zeisloft and walk-on Harrison Niego, they'll return Robert Johnson, welcome back James Blackmon Jr. from injury and also add Jones and Devonte Green, who signed his National Letter of Intent on Thursday.
The loss of Ferrell will be major for Indiana, but Jones said that Indiana's system will allow multiple guys to handle the ball.
"The way the system is, there's a lot of people who can play point guard with Rob and James also," he explained. "It's not really a big thing. We're all guards. We're all basketball players."
Jones, who committed to Indiana in September and signed in November, is already friends with several players on the roster. His relationships with Bryant and Robert Johnson, who he has known since he was 9, were major reasons why he felt so comfortable in Bloomington.
This week in Louisville, he's had the chance to build a better relationship with Davis, who will help Bryant anchor the Indiana frontcourt next winter.
The prospect of reuniting with Bryant brought a smile to the face of Jones when he was asked about the big man's decision to return for his sophomore season.
"I was happy, but also want the best for him so if he would have went I would have been just as happy," Jones said. "It was nice to see he's staying."
"He has a lot of energy all of the time and it just travels to everybody. So if you're having a bad day, Thomas is going to be there with energy all of the time. He kind of picks you up."
Filed to: Curtis Jones