Draft watch: A look at the stock of Ferrell, Bryant and Williams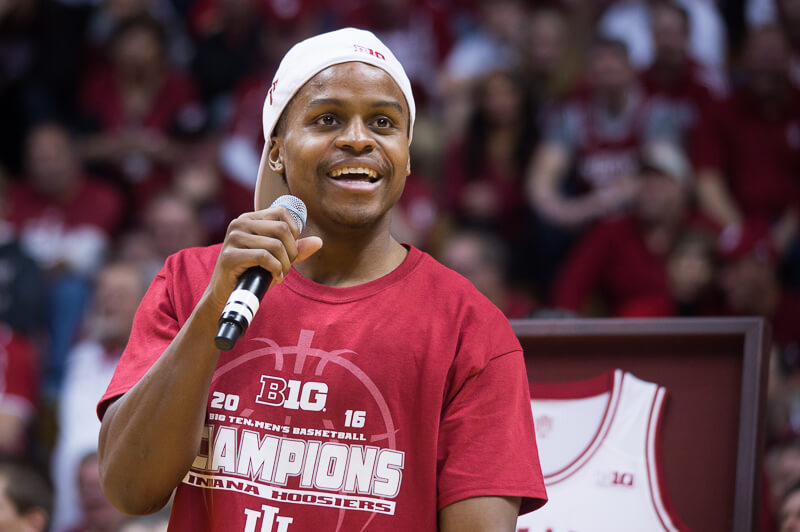 With a pair of NBA lottery picks in 2013 and one in 2014, draft watch was a regular feature on the site during the 2012-13 and 2013-2014 seasons. The Hoosiers didn't have an early entry to the draft last season, but that could change this year as Troy Williams and Thomas Bryant consider their futures. Yogi Ferrell also figures to be in the draft conversation.
Thanks to NCAA rules changes, the key dates to know this year for Indiana fans are April 24, May 11-15 and May 25. The first date is the deadline for underclassmen to declare for the NBA draft. From there, the NBA will have a list of all players who have made themselves available for the draft and then invite players to the NBA draft combine, which will take place May 11-15 in Chicago. For those players who do not hire an agent, the deadline to withdraw from the draft and retain college eligibility is May 25.
Underclassmen can enter the NBA draft multiple times without foregoing their eligibility and may participate in the combine and one tryout per NBA team per year and still return to college as long as they do not hire an agent.
With that information in mind, here's a look at some of the current draft rankings for Ferrell, Bryant and Williams (Note that the numbers below are from top 100 rankings regardless of class, not mock drafts):
Draft Rankings – Ferrell
DraftExpress Top 100: No. 62
ESPN Top 100 (Ford): No. 109
NBADraft.net: Unranked
CBS Sports (Vecenie): No. 66
Analysis: Thanks to a strong senior season in which he earned multiple All-America accolades and led the Hoosiers to an outright regular season Big Ten championship, Ferrell is squarely in the mix to be drafted and make a team next season. And with Tom Crean's NBA contacts and history of developing players who are ready to contribute right away, Ferrell will get every opportunity to showcase himself in front of the right people.
"I think his next coach in the NBA is going to be very, very happy with the player that he's going to get," Crean said on March 24. "Because Yogi is not only a guy that can make the NBA but he's a guy that's going to be able to impact teams going into April, May and June, and that's what you really want the deciding factor of a player to be — not are they draft-eligible, not can they make the NBA, but can they go in and really impact the team. And I think he's heading there."
Draft Rankings – Bryant
DraftExpress Top 100: No. 23
ESPN Top 100 (Ford): No. 20
NBADraft.net: No. 62
CBS Sports (Vecenie): No. 20
Analysis: Unlike Ferrell, there's a decision for Bryant to make. And he may benefit from the new pre-draft process as much as any player given that he's projected to go in the early 20s by most if he were to declare. Bryant is in the lottery in a couple of early 2017 projections, which suggests there's room for him to move up in projections even with a loaded class coming into college next season.
The question to be answered is: Can he move up this year or does he need another year? One thing is for sure with Bryant: his mentality and approach to college seems to be more in line with Cody Zeller than Noah Vonleh, but that doesn't necessarily mean he'll take the same path to the NBA.
Draft Rankings – Williams
DraftExpress Top 100: No. 83
ESPN Top 100 (Ford): No. 83
NBADraft.net: No. 81
CBS Sports (Vecenie): No. 78
Analysis: Williams is a player that many believed could make a major leap up draft boards with a strong junior season, but it simply never materialized. He did show off an improved perimeter game, but was still too inconsistent at key times. One of those times that stands out was Indiana's blowout loss at Michigan State, when Williams was a non-factor. He did rebound from that poor showing and put together a very solid ending to the season, but it still feels like there's untapped potential in his game.
Williams is expected to earn his degree in May, which means if he's ready to play basketball for a living, he can enter the draft and if it doesn't work out, attempt to play his way into the league as a free agent or go overseas. It will be interesting to see if Williams earns a combine invite and gets the opportunity to improve his stock before making a final decision on his future. Right now, most projections have him going undrafted, but given his ability and athleticism, he seems like a guy that NBA teams will consider taking on potential alone later in the draft.
Filed to: Thomas Bryant, Troy Williams, Yogi Ferrell