NBA decisions will shape Indiana's outlook for 2016-17 season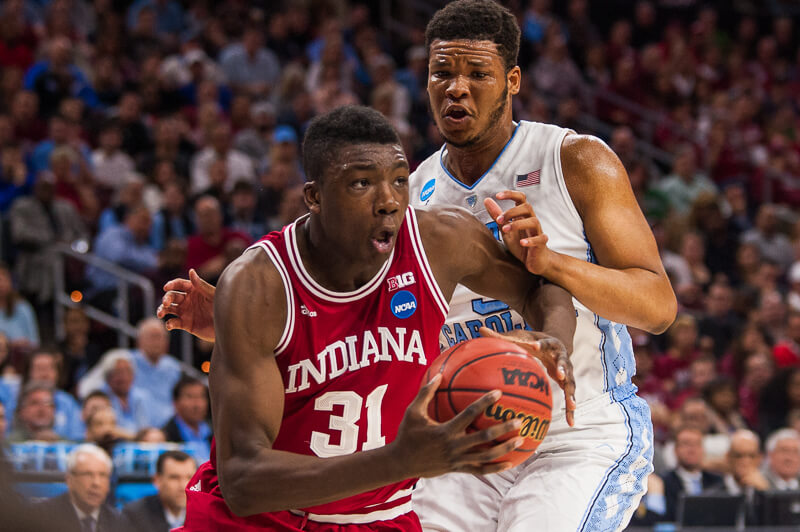 In the immediate aftermath of Indiana's 101-86 loss to North Carolina on Friday at the Wells Fargo Center, Thomas Bryant and Troy Williams weren't ready to talk about their futures in Bloomington.
In previous years, it was typically window dressing around the country to hear players utter the words "I haven't thought about that yet," but this year, it may actually be accurate.
New NCAA rules that were passed earlier this year will allow underclassmen to test the NBA waters without losing their eligibility, which is a major change in the system.
Under the new format, underclassmen can declare for the NBA draft, participate in the NBA draft combine and workout for a team and still maintain their eligibility provided they do not hire an agent.
Underclassmen have until 10 days after the combine to remove their name from the NBA draft.
The NBA draft combine will be held May 11-15 in Chicago, which means the key date in the process is May 25. Most players who have a shot at being invited to the combine are expected to declare for the draft and go through the process for both the experience and to gather feedback before making a final decision.
On Thursday in Philadelphia, Indiana coach Tom Crean expressed his support for the rules changes.
"I think anything that allows them to make the best decision possible, to get the best level of exposure — but it still comes down to this: There's still very little real, honest, truthful, unfiltered, non-agenda-driven feedback," Crean said. "And the whole key is to get that feedback, because so many mistakes are made because people get into the other part of it."
Bryant is currently ranked as the No. 20 prospect in the latest top 100 published by ESPN.com and the No. 23 prospect according to DraftExpress.com.
Williams, who is expected to graduate in May, is ranked as the No. 83 prospect according to ESPN.com and DraftExpress.com.
The Hoosiers lose three scholarship players – Yogi Ferrell, Nick Zeisloft and Max Bielfeldt – to graduation and will welcome a four-man incoming class that includes a pair of four-star recruits in De'Ron Davis and Curtis Jones.
James Blackmon Jr. and OG Anunoby told reporters on Friday that they expect to return to Indiana next season.
In addition to those two, the Hoosiers are expected to welcome back a strong nucleus that includes Robert Johnson, Collin Hartman and Juwan Morgan as well as Pittsburgh transfer Josh Newkirk.
The decisions of Bryant and Williams, however, could ultimately shape the outlook of the season. If both choose to return, Indiana could be looking at another preseason top 15 ranking in 2016-17.
Thanks to the new process, both players will get a chance to get the necessary information to make informed decisions on their futures.
"There's so many opinions and voices and everybody's got an idea on it but there's very, very few decision makers," Crean added. "And the trick is to really understand what the decision makers see, get your people to understand that — which we've been pretty fortunate with that at Indiana — and then build from there. But that's the most important thing. And I do love the new rules. And hopefully they're here to stay. And we'll see how it goes."
Filed to: Thomas Bryant, Troy Williams