Indiana's season ends in Sweet Sixteen loss to UNC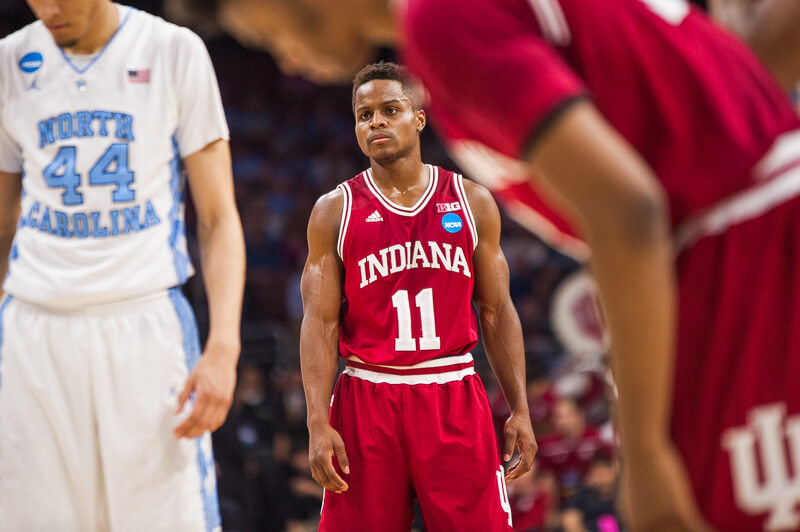 PHILADELPHIA – Everything went North Carolina's way from the start.
The Tar Heels entered the game shooting 31.4 percent from 3-point range, but went 11-for-20 against Indiana, which sent the No. 1 seed to the Elite Eight with a 101-86 win on Friday night at the Wells Fargo Center.
UNC made 7-of-8 3s in the first half with its only miss coming on the last possession of the half, and then made 3-of-5 to start the second half. It was too much for the Hoosiers.
Yogi Ferrell scored 25 points and tallied four assists in his final game in an Indiana Hoosier uniform. Max Bielfeldt scored 15 points, and Nick Zeisloft none in each of their final games as well.
"They're not traditionally known for knocking down all those shots," Bielfeldt said. "But today they did. And sometimes you're in games like that and you just have to be able to adjust. And we tried to do some things adjusting-wise, but one guy stops, knocks them down. Paige started and another guy would knock them down after that."
Marcus Paige led the way for UNC with 21 points, 18 of which came on 3s. He also had six assists. The Tar Heels offense was able to get the ball inside as well, where Brice Johnson scored 20 points and had 10 rebounds.
"The first half really hurt us, no question about that," Tom Crean said. "But we never really got the post game under control. The 3s hurt us, no question about that, but the post-ups, they destroyed us. We couldn't overcome that."
The loss ends Indiana's season after being the final Big Ten team remaining in the NCAA tournament. This team went from being left for dead after the Maui Invitational to forming one of the most fun teams to watch in recent memory at IU that finished a conference champion.
The seniors deserve credit, as does Crean – who held Thomas Bryant in his arms in the locker room following the loss.
Yogi's final game
When Ferrell and Bielfeldt came out of the game for the final time, Crean hugged his players and said thank you for all that they have done for Indiana.
"Yogi is leaving here as one of the great winners, and it's really no way anybody's going to be able to take that away from him," Crean said. "He's won two outright championships in four years. And he leaves obviously with the accolades, was a part of our two Sweet 16s in the last five years. And what these guys have done is remarkable. And it's been an absolute honor to coach them. And I can't put it into words any more than that."
After the game, Ferrell talked again about how connected he felt this year's team was, and how proud of his guys he was.
"I feel like I was very invested in this university, and that it paid out at the end for me staying all four years," Ferrell said. "It hasn't hit me yet."
Ferrell leaves IU as a two-time Big Ten champion with two Sweet Sixteen appearances. He was asked about if he thinks he has a legacy as a Hoosier.
"Hopefully they can say that about me," Ferrell said. "That's the reason I came back, and to get my degree. I basically did everything I could to try to just be known as 'Yogi the winner.'"
Filed to: 2016 NCAA tournament