Five takeaways from Indiana's loss to North Carolina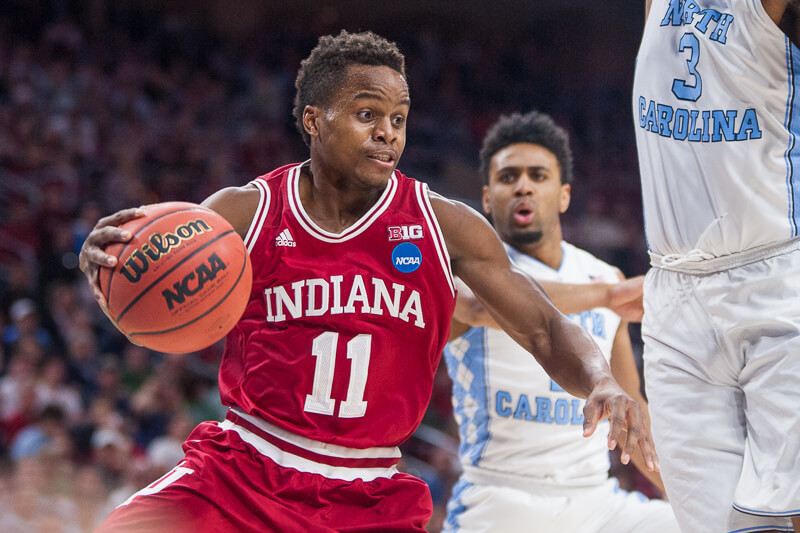 PHILADELPHIA – Indiana's season came to an end on Friday night at the Wells Fargo Center as the Hoosiers lost to top seeded North Carolina, 101-86.
Here's a look at five takeaways from the loss to the Tar Heels:
· Hoosiers have no answer for early barrage from UNC: Indiana's defense won it the regular season Big Ten championship and a round of 32 NCAA tournament game against Kentucky.
In Saturday's loss, the Hoosiers had no answer defensively for North Carolina, which was not only making its presence felt inside by drawing fouls, but was also knocking down perimeter shots. Was it a matter of Indiana not guarding as well as it should have or was it just North Carolina playing one of its best offensive games of the season? The answer probably lies somewhere in the middle.
It was a bad sign early when Marcus Paige hit his first four 3-point attempts to put Indiana in a major hole. The scouting report going in was that Indiana could live with North Carolina shooting from the perimeter, given its average numbers and desire to get the ball into the paint. But by the time the Tar Heels were done with their first half shooting exhibition (7-of-8 from deep), the game was basically over.
Indiana never got closer than 10 the rest of the way after trailing by 11 at halftime.
"They were too comfortable from the start," a teary-eyed Nick Zeisloft said in the locker room postgame. "Those 3s, we didn't expect that right from the beginning with Paige. But he's a great player and hit some tough ones."
· The postgame locker room scene was somber: Given the cruelty of how abruptly a season ends in the NCAA tournament, it was no surprise to see Indiana's players in a state of shock in the aftermath.
But the overriding takeaway from talking to nearly every player on the roster is this: the bonds that have been formed by this group are unlikely to ever be broken.
There were guys giving credit to the play of others for the team's success this season. There were tears. There was Tom Crean sitting in a chair hugging Thomas Bryant. And there were several mentions of the words "togetherness" and "brothers."
Those words are often tossed around without much consideration in sports, but were very real with this team. Everyone was truly devastated that the run is over.
"So much has happened this year," Max Bielfeldt said. "A lot of good stuff. I keep reiterating that this team, although I've only been here for eight months, it feels like three years. And in a good way. The bonding that this team has had, everything we've been through in coming together and winning the Big Ten, the Sweet Sixteen run, it was awesome."
· Ferrell's legacy is cemented: No, he didn't reach his stated goal of hanging a sixth banner in Assembly Hall.
But the growth that Yogi Ferrell showed from his freshman season to his final game in an IU uniform will never be forgotten. Ferrell's career has had plenty of twists and turns, but he saved the best for last in leading Indiana to an outright Big Ten title and a run to the second weekend of the NCAA tournament.
Ferrell, who scored 25 points in his final game, grew into a leader and a guy that everyone respected in the locker room. He also grew into a player whose main priority was winning. As a result, he broke records along the way like most career games played in an IU uniform and the school's all-time assist record.
Just as there will never be another Quinn Buckner, Isiah Thomas or Steve Alford, there will never be another Yogi Ferrell.
"He's a great asset to this program," Troy Williams said. "He's a great person on and off the court. He comes from a great family. He's meant a lot to this program. He taught me how to keep working and how to have a great mindset towards things. And how to speak up and be a great leader."
· Not surprisingly, IU players were not ready to talk about their futures: They are questions that have to be asked, but there were no answers for them in the aftermath of the loss to North Carolina.
Several guys on the roster will have NBA decisions to make. There will be plenty of time for those decisions to be made with the new rules that now allow underclassmen to work out for teams and attend the combine before deciding whether to take the leap for the next level.
"I haven't thought about that," Thomas Bryant said. "I'm just here for my teammates."
"We just lost the game," Troy Williams said. "That's the only thing that is on my mind right now."
· A tough ending for Robert Johnson: One of the discussions leading up to Friday was the status of Robert Johnson, who hurt his left ankle in IU's win against Purdue on Feb. 20 and then injured it again against Kentucky in the round of 32.
Johnson said on Thursday that he wanted to give it a go, but apparently the comfort level of the doctors and training staff wasn't high enough to clear him. Johnson warmed up pregame and prior to the second half, but never entered the game.
In the aftermath, Johnson was clear that he wanted to be out there.
"I tried to tell the coaches that I was ready, but like I said, it was out of my hands," Johnson said. "They felt like it wasn't the best thing for me and decided not to play me."
Filed to: 2016 NCAA tournament